Experience Points - Baby Queen
The popstar talks us through her favorite games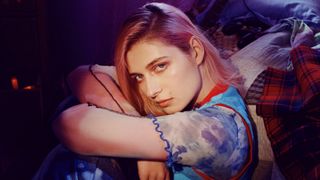 (Image credit: Baby Queen)
Experience Points is a fortnightly chat with people in and around the games industry to talk about the most important games in their lives, whether that's working on them, being inspired by them, or just playing them.
"I've always been into gaming a lot, but I think when Baby Queen started becoming more of a bigger presence in my life, playing games became a way to switch off," explains rising alt-pop hero Bella Lathum, aka Baby Queen. "[It's a way to] find an off-switch to my brain, and really get absorbed in something."
The South Africa-born, London-based musician is currently gearing up to release her stellar debut album 'Quarter Life Crisis,' a collection of earworm tracks that draw on Baby Queen's experiences of navigating the complex and messy time that is your early 20s.
But from playing Mario Kart with fans on tour, to hosting her own gaming music show on BBC Sounds, Gameplay With Baby Queen, her interest in video games has often run alongside her musical career. There's a celebration of this on the deluxe version of Quarter Life Crisis, which arrives with an extra track titled 'Video Games.'
"I wrote that song essentially saying, like: 'f**k it,' you know? If none of this works out, I've got my video games. It's a fun little song," she explains, calling in from her label offices in North London. "I was gonna make it longer," she adds with a laugh. "I was gonna do this whole rap about gaming, and I didn't get to the end of it, but maybe there'll be a longer version one day." Watch this space, then.
Ahead of the release of Quarter Life Crisis, Baby Queen talks through four of the games that have been essential fixtures in her life.
Rust
During lockdown, Baby Queen first started to play Rust, inspired by her cousin, who "plays this game religiously" and watching YouTube videos of others playing the game. "It's a really immersive game. It's something that I feel like you have to put two months of your life aside to play properly because it eats away your life. Which it did for me a lot during lockdown, but it's a great game."
"We did this one really amazing raid," she says of enjoying the game with her cousin during the global lockdowns. "We met this guy on the server that was almost being bullied by a group of his friends, and he was being left out of their clan or whatever. So we were like, okay, join forces with us."
Determined to help their new pal, they "mined sulphur and iron for days," building a raid base next to their opposition's main base "so that we could take the loot and store it in there, and then transfer it."
When the moment was right, it was time to attack. "We all just descended on this base and absolutely attacked it when they were offline. We took everything, and then we logged off straight after that we were like: 'our work here is done,' and we got vengeance for the little kid who'd been left out."
The nature of Rust means it's not necessarily the best fit for the schedule of a touring musician. "When you go on tour, like that's the end of the road," she acknowledges. "When I play it now, it'll be like: 'oh, let's just play it for the night and have fun knowing that we are not coming back, because we are going to die.'"
However, that hasn't stopped her putting in the occasional hours. "I find it very thrilling, actually. I find the risk of dying at any time to be very thrilling, and I can't sit and think about my career or everything that's going wrong in my life, because I'm gonna die if I don't pay attention. A wolf is gonna eat me," she finishes with a grin.
Pokémon Ruby, Sapphire and Emerald
Next up is the Pokémon series. "I was completely obsessed," Baby Queen reflects on her first memory of playing a game in the franchise, in the form of Pokémon Ruby, Sapphire, or Emerald on GameBoy Advance. Although, it wasn't all smooth sailing: "I think when you're a kid, you don't really know how to play the game, so I didn't understand anything. I didn't understand the stats or the effective type moves or whatever, which is something you only realize later on, and then the game becomes a lot better."
It's a series that has remained a favorite, with Baby Queen adding: "I've played probably every single version of Pokémon [since]." Like many, the memories associated with games continue to bring her back to them. "There's something so nostalgic about it, you know? Whenever I put that game on, I remember being a kid. I remember how exciting I found that game.
"I remember literally going to find Pokémon in real life, taking nets and going into forests in South Africa [where she grew up] trying to become a Pokémon trainer. But it is such a good game. It's my favorite game in the whole world."
Mario Kart Wii
When Baby Queen headed out on tour in 2021, she also brought her Mario Kart skills on the road. Ahead of the evening's live performance, fans would be invited into the venue early and given the chance to challenge Bella to a race. "I won every time, obviously," she laughs.
"It's a really good way to connect with people," she adds of the experience. "Especially [as] a lot of people that I meet are shy, and they don't really know what to say. Having something that we can do, playing a game that we can all be a part of and laugh about, it's just a way to break the ice and make everyone feel comfortable."
Since it happened, it's become a highlight of playing the game for her. "That is a memory that really stands out, and I hope that we can do something like that in the future again, it was really cool. You've just reminded me of it. I'm like, 'Oh God, I really want to do something like that for the tour.'"
When it comes to her preferences with the different versions of the game, it's the version she first played,

Mario Kart Wii (releasing in 2008), which clinches the 1st place trophy in her heart. "Mario Kart Wii is better than Mario Kart 8," she says. "It's harder to control [with] the gliding. It's weird to go between those two games, but I'm better at the Wii, because I spent way more time playing that."
As for favorite tracks? "Yoshi Falls, Mushroom Gorge, Moo Moo Meadows. Not Rainbow Road, f**k Rainbow Road."
Sally Face
A big fan of indie point-and-click games with a horror element, Sally Face (alongside Fran Bow and Little Nightmares) rounds out Baby Queen's choices. What is it that appeals about these types of games? "I don't know, but I'm obsessed," she considers. "The number of times I've sat down and Googled 'games similar to Sally Face'..."
"I do just like horror games; I like being scared," she expands, digging into what it is that engages her. "I don't really like shooting games that much. I love the storyline of it. I think a storyline of a really good horror can be as good as the storyline of a really good film."
Sally Face fits the bill, with its "really uncomfortable storyline," she says. "It's very clever, and you're figuring out how to progress in the game. It's a bit disturbing, and it's smart. The music's really good [and] the story's really good," she muses of the game.
"It's the same for Fran Bow. It's the same type of indie sort of horror point-and-click, and there's a game called Little Nightmares, which has a second version of it called Little Nightmares 2. I think I loved how many times you have to try to get [to the next stage]; it's very satisfying to progress because you can get stuck for a really long time, and sometimes you have to attempt something thousands of times before you get it."
For more games like Baby Queen's favorites, be sure to have a look at our best horror games and best indie games list for essential recommendations.
Sign up for Black Friday email alerts!
Get the hottest deals available in your inbox plus news, reviews, opinion, analysis and more from the TechRadar team.