Baldur's Gate 3 players still haven't found a secret 2-hour section, according to Astarion's voice actor
Newbon was told about the hidden sequence in confidence and isn't allowed to even give hints about it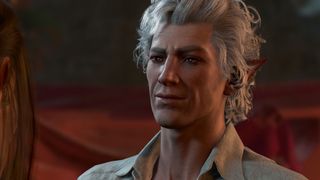 (Image credit: Larian Studios)
Update - September 21
Larian Studios has debunked the ongoing theories surrounding a viral Twitch clip featuring Baldur's Gate 3 voice actor, Neil Newbon, who said there was hidden content yet to be found in the game.
Yesterday, it was reported that Newbon - who plays Astarion - had revealed in one of his regular Twitch streams on August 31 that there's a hidden sequence of the RPG that no one had found, saying that he was one of the few people who knew about it and that he's not even allowed to give hints.
It was only natural then for players online to go wild with their theories, with some desperately hoping they hadn't missed an important section of the game, while others were jokingly demanding that Larian and Newbon reveal what it was.
However, Larian has since clarified what Newbon meant in the clip and it turns out there are plenty of players who have discovered the hidden section without realizing it.
Spoilers for Act 2 ahead.
"Neil's comments were from a signing he did closer to the launch of the game, and he was being secretive in order to avoid spoilers. Players have since found the quest and the lines of dialogue he was talking about. Spoilers ahead!" Larian said in an email to press.
"There's a quest off the beaten path at the Rosymorn Monastery that rewards you with a nice mace called the Blood of Lathander. If you're not careful or you try to steal the mace, you may activate a terrifying solar weapon.
"If you (intentionally or unintentionally) kill Astarion with this solar weapon and then revive him once you're back at camp, he… will have some choice words for you."
Larian also provided a YouTube clip from the sequence, showing Astarion's full reaction to you incinerating him, and it's hilarious.
During my first playthrough, I didn't encounter this sequence, but I have seen plenty of the same clip circulating online from other players since the game was originally released on PC back in August.
According to the Steam achievement stats for the game, as of writing only a small percentage of players have actually been able to complete the related quest which earns you the 'Taking Blood' achievement, so it's still a harder sequence to find than others.
Original story
Voice actor Neil Newbon has revealed that Baldur's Gate 3 players have yet to discover a hidden two-hour section of the game.
Newbon, who plays the roguish vampire spawn Astarion, revealed in one of his regular Twitch streams on August 31 that there's a particular section of the RPG that no one has found yet - that he's aware of - and that he's one of the only people who know about it (via GamesRadar).
At the start of the clip, Newbon discusses the fact that, due to the game's multitude of choices and branching paths across hundreds of hours of playtime, it's possible players will completely miss out on a bunch of content.
The actor then goes on to tease the hidden sequence that he "doesn't think anyone's going to work [it] out."
"There's even something I know about that you can't get to unless you do something which I don't think anyone's going to work out," Newbon said, adding that he "was told this in confidence," and doesn't think he's allowed to tell anyone.
"I think I'm one of the few people who know about it as well. It's quite f**king crazy," he continued.
Newbon says that someone will find it at some point "through a very specific reason" and that it's roughly around two hours of content. When asked on stream if the sequence pertains to his character Astarion he replies, "I can't say anything, I'm literally not going to tell you anything about it. I'm not even going to give you a vague clue or hint..."
"That's what Larian's like, they're f**king brilliant," Newbon adds.
It's worth noting that this clip is now around three weeks old, so it's entirely possible that someone has since discovered the secret content now that Baldur's Gate 3 is available on both PC and PS5.
Some users in the comments under the video have their theories of what it could be with one person saying they think it's the "Early Access Shadowheart romance scene," which was apparently "impossible" to get before the game officially launched, while others believe that the hidden content has nothing to do with the core cast since Newbon was told about it in confidence.
Baldur's Gate 3 is a massive game with hundreds of possibilities; Larian has previously revealed that the game has around 17,000 ending variations, so who knows if and when the actual sequence will be discovered.
Baldur's Gate 3 is one of 2023's best games and might just be one of the best RPGs of all time, but, if you're looking for something new to play, check out our picks for the best PC games.
Get daily insight, inspiration and deals in your inbox
Get the hottest deals available in your inbox plus news, reviews, opinion, analysis and more from the TechRadar team.