How AI can address media bias in web hosting and website building
AI is taking the web hosting sector by storm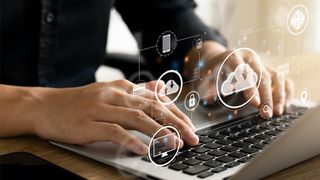 (Image credit: Shuterstock/Thapana_Studio)
Bias in media can be both intentional and unintentional and manifests itself through the way news stories are reported, the language used, and the framing chosen. As news is a primary source of information on current events, the presence of bias can be dangerous. It is therefore essential to be able to recognize bias when consuming news media to ensure the truth is preserved.
Karen Yin's concept of 'conscious language'—defined as language that is both rooted in critical thinking and compassion, and used skillfully in a specific context—has been a helpful resource in our attempts to combat biases and design for a wide range of users. Just like getting rid of bad habits, we must put in the effort to succeed in this endeavor.
Web designers have a range of resources available to them, which can assist with making digital design more accessible. These include WordPress accessibility tools, web accessibility checkers, WAI-ARIA guidelines, and more. Even so, it is important to be aware of certain users' limitations when using the web. There is no tool that can guarantee a website is providing the most equitable and encompassing experience possible—this is something web designers must learn and ascertain for themselves.
Web developers can consider combining these concepts of accessibility and non-bias language when designing websites to combat the spread of disinformation online. Let's dive into the various forms of bias surrounding media and web design before looking at the tools available to combat it.
The media bias landscape
Research has consistently suggested that news outlets often report on negative stories, leading to a culture of fear. This phenomenon is especially true when it comes to the front pages of newspapers, which are typically filled with the day's most dire news from around the world. Media manipulation involves utilizing biased, often sensationalized negative content to emphasize any political leanings, whether they be on the left or right.
To understand the extent of media bias, there are already companies developing AI technology to analyze sentiment, opinion, revision, and propaganda. Sentiment analysis looks at the level of positivity or negativity in a journalist's writing. Opinion analysis examines the personal beliefs and judgments expressed in a journalist's work. Revision analysis looks into the changes made to a news story over time. Finally, propaganda analysis can identify up to 18 persuasive techniques and detect potential disinformation.
Using AI, companies are able to locate and target the most probable consumers of a message or point of view. Google, for example, has implemented its RankBrain algorithm to refine its capabilities to recognize authoritative results. Additionally, AI can be used to perform linguistic analysis on the textual content to detect human-produced articles by analyzing word patterns, syntactic structure, and readability. These algorithms can also detect hate speech by looking at word vectors, word placement, and connotation.
Where does web building bias fit in?
The World Data Lab estimates that 1.1 billion "internet-poor people" may struggle to access websites due to a lack of affordability or insufficient data. Likewise, the Pew Research Center found that the number of seniors using the Internet is growing. However, half of them require assistance to set up and use digital technologies. Businesses should consider how excluding this large segment of the population from their website affects the long-term viability of their brand. Having biased content on web pages only serves to exploit this population further, whereas non-bias content can aid in the movement to provide more accessibility online.
There are many forms of bias that can infiltrate web design and building—omission bias is perhaps the clearest of these. Omission bias refers to our expectations of outcomes. It is the tendency to judge harmful outcomes caused by action as worse than those caused by inaction. This bias can lead us to think that deliberately deceptive design is worse than not taking steps to make sure that a design is inclusive. This can lead to companies overlooking user research or leaving inclusive UX work for later and can also lead to companies using accessibility overlays as a post-production solution. However, these overlays have been known to be problematic and can actually worsen accessibility.
What are the AI tools that can help?
There are companies already progressing to bring these aforementioned AI tools into the website design service and development process. Upcoming concepts have referenced the idea of a simple web interface with an API that would provide insight regarding bias on any blog post, web page or other copy. Ideally, this would be an automated process whereby when the text is ready to be published, it is run through the tool for analysis.
Just as various plugins and tools emerged to assist writers and developers in the past—tools like spell checkers and then grammar analyzers followed by tools that suggest appropriate grammar—tools will emerge assisting with textual and semantic analysis. At first, due to the extreme use of graphics processing units (GPU) to perform the analysis, these tools will analyze the text as a whole. Eventually, as processing speeds and learning models improve, these tools will operate in real-time as the author types.
Generative AI also has the potential to assist web content creators in generating fresh ideas and producing content that resonates with their audience. A helpful example comes from Drupal, who have allowed integration with ChatGPT. One can easily observe that the source code of these modules in Drupal permits the straightforward addition of AI capabilities—ChatGPT's APIs facilitate the integration process. Based on the Drupal example, it is highly likely that every CMS will offer AI capabilities for creating and managing content within the next year or so.
What are the challenges and opportunities of these tools for web hosting?
Obviously, this does also present a conundrum. Here we have a tool that aims to eliminate bias, yet there may be many marketers and business owners reading this and rightfully thinking "I want to be persuasive to sell my product". After all, while one can argue that true journalism requires an "authentic voice" free of bias and opinion, marketing documents require a different "voice." This is where the API could also be adapted and tailored to suit the user's goals in the future, rather than just a pure bias highlighter. As an example, different metrics can be used to assist authors with writing compelling "market speak".
Even web developers using the best web hosting services will need to soon consider the importance of AI optimization—similar to Search Engine Optimization—in emphasizing trust, authority, relevance, and content understandability. High-quality content is still essential for both, and unfortunately, AI search engines still face the challenge of attribution. The sourcing of content is often unknown, making it difficult to trust the AI bots, but hopefully, more AI bots will incorporate attribution moving forward.
Additionally, it has been widely established that a large portion of online content originates from white males in Western countries. As a result, the training data and outputs of ChatGPT may reflect this demographic bias. Such biases are a cause for concern and can even pose a risk, as mentioned in the section above, particularly when considering the potential impact of these technologies on society.
The fact is, at the moment, it is a fairly abstract and completely novel concept, but it provides the possibility for website developers to proudly declare that their site has met the stamp of approval for non-bias content, which is a great selling point. Writing blog posts and articles that seek to avoid bias can help make websites more accessible to users, who can then browse safely in the knowledge that no manipulation is taking place.
Here's a list of the best website builder providers, to which most have incorporated AI into the tool
Are you a pro? Subscribe to our newsletter
Sign up to the TechRadar Pro newsletter to get all the top news, opinion, features and guidance your business needs to succeed!
CTO of netTALK CONNECT and NOOZ.AI
Garry M. Paxinos is the CTO of netTALK CONNECT and NOOZ.AI. Paxinos was most recently the CEO of Axios Digital Solutions, LLC, a media and technology consulting company and is actively involved on several international standards committees and conference program committees that help define DTV standards throughout the world.