Supported
How to buy AI domains and are they worth it?
Put the AI in domain names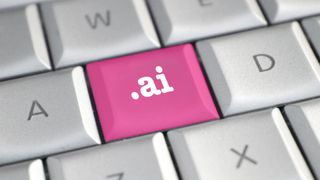 (Image credit: Shutterstock/Happy Stock Photo)
Buying AI domains can be a worthwhile investment for those interested in the growing influence of Artificial Intelligence. These unique web addresses offer an opportunity to establish a unique online presence within the AI industry and can serve as valuable assets in the digital world.
Whether you are an individual entrepreneur, a tech startup, or an established company, acquiring an AI domain can help you convey expertise, ensure credibility, and attract relevant audiences.
There are important approaches to this investment with careful consideration and strategic planning, taking into account factors such as domain availability, long-term opportunities, and branding potential to help you make informed decisions.

Reader Offer: 75% off + 2 months free
When it comes to AI tools, Hostinger is a standout. Their AI-powered suite covers various functionalities, making website creation effortless. The user-friendly Hostinger website builder, backed by AI, allows anyone to design and launch stunning websites easily.
Responsive design, SEO optimization, and customizable templates are just a glimpse of the advanced features available. Boost productivity, save time, and achieve impressive results with Hostinger's AI tools, ensuring your online presence leaves a lasting impact. Find out more.
Preferred partner (What does this mean?)
What is an AI domain?
An AI domain refers to a top-level domain (TLD) used in the domain name system (DNS) to represent websites or online entities. The AI TLD stands for "Artificial Intelligence," which makes it particularly relevant in the context of AI-related activities.
The extension .ai has gained popularity in the tech and AI communities due to its association with Artificial Intelligence. Companies, organizations, and individuals working in the field of Artificial Intelligence have adopted AI domains for their websites, as it provides a distinctive and memorable extension that aligns with the sector.
The AI domain has become especially popular for startups, research institutions, and businesses related to Artificial Intelligence, Machine Learning, robotics, and other related technologies. It is often used for websites showcasing AI products, services, research, or AI-driven applications.
It's important to note that while the AI domain has gained prominence in the Artificial Intelligence community, it is not limited exclusively to AI-related content. It can be registered and used for any purpose, similar to other generic top-level domains like .com or .org.
How to buy AI domains?
The first thing to do would be to find a domain registrar that offers .ai extensions. Not all registrars may support .ai domains, so it's important to choose one that does. Some of the best domain registrars that offer .ai domains include Namecheap, GoDaddy, IONOS, 101domain, and Hostinger.
Once that's sorted, you'll need to check for availability. Use the registrar's domain search tool to check if your desired .ai domain is available. Enter the domain name you want to purchase (e.g., RubyjaneTechradar.ai) and initiate the search. If the domain is available, you can proceed with the registration process. If it's already taken, you may need to consider alternative domain names or explore the possibility of purchasing it from the current owner if it's for sale.
You'll then need to register the AI domain. Once you find an available AI domain, follow the registrar's instructions to complete the registration process. You will typically need to provide the necessary contact information, including your name, address, email, and payment details. Ensure the information you provide is accurate and up to date.
Next, configure your AI domain. After successfully registering the domain, you will have access to domain management tools provided by the registrar. These tools allow you to configure various settings for your domain, such as DNS (Domain Name System) configuration, nameservers, and other domain-specific settings.
Other steps include:
Addons to your AI domains: Depending on your requirements, you may have the option to purchase additional services from the registrar, such as privacy protection (to shield your personal information from WHOIS searches), email forwarding, or website hosting. Evaluate these options based on your needs and budget.
Payment and renewal: Complete the payment process as per the registrar's instructions. Take note of the registration period and renewal policies. Domains are typically registered for a specific duration (e.g., 1-year, 2-years), and you will need to renew the domain before it expires to maintain ownership.
Domain transfer (if applicable): If you already have an AI domain registered with another registrar, but you want to transfer it to a new registrar, you'll need to follow the specific transfer process provided by the new registrar. This usually involves unlocking the domain, obtaining an authorization code, and initiating the transfer. It's important to conduct thorough research and compare prices and services among different registrars to ensure you choose a reputable registrar that suits your needs. Also, be aware of any specific requirements or restrictions imposed by the registry or registrar regarding AI domain registrations.
Are they worth it?
AI domains can be worth the investment for individuals, startups, and companies seeking to establish a distinct online presence in the artificial intelligence industry.
These domains showcase professionalism, credibility, and attract the right audiences. AI domains offer unique branding opportunities and align with the growing influence of artificial intelligence.
While availability and specific domain names impact value, AI domains can enhance online visibility and serve as valuable assets. Proper research, strategic planning, and choosing a reputable registrar are very important for maximizing the potential benefits of AI domains.
Final thoughts
Buying AI domains can be a good decision if you want to take advantage of the growth of artificial intelligence. Following the steps mentioned in this guide, you can acquire an AI domain that aligns with your business goals and enhances your online presence in the artificial intelligence industry.
While the worthiness of AI domains varies depending on individual needs, they offer unique branding opportunities and can show expertise and trust. Bear in mind factors such as branding potential, availability, and long-term plans when making your decision. With careful planning and choosing a reputable registrar, AI domains can be valuable tools that contribute to your success in the AI landscape.
Are you a pro? Subscribe to our newsletter
Sign up to the TechRadar Pro newsletter to get all the top news, opinion, features and guidance your business needs to succeed!
Ruby has been a freelance technology writer for over four years and has a passion for information technology and the Internet in its entirety. She has a wide range of specialities including web hosting, streaming (Firestick, Kodi, and APKs), VPN, information technology, and affiliate marketing. Ruby is a graduate of Bachelor of Science in Commerce from the University of the Philippines, and regularly codes in her free time.