Forza Motorsport is the eighth entry in the Xbox exclusive racing series and it's currently in development at Turn 10 Studios. There's still plenty we have to learn about the game but it's likely going to be a showcase of what the Xbox Series X can really do.
Turn 10 has confirmed that this game will simply be known as Forza Motorsport, rather than Forza Motorsport 8. That's because the studio is looking to refresh and reinvigorate the series and that's being reflected in its title.
To achieve that refresh and reinvigoration, Turn 10 has also stepped back from the series' standard two-year development cycle. The last Forza Motorsport release was all the way back in 2017 with Forza Motorsport 7, so this is the longest we've gone without a new entry. With the extra development time, though, Turn 10 has overhauled the ForzaTech engine so that it'll deliver a truly next-gen racing experience that will hopefully be worth the wait.
Thankfully, the June Xbox and Bethesda showcase just confirmed a release window, giving us a fresh look at what to expect. That follows a development update (opens in new tab) at the end of 2021, where the studio promised it'd have more to share in 2022. With Gran Turismo 7 tearing up the track on PS5, we're hopeful to learn more soon about Microsoft's racing sim rival.
In the meantime, keep reading to find out everything we've learned about Forza Motorsport so far.
Forza Motorsport: cut to the chase
What is it? The eighth entry in the Forza Motorsport racing series
When can I play it? TBC
What can I play it on? Xbox Series X/S and PC
Forza Motorsport release date and platforms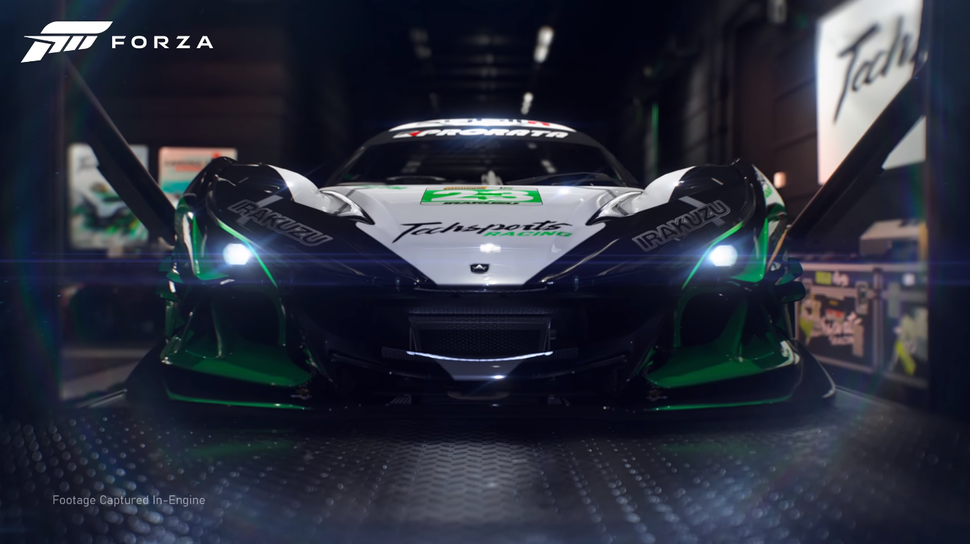 Forza Motorsport will arrive in Spring 2023, available on Xbox Series X, Xbox Series S and PC.
With the game being targeted for the newest consoles available, we can reasonably expect it to take advantage of some new features, such as ray tracing or even offering a 120fps mode. It's rumored that Forza Motorsport will launch on Xbox One too, but that remains unconfirmed.
Like all Xbox first-party games, it'll be available on Xbox Game Pass and Xbox Game Pass Ultimate the day it is released.
Forza Motorsport trailers
Official Trailer
During the Xbox and Bethesda Showcase in June 2022, Forza Motorsport received an official new trailer. Lasting just over a minute, we got a look at how hard Turn10's pushing this new Xbox hardware.
Gameplay Demo
The new trailer was immediately followed by a stunning gameplay demo, which showcased the fictional circuit known as Maple Valley. Fully utilizing ray-tracing and new dynamic time features, seeing is believing and you can watch the full demonstration below.
Announcement trailer
Forza Motorsport was announced with a world premiere trailer at Microsoft's Xbox Games Showcase in 2020. The trailer doesn't give much away but the in-engine footage is certainly impressive. Check it out below:
Forza Motorsport playtests
Turn 10 revealed that the Forza Feedback Panel (opens in new tab) will be how players can get their hands on the next Forza Motosport, so the game can be shaped by the community.
Signing up is simple: you need to be at least 18-years-old and agree to a confidentiality statement, which you can opt-out of at any time if you decide to leave the program.
The first playtest took place on May 8 2021, and resulted in a "ton of great feedback" from the community, according to creative director Chris Esaki. Esaki said that after the playtest, the team was pretty sure that everyone is "super hyped and energized" by what was shown. He also explained that the reason why only small parts of the game are being tested is so that the team can get "critical feedback" on "focused areas".
But if you happened to miss out on the first playtest, fear not. More playtests are expected to take place in the future, though we're waiting for an exact date on when these will take place.
Forza Motorsport car list
What kind of cars can we expect to see in Forza Motorsport, and more importantly, which vehicle will grace the game's cover? While that's hard for us to guess with much accuracy, we can at least get a sense of how many cars will be in the game, based on Forza Motorsport 7's total.
Forza Motorsport 7 featured 700 cars and 32 tracks, which is an impressive amount. While there's no guarantee the next game will beat this figure, mostly owing to the fact the cars will likely have to be remodeled or upgraded for the next-gen systems, we hope Forza Motorsport will at least come close to this figure.
We'll update this section when we have more information on Forza Motorsport's car list.
Forza Motorsport news and rumors
New trailer and gameplay revealed
The Xbox and Bethesda showcase revealed a brand new trailer and gameplay demo for Forza Motorsport. Giving us an in-depth look at how this latest entry makes full use of advanced graphical technologies, you can watch those trailers above. It's unclear if we'll see more at the Extended Showcase on June 14 but considering that focuses on previously showcased games, we're not ruling it out.
Xbox One on the cards?
Initially believed to be console exclusive for Xbox Series X and S alongside a PC release, leaked images suggest that Forza Motorsport could potentially come to Xbox One too.
Recently, on r/gamingleaksandrumors (opens in new tab), two pre-release images of Forza Motorsport appeared, said to have been taken in July 2021. There's not much to glean from the photos themselves, these only show a garage and a team looking to start this race, but the interesting part is that they reportedly come from an Xbox One build.
That's since been "verified" by a mod on this subreddit, though it remains officially unconfirmed by Microsoft and Turn 10. Around the same time, separate Forza Motorsport rumors also emerged from Windows Central's Jez Corden, who advised in the latest Xbox Two podcast that it's in beta and some influencers have already played it.
No Xbox One version has been mentioned previously and, given how the game is expected to take advantage of newer features, like 4k resolution and ray tracing, it'd certainly be a surprise.
DNA of Forza Street will live on
Forza Motorsport developer, Turn 10, has announced that it's shutting down its mobile title Forza Street and as of spring 2022, the game will no longer run. In an FAQ (opens in new tab) covering the shut down, Andy Beaudoin, Principal Design Director at Turn 10 Studios, said the decision to close the game comes "as the team shifts its focus to new and exciting Forza experiences" and that "while saying goodbye to Forza Street may be difficult, know that its DNA will live on in the next wave of products we create."
More to come in 2022
In a studio update (opens in new tab) closing out 2021, Turn 10 promised more Forza Motorsport news in 2022. Touching on the progress made through 2021, the studio mentioned hosting the game's first ever external playtests and promising "more changes from FM7 to now than all the changes we made from FM4 through FM7."
Closing out the section on Forza Motorsport, Turn 10 wrote to say, "we'll have more to share about Forza Motorsport in the new year; stay tuned. In the meantime, our team is constantly experimenting and to reiterate, what we've been testing in 2021 is nowhere near final. We'll continue to test as needed because we know how crucial the online racing experience is to our community and for us, it's just as important to get this right."
Forza Motorsport 7 pulled from sale
Forza Motorsport 7 has been pulled from sale as of September 15, meaning the game and its DLC are no longer be available for purchase and nor is it on Xbox Game Pass. For those hoping this is a sign that the next game's release is right around the corner, unfortunately, that's not the case.
On Twitter (opens in new tab), the official Forza Motorsport account confirmed that the game has been pulled as its third-party licenses (which allow the game to feature real-world cars, tracks and other elements) are set to expire. It's not too surprising that Microsoft isn't opting to renew these licenses, though, given Forza Motorsport is coming at some point even if we don't know exactly when.
Cloud gaming could be key for Xbox One
Forza Motorsport looks set to come to Xbox Series X/S and PC, skipping the Xbox One generation. However, Xbox One owners might not miss out entirely.
In a post to the Xbox Wire blog, Microsoft says that it will be using its cloud streaming technology to serve up games that require the Xbox Series X/S's power in order to deliver them to the last-gen Xbox One.
"You'll see many games this holiday, including Forza Horizon 5, which will boast DirectX ray-tracing on both Xbox Series X and S, and Battlefield 2042, which will run at 60fps while supporting 128 players on Xbox Series X/S.
"Some games launching next year from our first party studios and partners, such as Starfield, Redfall, and Stalker 2 require the speed, performance, and technology of Xbox Series X/S.
"We're excited to see developers realise their visions in ways that only next-gen hardware will allow them to do. For the millions of people who play on Xbox One consoles today, we are looking forward to sharing more about how we will bring many of these next-gen games, such as Microsoft Flight Simulator, to your console through Xbox Cloud Gaming, just like we do with mobile devices, tablets, and browsers."
Though Forza Motorsport isn't mentioned explicitly in the blog post, it's possible that it could fall under this umbrella of first-party games.
A 'huge generational leap' over previous games
Chris Esaki, the game's creative director, shared details on how Forza Motorsport's physics have evolved from Forza Motorsport 7. "To put the physics work into perspective… the changes we made from Forza Motorsport 7 till now, is more than the changes we made from [Forza Motorsport] 4 through [Forza Motorsport] 7. It's basically a huge generational leap coming to the game."

According to Esaki, the tire collision model has also been overhauled. From the first game to Forza Motorsport 7, tires have always had a single point of contact with the track surface, and refreshed at 60 cycles per second (60Hz). In Forza Motorsport, there are now eight points of contact with the track surface, and the engine will refresh at 360 cycles per second (360Hz). That's a 48x fidelity jump for a single tire collision.
Multiple tire compounds confirmed
Multiple tire compounds have been confirmed for Forza Motorsport, a first for the series. Tire compounds such as hard, medium and soft will deepen the gameplay and racing strategy, and Esaki said it will lead to "exciting new gameplay decisions during a race."

Weather warning
Environmental factors will also need to be taken into account in Forza Motorsport, and have the potential to make each lap feel different, according to Esaki.
"We're working on things like track temperature and how it affects things like grip and tire pressure, and tire wear. In addition, you can imagine how changes in the time of day and weather, along with the new tire wear modeling and all of the new compounds lead to a much deeper driving and racing experience."

Name change
Surprisingly, the eighth Forza Motorsport game isn't called Forza Motorsport 8. Forza Motorsport's creative director Chris Esaki admitted that there's some confusion regarding the game's name, and clarified that the eight has been dropped altogether.
"I just wanted to reaffirm that the name of the game is Forza Motorsport," said Esaki. "There's no sequential eight after the title. It really is an all-new Forza Motorsport experience."