It may not make as many headlines as some of the competition, but Trend Micro is a security giant, its wide range of enterprise, virtual, business and consumer antivirus products bringing in an annual revenue of $1.1 billion (around £870 million).
The home product range starts with Trend Micro Antivirus+ Security, a simple package which focuses on the fundamentals, yet still manages to deliver more than you might expect.
There's real-time antivirus protection and blocking of malicious URLs, of course. Social Networking Protection highlights dangerous links at Facebook, Twitter, Google+, LinkedIn, Pinterest, Weibo and more. A Folder Shield feature offers extra ransomware protection, warning of unauthorised access to specified folders. There's even a capable spam filter for Outlook, something that just about every other security vendor reserves for its security suite.
It's a very solid set of features, yet the price is surprisingly low at only £20 ($25) for a one computer, one-year licence, or £30 ($37.50) for a two-year licence.
It's a slightly different story if you need to cover other devices. Trend Micro wants you to do this by purchasing its security suites. Trend Micro Maximum Security adds features like a password manager and parental controls, and it can protect PCs, Macs or mobile devices, with a 10 device, two-year licence costing only £108 ($135). That's also better value than most, although Bitdefender's 10 device, three-year licence still tops the overall affordability list at £110 ($138) – a smidge more in terms of overall cost, but that's for an extra year of protection.
Setup
The Trend Micro Antivirus+ Security web page doesn't have an obvious link to a trial, instead referring to a '30-day money-back guarantee'. The company may be hoping you'll buy now and worry about the issues later, but don't be fooled, clicking the Downloads link at the top of the page leads you to a Free Trials area with the files you need.
Downloading was easy, and setup largely automatic. You're prompted to enter your email address at the end of the process to get product news and updates, but this is optional. We left the box blank and the installer didn't complain.
The initial update wasn't as straightforward. Antivirus+ Security launched an update module which warned us not to restart our PC, but then didn't do anything. At all. For 10 minutes, 20, then 30. We gave up, restarted our PC anyway and a Trend Micro 'Updating...' window appeared. This time it ran smoothly, completing within a minute, and we didn't see any update problems again.
Once setup is complete, you can safely leave the program to do its work. You may see occasional alerts as the program finds threats, but otherwise Trend Micro Antivirus+ Security handles most issues on its own.
If you're the hands-on type you'll find key system settings available in a couple of clicks. These are described clearly – 'Display a warning after detecting viruses, spyware or suspicious behaviour' – and you can toggle them on or off as required.
While checking the installation we noticed one technical oddity: several Trend Micro DLLs are unsigned. We were also able to delete one, perhaps because it wasn't being used. This isn't an immediate security risk, but it's a little sloppy, and not an issue we find with most antivirus products.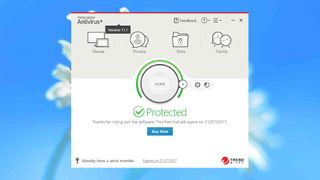 Features
The interface has a friendly and appealing look. There are large animated icons, a big scan button, a clear description of your security status, and text captions and tooltips to make it clear how everything works. You can even customise the console with a new background image.
Scanning options are straightforward. You're able to run quick, full or custom scans, or check specific drives or folders. Options are kept to a minimum, and even browsing the Settings dialog doesn't reveal anything too technical or intimidating.
Scan times are fractionally better than average, although you're unlikely to notice unless you're timing them. Quick Scans do a good job of picking up active threats, typically in under two minutes, and accuracy is also better than most.
URL filtering was another highlight, blocking almost all our test URLs in every browser we tried. It's also unusually configurable, with options including a 'protection strength' slider to more aggressively block sites, or reduce false alarms.
Trend Micro's Social Networking Protection builds on the URL filter by displaying green 'Safe' or red 'Danger' icons next to every link on your social media feed. We found that immediately helpful on our Facebook timeline, as it made it instantly clear which posts and graphics linked to other (non-Facebook) sites. And although the indicators are almost always green, that only helps get your attention when a red cross finally appears.
The issue with Social Networking Protection is that it only works on supported browsers where you've installed Trend Micro's extensions (that's Internet Explorer, Firefox, Chrome). But if that's not a problem for you, it has other benefits, including the ability to display its safety ratings next to your search engine results.
Other tools include Trend Micro's Folder Shield, an anti-ransomware module. It's very simple to use – specify one or more folders, and the program then stops unknown programs accessing their contents – but was effective in our quick tests. Overall, it's a welcome extra layer of protection which could block even brand-new undiscovered threats.
The real surprise here is the spam filter. Trend Micro doesn't make any effort to highlight this, and unless you browse to the right page of the Settings dialog you might never realise it was there. There's a problem – it only works with Outlook, Windows Mail and Windows Live, using POP3, SMTP and Exchange – but if you can live with that, it's a useful way to keep your inbox clean.
Protection
Antivirus+ Security scored highly in our quick protection tests, but to get the bigger picture we also checked out how the company has been rated by the main independent testing labs.
AV-Comparatives' real-world protection tests tell a generally positive story, with Trend Micro blocking 100% of threats in the first four tests of 2017. Unfortunately, the organisation also found the product raised far more false alarms than most of the competition, reducing its score.
AV-Test's April 2017 antivirus report uncovers a high level of accuracy, and it didn't find any problems with false alarms. Trend Micro was given a Top Product award, along with Avira, Bitdefender, Kaspersky and Norton.
SE Labs Home Anti-Malware Protection report is on a smaller scale, but delivers broadly comparable results: Kaspersky, Norton and ESET are top-rated, Trend Micro and Bitdefender are fractionally behind.
If there's a problem here, it's likely to be performance impact. Trend Micro Antivirus+ Security appeared to slow down some operations on our test PC, and PassMark's March 2017 Performance report suggests this could be widespread. 15 security products were assessed for performance issues using 23 metrics, and Trend Micro came bottom of the list.
We don't agree with every aspect of PassMark's scoring, but AV-Comparative's May 2017 performance test delivered very similar results, placing Trend Micro 19th out of 21.
These aren't fatal issues, and any performance slowdown you might see will vary depending on your hardware, and how you use the program. Just be sure to consider this if you download the trial, and it would be a good idea to run one or two performance tests of your own.
Final verdict
Trend Micro has produced a user-friendly antivirus with some valuable extras including anti-ransomware measures and a spam filter, but look out for any possible performance hit.