iPad Pro
Apple is expected to announce a tablet with a similar form factor to the Surface Pro 3 called the iPad Pro. The tablet is expected to come with optional accessories, including a keyboard and a digital stylus, both accessories will compete with the Type Cover keyboard case and the Surface Pen for the Surface Pro 3.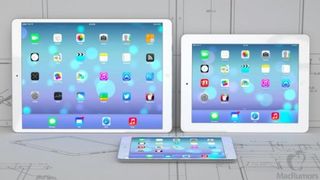 To support the larger 12.9-inch iPad Pro, Apple had announced that its new iOS 9 software will support split-screen multitasking and a picture-in-window feature for watching videos. The Surface Pro 3, on the other hand, comes with more advanced multitasking with Windows 10's Snap feature, run legacy Win.32 programs and support a broader range of peripherals, including external drives.
It's also unclear at this point how Apple will address the security needs of enterprise users with the iPad Pro. Apple will likely use Touch ID for biometric security and data encryption, but Apple has not supported TPM or Smart Card readers in prior iPad releases. Apple had announced partnerships with IBM and Cisco to help drive iOS adoption in the enterprise space.
Why you may want to skip the Surface Pro 3
Even though Microsoft's latest partnerships will make the Surface Pro 3 more readily available to IT managers looking to deploy new slates or upgrade their existing tablets, corporate users may want to skip the Surface Pro 3. Microsoft is rumored to announce a Surface Pro 4 in October alongside a new lineup of Lumia smartphones and the Windows 10 Mobile operating system.
Some of the new features expected on the Surface Pro 4 include a transition to Intel's sixth generation Skylake processor and a configuration with an even larger display. Skylake will deliver better processing performance and improved battery life, but the biggest improvement will come in the form of stronger integrated GPU performance.
Intel claims that the integrated Intel HD graphics in Skylake can deliver about 80% of the graphics performance offered by today's discrete graphics chips. This means that you can get mobile workstation-like performance in a slim tablet form factor. For those who need a versatile device that can double as a desktop workstation, Intel demoed a Skylake-retrofitted Surface Pro 3 that can drive up to three 4K displays at 60 frames per second.