A revamp of that looks less like the G-DRIVE PRO model, the new drive now offers 22TB, but relatively little more. How the cost scale slides unevenly with the capacities will put off many.
Pros
+

Up to 22TB of external storage

+

Cheaper than the previous design

+

Well engineered hardware
Cons
-

Pre-formatted for Mac

-

Lacks USB-A cable

-

No software utilities
Why you can trust TechRadar We spend hours testing every product or service we review, so you can be sure you're buying the best. Find out more about how we test.
SanDisk Professional G-DRIVE Desktop: Two minute review
SanDisk Professional G-DRIVE Desktop (2022) Spec
Interface: USB 10Gbps (USB 3.1 Gen 2)
Connector: USB Type-C
Drive: (1) 3.5" hard drive
Data Transfer Rate: 4TB, 6TB and 12TB: Up to 250MB/s read and 250 MB/s write
18TB: Up to 270MB/s read 270 MB/s write
22TB: Up to 280MB/s read 280 MB/s write
Operating Temperature: 41°-95° F (5°-35°C)
Size (LxWxH): 5.24 x 8.27 x 1.61 in | 133 x 210 x 41 mm
Weight: 3.06 lbs / 1.39 kg or less for larger capacities
4TB, 5TB: 0.77 lbs / 0.35 kg
Operating Systems: Pre-formatted in APFS, macOS 10.15+ (Time Machine Compatible), Windows® 10+ (Via Reformat)
Box Contents: G-DRIVE Desktop Drive, PSU, USB-C to USB-C Cable, Quick Start Guide
The SanDisk Professional G-DRIVE Desktop Drive range is an external hard drive that is firmly aimed at those that want to spend big and get something special.
Previously SanDisk made the G-DRIVE and G-DRIVE PRO series that shared similar styling and internal drives. But the G-DRIVE PRO offered Thunderbolt connectivity above the USB 3.0 capability of the vanilla G-DRIVE.
This newer G-DRIVE design has had a visual overhaul and now offers 22TB as the biggest capacity drive. That's an improvement over the 20TB previously offered, and the 2022 model also has a few other design tweaks.
To deliver this much storage space, the mechanisms inside the enclosure are all 3.5-inch forms, and when inside a box that is still mostly metal removes any notion that this might be used as portable storage in any practical way.
The SanDisk Professional G-DRIVE Desktop Drive was meant to live on a desk and provide a localized means to secure data and expand the internal capacity of a laptop or desktop system.
SanDisk's chosen connection technology is USB-C, and a 1m long cable rated for 20Mbit transfers is included in the box with the drive and PSU.
Why they provide such a high-quality cable is a mystery because the physical hard drives in this series can't manage 2Mbit/s transfers going downhill on a windy day.
That they don't include a USB-A to USB-C cable is a disappointment at this price, although most customers will probably have this item if they need it.
The exclusive USB-C-only support out of the box is matched with the unit being pre-formatted for Apple systems.
Maybe G-DRIVE hardware is mostly bought by Apple owners, or they don't think that Apple users could work out how to reformat and so burdened Windows users with that job. Why they didn't just format it with something both systems would understand isn't obvious.
Therefore, when we tested a 12TB edition of the G-DRIVE Desktop Drive, we were forced to reformat it on our test PC before it would appear as a drive in the file system.
Other than that, installation is remarkably straightforward since SanDisk doesn't provide any software utilities, relying instead on the customers to provide those.
Apple users can use Time Machine, and Windows users can use whatever sync tools they have to hand, if any.
The two big selling points here are the quality of construction and the dramatic amount of capacity potentially on offer.
When you compare the cost to that of a bare mechanism and a simple USB enclosure, the G-DRIVE Desktop Drive is one of the more expensive ways to get extra space, and it's also relatively slow compared to SSD drives.
We're not at the point where SSD storage compares to this solution in terms of cost per GB and sizes available, but eventually, it will happen.
In the meanwhile, the SanDisk Professional G-DRIVE Desktop Drive is available and can provide voluminous amounts of drive space for those willing to pay the asking price.
SanDisk Professional G-DRIVE Desktop: Price and availability
How much does it cost? From $233.39 / £206.99 for the 4TB model
When is it out? It is available now
Where can you get it? Widely available from the larger online retailers in most regions and directly from Western Digital.
Currently, there are five capacity options for the new G-DRIVE Desktop Drive that include 4TB, 6TB, 12TB, 18TB and 22 TB drives.
UK customers can buy these directly from Western Digital for £206.99, £266.99, £468.99, £632.99 and £707.99. Where in the USA, the dollar equivalents are $233.39, $266.69, $422.29, $577.79 and $764.69, respectively.
That's a cost reduction from the previous G-DRIVE Desktop design and dramatically cheaper than the PRO model that uses a Thunderbolt connection.
However, in keeping with the G-DRIVE branding, it isn't cheap exactly. A bare retail 4TB drive from Western Digital is around $100, making most of the cost of the drive the enclosure. And, even if it's the same enclosure, the cost is ramped according to the size of the storage installed.
For the 4TB option, the enclosure is an added $100 roughly, but for the 22TB model, it costs $265 more than the storage inside, based on retail prices. And, obviously, Western Digital won't pay retail costs for their drives.
Not sure how those economics work for you, but if you don't mind voiding the warranty, this pricing makes it a little cheaper to buy a 4TB model and a retail 18TB drive and swap them than buy the 18TB option.
Seagate offers a USB equivalent drive, the Seagate Expansion Desktop, for considerably less. The 12TB is around $225, a $200 saving for the same amount of space and nearly identical performance.
And, competing against its own products, Western Digital makes the excellent My Book Duo, where the 16TB drive (2 x 8TB) is a little more than the 18TB G-DRIVE Desktop Drive but offers a resilient mirroring option and allows the users to change the drives.
If you want capacity and don't care about the branding, Western Digital sells the 18TB Elements Desktop External drive for just over $360, nearly a $220 saving over the G-DRIVE model with similar performance.
In short, the new G-DRIVE Desktop Drive is cheaper than it once was, but it's still markedly overpriced for what it offers.
SanDisk Professional G-DRIVE Desktop: Design
New styling
Only USB-C
Conventional HDD
From the outside, the new G-DRIVE Desktop now has a more angular aesthetic and not the rounded tube appearance that the previous design and the PRO model sports.
The casing is still made from thick aluminium, but now without the G-DRIVE logo dominating the front. It has been replaced by a much less ostentatious SanDisk Professional logo.
Both a blessing and curse is the very thick metal enclosure that performs the dual functions of dissipating heat from the drive inside and protecting the drive from potential physical harm.
And while it does both those things admirably, it also makes the unit heavy and unsuitable to put in a laptop bag with a computer. With its external PSU, sharp edges and multiple USB cables, this drive needs its own bag for carrying, and it isn't that portable.
There is a clue on the back, a Kingston security slot, hinting the G-DRIVE isn't meant for travelling but exclusively as a desktop storage device built to be connected to a laptop or desktop system, possibly using a USB docking station.
As this design doesn't have the Thunderbolt daisy-chain functionality of the PRO, to have more than one of these connected requires multiple USB ports or at least a hub.
And, worryingly, where SanDisk previously provided both USB-A and USB-C cables, the new design comes exclusively with a single USB-C cable.
As these are standard cables, it is easy enough to buy a USB-A to USB-C cable, but after spending up to $765 on one of these, to discover that SanDisk economized on a 50-cent cable is annoying.
In the promotional material, it is noted that the USB interface on this drive is a 10Gbps Gen 2 variety, an improvement over the previous 5Gbps Gen 1 interface on the old design.
As good as this sounds, the fastest drive in this range, the 22TB, has a maximum speed of 280MB/s, which doesn't come close to exceeding the bandwidth of a Gen 1 interface. Making the Gen 2 interface a largely irrelevant change.
The drive can be balanced on its side, but rubber feet on the underside reveal it was intended to be sat horizontally. As with the PRO model, it is possible to stack these with sufficient clearance between them for cooling purposes.
One curiosity is the bolt tops visible on the sides that accept a hex Allen key.
A reasonable assumption to make about these is that they connect the drive to the enclosure and that removing them might facilitate access inside the case.
Sadly they are completely fake, made of plastic, and provide only a means to get to a threaded hole that looks designed to mount these drives to a rack.
Access inside the enclosure is via screws hidden under the rubber feet, the removal of which would undoubtedly end the warranty cover.
Inside the thick case is a SATA 3.5-inch hard drive, and depending on the model that could be a 4TB, 6TB, 12TB, 18TB or 22TB mechanism.
The inclusion of the latest 22TB option provides plenty of space for backups and data, and due to the number of platters, heads and cache on that drive, it is also the fastest model.
But before you plan to secure 22TB of data to one of these, it is worth considering that as this isn't an SSD, it might easily take more than a whole day to move that much information to or from the drive.
One interesting new feature is that on the old Desktop model, the 'G' on the front was illuminated when the drive had power and flashed to show activity. In this new design, there is a button on the back of the drive to lower brightness or disable the LED, should this flashing be a distraction.
The new design seems to be transitioning to more plastic and less metal, but there isn't anything special about this solution unless you need 22TB of extra space sitting on your desk alongside your workday computer.
SanDisk Professional G-DRIVE Desktop: Features
Robust enclosure
Up to 22TB of space
No software
The new design has more plastic and less metal, but this hardware is still substantially a heatsink, and our review model weighed 1323g with the 12TB drive inside.
Presuming that the drive has some thermal interface to the enclosures metal case, this design should be able to effectively radiate heat from the hard drive inside should it be operated over an extended period.
Currently, the largest capacity conventional hard drives Western Digital make is 22TB. But we're confident that when they make larger ones, they'll probably extend this series to accommodate those increased capacities.
SanDisk delivers the drive pre-formatted with APFS for the Apple macOS, something that will cause some confusion with Windows owners who aren't familiar with how to reformat drives.
Given the premium price of this drive, it was disappointing to see that Western Digital provides no software with this unit at all, assuming the customer has that already.
For Apple users, that's not a problem as the unit is Time Machine compliant, but some sync software for the PC might have been a helpful inclusion.
SanDisk Professional G-DRIVE Desktop: Performance
Not SSD quick
Lacks hardware encryption
External storage is currently going through a transition away from conventional magnetic storage devices to solid state, specifically NAND-based SSDs.
What these new devices lack in capacity, they make up for in performance.
When we return to conventional spinning disks, the difference between the performance of these are capable, and NAND flash is enormous.
Compared with 2.5-inch drives seen in drives up to 5TB, the drives in the G-Drive Desktop are blindingly quick, more than double the speed in places.
But compared to an SSD, even connected by USB, they are relatively slow.
According to the promotional materials, the larger capacity drives are quicker, slightly, but the maximum speed that you should expect is up to 280MB/s read and 280MB/s write.
In our review hardware, that was the 12TB model, those numbers are quoted as closer to 250MB/s for both reading and writing, and our benchmarking supported those predictions.
As well engineered as the new G-Drive Desktop is, and it is lovely, in a direct comparison with the mostly plastic opposition from Seagate, this product is expensive.
Having it made from metal might have made more sense if the enclosure was designed to be reused, but the maker doesn't encourage that, confusingly.
With no resilience against drive failure in this design, what you're gambling on is the quality of the mechanism and data recovery if you pay the extra Western Digital wants each year for that potential safety net.
In many respects, the My Book Duo looks like a better option than a single drive product, however well made it is or branded, unless you have supreme confidence that the drive won't die or you've layered your disaster recovery plan to accept that possibility.
The smaller capacities in this range will soon be consumed by the ever-decreasing cost of NAND flash, although the largest models will likely still offer a good cost-per-GB option for a few more years.
The issues here are price and branding. If you are happy to spend an extra $200 or more to have a metal box and G-Drive branding, that's fine. But please accept that this level of performance and capacity in plastic housing will cost you significantly less, ironically, from the same company.
SanDisk Professional G-DRIVE Desktop: Report card
Swipe to scroll horizontally
| | | |
| --- | --- | --- |
| Value | Not the cheapest way to get 22TB of space. | 3 / 5 |
| Design | It's a tube with a drive inside, when all is said and done. | 3 / 5 |
| Features | Few features, and they don't want you repurposing the enclosure, it appears. | 2 / 5 |
| Performance | Conventional hard drives are slow, though the bigger capacities are marginally quicker. | 2 / 5 |
| Total | Plenty of space, well-engineered, but expensive. | 3.5 / 5 |
Should you buy a SanDisk Professional G-DRIVE Desktop?
Buy it if...
You own a Mac
It comes pre-formatted for your OS, in contrast to Windows users.
You need space
Having up to 22TB of extra disk space is wonderful, especially for those that edit video or have extensive file collections. Just consider how long it will take to copy those files to a conventional hard drive.
Money is no object
The cost of this unit is reduced from the previous design, but it's hardly cheap. For those that like high-quality technology and the biggest capacity drives and can get their company to pay, you are blessed.
Don't buy it if...
Performance is expected
It could easily take more than a day of file copying to fill the 22TB option, as conventional hard drives are slow when compared to SSDs. Those thinking that they can solve this with the Thunderbolt PRO models, the bottleneck isn't USB. It's the hard drives.
You use Windows and don't understand partitions
By default, this drive comes formatted for Apple computers, and to use it with windows requires knowledge of how to use the Management Console. If you don't understand that aspect of Windows, this might not be the product for you.
Your budget is tight
The same drive inside this product can be bought and placed in an enclosure for much less money than this. Or, the Western My Book Digital Duo products are cheaper for the same amount of space and can offer some resilience through drive mirroring.
Also consider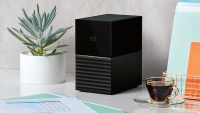 WD My Book Duo
A step up from the Elements, the Duo designs take two drives enabling them to be used combined, individually or in a mirror mode that provides security against drive failure. And it's still cheaper than the G-Drive Desktop for the same total capacities.
Check out our WD My Book Duo review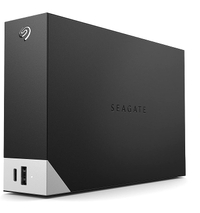 Seagate One Touch Hub
An alternative design from Seagate with capacities up to 20TB, and it even has an integrated USB hub for charging your phone or copying files from a portable drive.
The 20TB model costs roughly $420, making it equivalent in cost to the WD Elements, but it comes with backup software and is compatible with Apple Mac and PC out of the box.
Mark is an expert on 3D printers, drones and phones. He also covers storage, including SSDs, NAS drives and portable hard drives. He started writing in 1986 and has contributed to MicroMart, PC Format, 3D World, among others.