There are better-specified mobile phones available for the money, but those can't send a message outside of cell phone tower coverage. That one feature might make the CAT S75 worth the steep asking price.
Pros
+

Bullitt Satellite Connect service

+

5m immersion

+

Lightweight for rugged

+

Wireless charging
Cons
-

Expensive

-

1080p video

-

6GB RAM and 128GB storage

-

Tiny fingerprint sensor
Why you can trust TechRadar We spend hours testing every product or service we review, so you can be sure you're buying the best. Find out more about how we test.
30-second review
CAT-branded phones aren't a new thing. We previously covered lots of these Catapillar branded handsets, most recently the excellent S62 Pro.
The S75 is a significant step up from the S62 Pro, having a bigger screen, better cameras, a larger battery and a much more powerful SoC.
However, it still comes with the same 6GB of RAM and 128GB of storage as its predecessor, which seems less than modern rugged designs now typically come.
Two features make the S75 impressive, and the first of those is how rugged CAT made this device.
Where rugged phones can usually handle being dropped a metre onto a hard surface, this one can survive a 1.8m drop onto steel plate. We also often see waterproofing that allows submersion to a metre's depth for up to an hour, and the S75 only lasts 35 minutes, but it can handle 5m without having a rubber plug covering the USB-C port.
Those features make it very robust, but the second special feature is almost unique for mainstream phones; satellite messaging. Being able to send a message from any remote location, irrespective of cell coverage, is remarkably useful for anyone on an adventure holiday, ocean sailing or who is far away from civilisation.
The asking price doesn't quite match the specification, as Chinese phone makers offer more powerful platforms with double the memory and storage for half the $599 asking price. But those phones can't send a message via a satellite, and if you aren't near a cell tower and need to communicate, it might be cheap at this price.
CAT S75 price and availability
How much does it cost? $599/£549/€599
When is it out? It is available now in Europe
Where can you get it? You can get it in most regions direct from CAT
The CAT S75 can be bought from numerous outlets and directly from CAT in most regions. From what we understand, the phone will be sold in the USA as the Motorola Defy 2 and should be available on Amazon by the end of June 2023. The pricing of around $600 is very close to what the Defy 2 will be selling, but the CAT-branded version might be marginally more expensive.
There are additional costs associated with the satellite messaging service that we'll discuss later on in this review.
As with any device with unique functionality, the price is the price.
CAT S75 design
Great rugged design
Odd button layout
No audio jack
Specs
The CAT S75 that was sent to us for review came with the following hardware:
CPU: MediaTek Dimensity 930
CPU Spec: Octa-core (2x2.2 GHz Cortex-A78 & 6x2.0 GHz Cortex-A55)
GPU: IMG BXM-8-256
RAM: 6 GB
Storage: 128GB (expandable to 2TB with MicroSDXC)
Screen: 6.6" IPS LCD, 120Hz
Resolution: 1080 x 2408 pixels, 20:9 ratio (~400 ppi density)
SIM: Single SIM (Nano-SIM) or Hybrid SIM (Nano-SIM, dual stand-by)
Weight: 268g
Dimensions: 171 x 80 x 11.9 mm
Rugged Spec: IP68, IP69K and MIL-STD-810H (water resistant up to 5m for 35 min)
Rear cameras: 50 MP f/1.8 wide, PDAF 8 MP, f/2.2 ultrawide, 2 MP f/2.4 macro
Front camera: 8 MP, f/2.0 wide
Networking: WiFi 5, Bluetooth 5.1
OS: Android 12
Battery: 5000mAh
From a robustness perspective, the S75 ticks all the boxes without going for theatrical military styling or a science fiction motif. All sides of the phone, with the exception of the screen, are covered in a thick impact-resistant surface that is easy to grip.
There is a rubber plug protecting the SIM slot, but the USB-C charging port is open to the elements. We've seen water-resistant ports on other phones, but the submersion rating of this one suggests that this USB-C inlet is on a whole different level.
Whereas rugged phones are typically rated for 1.5m for maybe an hour, this one is water resistant up to 5m for 35 min. That's proper submersion to a decent depth, allowing for phones that get dropped into water of 5m or less to be retrieved if the owner goes after them within a short time.
It's also been drop tested 1.8m (6ft) onto steel, demonstrating it can handle significant abuse.
We've complained a little about other rugged phone makers using very similar button layouts, but if anything, the S75 shows why this might not be a bad thing after all.
On the right side are the volume rocker and power button. But unlike almost every other design we've seen for the past few years, the power button isn't in the middle underneath the rocker but at the top, above it.
That's a bit odd, and there are two additional special buttons, the one on the left is programmable, and another on the top is designated as an 'SOS' key.
In the advent that button is pressed, a special SOS message is sent out using the inbuilt satellite messaging chip to FocusPoint International that can get you assistance if you have signed up for that service. Its placement is both easy to access and possibly too easy to accidentally trigger.
On the right side, where you might expect it is the SIM tray. Its one that allows you to mix Nano SIMs and a MicroSDXC chip. However, for the satellite messaging to work requires a specific SIM provided with the S75 to be installed, so you can only use the MicroSD if you don't use a phone SIM. And, you can only have dual phone numbers if you don't use satellite messaging.
If ever a design needed eSIM technology, then it was this phone, but alas, CAT didn't see those possibilities in the S75 design.
The underside of the S75 is smooth and flat, making it suitable for wireless charging that is in the phone. The camera cluster isn't central, being shifted to the left-hand side. It couldn't be put in the middle because the fingerprint sensor occupies that location. That sensor is disturbingly small, having an active area of just 9mm round. That makes it both difficult to find and also not entirely suitable for adult hands.
As with many rugged designs, there is no audio jack on the S75, and CAT doesn't provide a USB-C-to-audio adapter. You can obviously use Bluetooth-connected headphones, but passive headphones will need an adapter to be purchased separately.
The screen appears to be the same as we saw on the Doogee V30T, and indoors it's fine, but the lack of any anti-reflection coating makes it less than ideal in bright sunlight.
As you need to be outside to use the satellite service, that's not ideal.
Design score: 4/5
CAT S75 hardware
New Dimensity 930
Satellite Messaging
MediaTek has had great success with the Dimensity 900, and the CAT S75 uses a new variant of that silicon, the Dimensity 930.
On paper, they're remarkably similar. Both are fabricated at 6nm, consisting of some 10 Billion transistors and have a 10W TPD. The devil, as they say, is in the detail.
The Dimensity 930 doesn't have the same Turbo frequency clocks as the 900, limiting to 2.2GHz, whereas the older chip offered 2.4GHz.
However, it does have a better ARMv8.2-A instruction set and manages to be faster in single and multi-thread operations by around 10-15%.
Probably the biggest change here is the GPU, as the 900 used the tried-and-tested Mali-G68 MC4, and in the 930, that was replaced by a PowerVR B-Series IMG BXM-8-256.
In performance terms, the new PowerVR has some advantages and a few disadvantages, but it's hardly a dramatic difference.
Overall, the Dimensity 930 is a better SoC, but it isn't like a user would be able to tell them apart unless they ran detailed benchmarks.
Ignoring the cameras till later, the truly interesting aspect of this phone is satellite communications.
In November 2022, a UK company Bullitt announced that it would be partnering with MediaTek to use that company's 3GPP NTN (Non-Terrestrial Network) chipset, and we think that's the chipset in the CAT S75.
This technology can interact with orbiting satellites for two-way communications without any cell tower service or WiFi services. Therefore, you can send and receive a text message from anywhere within the coverage areas of the satellite systems.
At this time, the whole of Europe, including Scandinavia, is operational, and shortly the whole of the USA and Canada will be added. A final rollout is planned for later in the year across South America, Africa, Oceania, Australia, New Zealand and Japan. At this time, the Middle East, Russia, India and China aren't covered, and there are no plans to change that limitation in the future.
How does it work? The CAT S75 comes with a special Nano SIM that connects to the service and must be placed in SIM Slot 2 for it to work. Actually, this service works even if the other SIM slot is unoccupied and the phone isn't registered with a service provider.
It needs to be configured where you've got cell service or WiFi connection to the internet, but once this is done, it will work without either of those connections.
To send a message via satellite, the phone needs to be outside, where it can see the sky, and a special messaging application provided by Bullitt is used to establish a connection. The app provides a moving graphic to help you point the chip in the direction of the satellite, and once it is near enough, you can connect and send or receive a message. This is translated into an SMS message by the service and sent to the phone number of a contact you specify.
With the message is a link that allows the recipient to download Bullitt Messenger, and then reply to the S75.
It would have been nice to see this all integrated with Android messaging services, but it works, and amazingly with a round trip of at least 44,000 miles, it only takes a few seconds for the message to arrive at its recipient.
The app provides three communication options, including a messaging service, the other two are an SOS service and a 'Check in' mechanism, where the position of the phone is sent at regular intervals to a previously agreed recipient.
Bullitt has promised that a new tracking feature which will provide a map for others to see with pins in it where the service linked to the phone will be available soon.
That any of this works at all is incredible considering the power of the phone and the 22,000 miles (35786km) to the orbiting satellite, but it does.
The cost of messaging it dependent on which plan you choose when you register to the Bullitt service, with prices ranging from $4.99/£4.99/€4.99 a month for 30 messages up to $29.99/£29.99/€29.99 for 300 messages. Or alternatively, a one-off payment of $59.99/£59.99/€59.99 gives you 250 messages spread over a year, which might be ideal for a specific trip. All subscriptions include a 12 months trial of unlimited SOS assistance.
CAT S75 cameras
50MP sensor on the rear
Wide-angle and macro
Four cameras in total
The CAT S75 has four cameras:
Rear cameras: 50MP Samsung ISOCELL JN1, 8MP GalaxyCore GC08A3 and 2MP SmartSens SC202CS.
Front camera: 8MP Samsung ISOCELL 4H7
We are a little bemused by the main camera because the Dimensity 930 SoC was designed to work best with the Samsung 108MP sensor, yet it's connected to an older Samsung ISOCELL JN1 50MP sensor on this phone.
That's still a good sensor, but the best image quality it can capture, due to its pixel binning, is 12.5MP. The quality of the still images is excellent, but some might want more resolution than 4080 x 3072. There is a raw 50MP capture, but it lacks the quality of the default 12.5MP mode.
The supporting 8MP GalaxyCore GC08A3 is for super-wide shots, and the final 2MP is for focus effects. The front-facing camera is another Samsung sensor, the 8MP ISOCELL 4H7 8MP. Again, the quality of the images is fine, but many phones are coming with 16 or even 32MP front sensors these days.
What the primary sensor offers is a reasonable selection of special modes that include a super-macro and underwater shooting. In addition, video can be captured in slow motion and timelapse.
It doesn't offer panoramic curiously, but it has a Pro mode with ISO and shutter speed controls.
Where this camera configuration is most disappointing is that the maximum video resolution is 1080p from a sensor that can capture 4K video.
That choice might have been driven by the 128GB storage of the phone, but it doesn't begin to properly exploit what the Samsung ISOCELL JN1 is capable of.
When good hardware isn't fully explored by software, it hints that those developing this device were working to a schedule that didn't allow for that to happen, sadly.
Given these limits, it is odd that one feature we didn't expect made it into the S75, and that's full Widevine L1 encryption.
Widevine is the video technology that Netflix and Amazon use to stream its contents to mobile devices, and many phones only support L3 mode, limiting stream quality to 480p resolution. With L1 compliance, the S75 can get at least 1080p streams if you have the connection quality to handle that data flow and subscribe to these services.
We suspect that the lack of L1 on other phones is mostly about licensing costs, but whatever the reason, CAT did give this phone something most Chinese rugged phones don't offer.
CAT S75 Camera samples
Image 1 of 9
CAT S75 performance
All-round performer
GPU lacks features
Benchmarks
This is how the CAT S75 performed in our suite of benchmark tests:
Geekbench: 644 (single-core); 1935 (multi-core); N/A(OpenCL)
PCMark (Work 3.0): 11188
Passmark: 10324
Passmark CPU: 4945
3DMark Slingshot: 3221(OGL)
3DMark Slingshot Extreme: 2320 (OGL); 2695(Vulkan)
3DMark Wild Life: N/A
The performance of this phone is all over the place, ranging from excellent to failing to run.
Of the tests it would execute it delivered an excellent PCMark Work result eclipsed only by some Snapdragon 782G, Snapdragon 8+ Gen 1 and one Dimensity 900 phone design.
The Passmark numbers are also good, but it had issues with the GeekBench suite and 3DMark.
In both of these benchmarks, we suspect that the IMG BXM-8-256 is the issue. Specifically, the features it supports for OpenGL, OpenCL and Vulkan. On the GeekBench OpenCL test, it would crash if you selected OpenGL. Choosing Vulkan instead, it would run but not complete all the tests.
On 3DMark, it refused to run Wildlife, stating that the GPU didn't have the features needed for this test to be done.
In the graphics tests it did perform, the numbers didn't match what a Dimensity 900 and its Mali-G68 MC4 GPU can achieve. It looks like the choice of a different GPU for the Dimensity 930 was a poor one, or the software interfacing of that GPU isn't good enough under Android 12.
While performance isn't as good as some Dimensity 900 based phones we've seen, this might also be a reflection of the 6GB of RAM that CAT installed, as most of those we've tested come with 8GB or 12GB.
The user experience is still a good one, and the phone is smooth to use, but there are faster platforms out there.
CAT S75 battery
Modest battery size
15W charging
5000mAh for a rugged phone is a relatively small battery capacity. Being the lowest capacity we've tested in the last twenty rugged phones, this reviewer has covered. The only other design with a battery this small was the lightweight Motorola ThinkPhone, which also had 5000mAh.
The upside of this choice is that it charges quickly, or it would if it could consume power rapidly enough.
Oddly, this is one of the only phones we've seen where the wireless charging rate is identical to the wired, with both being 15W. While technically faster than USB 2.0 standards, calling 15W charging 'Fast' is something of a stretch, especially when you consider that some rugged phones support 66W charging on wire and some 33W on wireless.
With only 5000mAh to play with, the operating life of this phone is limited, and in our tests, it ran a streaming video with the screen active for around 15 hours. That's a long working day, but not substantially more.
When you consider that this phone, due to the Satellite comms capability, is likely to be away from mains power, that could be an issue. The obvious solution is to turn the phone off when you don't want to communicate, but that would negate the tracking function when it becomes available.
Because of the battery size, it might be advisable to carry some means to recharge the S75, such as a power pack or solar charger, especially if you intend to keep using it for long periods away from civilisation.
There are things about this phone we loved and others we hugged, like that distant Aunt we only saw occasionally as a child.
The overall design, robustness, and functionality of the S75 are good, and it borders on excellent in a few places. The Bullitt Messaging solution works as advertised, even if it can be awkward to register and configure in the first place. It could be an absolute lifesaver in an emergency, away from cell service.
The downsides of this phone are a screen that isn't easy to read in bright conditions, an SoC that could be viewed as a misstep from its predecessor and a battery capacity that won't keep the phone alive for more than a few days out in the wilds.
Some of these issues can be coped with, but as more phones appear with satellite messaging, ones with more battery are likely to steal the thunder of the CAT S75.
For those that like to go off the beaten track, the S75 provides a viable way to keep in touch and prove that you've not been eaten by Wildlife or got lost. For them, and the peace of mind always being able to communicate brings, it is undoubtedly worth the cost and the service subscription. But that feature aside, for the other hardware in this phone, it does seem expensive.
CAT S75 score card
Swipe to scroll horizontally
| Attributes | Notes | Rating |
| --- | --- | --- |
| Value | Expensive, but it has a unique feature. | 4/5 |
| Design | Very robust, no USB-C rubber plug and easy to handle. | 4/5 |
| Hardware | Decent SoC, but only 6GB RAM and 128GB storage. But it has Satellite messaging, at least. | 4/5 |
| Performance | The GPU doesn't deliver the performance and features of the previous Dimensity 900 design. | 3/5 |
| Camera | Good quality still images but only 1080p video | 3/5 |
| Battery | 5000mAh is small for a rugged phone | 3/5 |
| Overall | An interesting design aimed at those who need communications where cell towers aren't near. | 4/5 |
Should I buy a CAT S75?
Buy it if...
You need a go-anywhere design
It's waterproof, dustproof, can handle 5m submersion and knocks, 5G and can communicate with geostationary satellites. For those that want to go where there is no cell service, this could be the phone for them.
You are clumsy
In the scope of phones that can handle being dropped and submersed, this one is top-notch. Being able to withstand a 1.8m drop onto steel and being sent 5m (15ft) underwater isn't something that most rugged phones can handle. But this one can.
Don't buy it if...
Battery life is an issue
A battery of 5000mAh isn't a huge amount of capacity if you intend to be away from mains power for a week or more. You will need power packs or to turn the phone off when not in use.
You use MicroSD and two SIMs
With room for only one Nano sim and a MicroSD card, the lack of eSIM is a problem for those that want a memory card and two phone numbers.
Also consider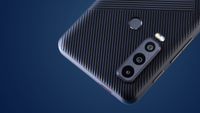 Motorola Defy 2
The only other phone with the same Bullitt satellite messaging facility, and looking at its specifications, it's the same physical phone as the S75.
While we can't confirm this, the price appears to be around $30 less than the CAT S75, but that might change once both products are more widely available.
Mark is an expert on 3D printers, drones and phones. He also covers storage, including SSDs, NAS drives and portable hard drives. He started writing in 1986 and has contributed to MicroMart, PC Format, 3D World, among others.