The role of Generative AI in achieving decarbonization
How generative AI is used to achieve decarbonization goals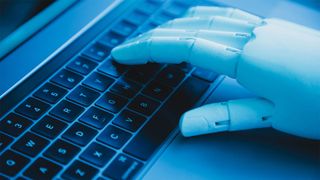 (Image credit: Getty Images)
The Corporate Sustainability Reporting Directive (CSRD), which came into effect in June, requires around 50,000 organizations in the European Union (EU) and beyond to report the carbon footprint of their supply and value chains, amongst other obligations. Non-compliance will not be an option.
However, the CSRD is just one of a growing number of increasingly strict regulations being brought in around the globe that require businesses to measure and report their environmental impact. Crucially, the repercussions for getting it wrong extend beyond hefty fines – reputational damage could also occur, which can have a lasting impact on bottom line performance.
One of the most powerful tools for helping companies track their emission reductions is artificial intelligence (AI) and generative AI. These tools enable stakeholders to enhance overall environmental performance by infusing advanced data analytics within their digitization program.
The potential of these type of models lies with the fact that they are trained on massive volumes of raw data to learn the patterns and structures of language, and then fine-tuned on specific tasks or domains to adapt its generated output to more specific contexts or objectives. Foundation models are powerful, versatile, and can be used to quickly perform tasks with minimal or no training or supervision.
So, what are some of the ways that businesses can use AI and Gen AI to achieve decarbonization goals?
Elisabeth Goos is Market Leader Sustainability Services EMEA & DACH at IBM.
Solving confusion in the ESG reporting space
Accurate and timely emission statements are a regulatory requirement but the mounting complexities associated with the process is making it intractable using traditional reporting practices. The manual calculation of carbon emission data is not only error prone, it is unwieldy, expensive, and can result in an unreliable audit trail.
Companies require reporting mechanisms that are automated, scalable, and most importantly trustworthy. It's all very well making self-assured environmental, social and corporate governance commitments but if you can't prove you've met your targets there can be trouble ahead. As a result, companies are increasingly exploring how the successes of Generative AI and large language models can be leveraged to streamline reporting, increase accuracy, and enhance their position as a sustainable organization for a green future.
Organizations have dedicated systems for a range of activities, such as HR management and financial accounting – environmental reporting should be no different. Implementing a specialized software platform – backed by AI – to capture and calculate emissions data, monitor sustainability initiatives, and scrutinize supply chain feedback makes the process easier, more reliable and transparent.
Leveraging AI, Gen AI, analytics and automation can help businesses to identify risks and opportunities Today, AI promises a solution that can process vast volumes of data, interact with it in a natural language manner, and extract pertinent insights specific to the needs of the user. For example, it can be used to identify and remove unnecessary steps from processes, saving time and money and potentially helping reduce emissions as a result.
For instance, Carbon capture and storage (CCS) projects require a deep understanding of the earth's subsurface and geological processes. Decades of oil and gas exploration and production have created a vast subsurface knowledge base containing hundreds of thousands of documents. Traditionally, this valuable corpus of information was simply inaccessible to AI and advanced analytics. Today, however some oil and gas companies have built a Gen AI based knowledge extraction tool that allows users to ask specific questions of the provided subsurface knowledge base (tables & text) to evaluate whether certain areas can be used for CCS projects in terms of profitability and safety.
Scaling the prototype could save between 30% and 40% of search and analysis time, resulting in faster and more accurate subsurface evaluation processes, thereby improving the quality and safety of CCS projects. Further, the fusion of Gen AI capabilities with deep domain expertise from geologists and scientists can unlock new solutions and better ways of working.
In addition, AI-driven analytics can be used to monitor a company's energy consumption, discover areas for improvement, and create an actionable framework to help organisations reduce their carbon footprint. This is hugely advantageous as the momentum for more environmentally sustainable operations continues, and increasingly a company's sustainability credentials are critical to its economic success.
Spotting risks, maximizing opportunities
A recent report from the United Nations highlighted the scale of the challenge, revealing that current business targets will only cut emissions by 5-10% by 2030. In order to achieve Net Zero by 2050 this needs to fall by 45%. It is therefore reasonable to expect tighter environmental standards in the not-too-distant future.
It is clear that the current reporting processes will not be fit for purpose. Given the scale and intricacies involved in measuring and reporting their sustainability targets, businesses should already be looking at using AI to process the disparate data, evaluate scenarios and model decisions for performance improvements. A failure to act now will leave an enterprise on the back foot with potentially damaging results.
Preparing for the future
Maintaining a focus on environmental performance can undoubtedly be difficult. However, for responsible businesses it's not optional. Moreover, the world of business reporting is about to get even more complex. The CSRD, for example, will not only create new, detailed sustainability reporting requirements. The mandatory disclosures will go beyond logging environmental information to include social and governance measures, such as respect for human rights, anti-corruption and bribery, corporate governance and diversity, equity and inclusion (DEI).
Generative AI can be a key tool in the process. It enables organisations to ensure regulatory compliance, bolster ESG reporting, boost efficiencies and streamline business processes. Further, this will be managed by a standardised framework that ensures a trustworthy, auditable reporting trail. What is clear is that the companies that fare best will be those that embrace AI to adapt to the changes and reveal opportunities during the transition to a sustainable economy – the route to long term value creation.
To ensure that applicable AI models and foundation models are used it is essential for businesses to work with technology partners with a proven track record of developing and implementing systems that deliver. It is also important to ensure that the chosen company has the capacity to adapt to changing market requirements – putting digital service in place is the start of the journey, not its destination.
Are you a pro? Subscribe to our newsletter
Sign up to the TechRadar Pro newsletter to get all the top news, opinion, features and guidance your business needs to succeed!
Elisabeth Goos is Market Leader Sustainability Services EMEA & DACH at IBM.