Why big data could mean you never miss a train again
Trainline's director of data science tells us how data is making train journeys even smarter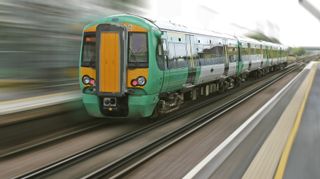 (Image credit: Pixabay)
What projects are you and Trainline's data science team currently working on?
We work with vast quantities of travel data (127,000 journeys are taken by our customers every day) to enhance the travel experience with new, smart innovations. These innovations are designed to help customers in many ways, from saving them money to helping them find the best ticket for their journey in a quick and easy way.
One of the projects my team has been working on recently is enhanced disruption notifications for our customers. Soon to launch in beta in our voice app, enhanced disruption notifications use machine learning and natural language processing to 'read' the rail operators' Twitter feeds, analyse them and share relevant contextual journey updates matched to the individual traveller. It's a first for the rail industry in the UK and we're really excited to launch it.
'Big Data' has become a buzzword, but what does it mean to you?
The tech industry is no stranger to buzzwords, but it sometimes needs to do a better job of explaining them. I think when we talk of 'big data' a lot of people simply imagine huge spreadsheets, a lot of numbers, or simply don't know what it refers to at all.
'Big data' is slightly misleading in that it suggests only volume is involved. Early definitions suggested big data refers to three Vs: 'Volume, Velocity and Variety'. That definition is over a decade old but it remains useful in some respects. The speed at which data is gathered, where it's being stored and for how long, as well as the variety of the data – the different sources it comes from, its uniformity or lack of - these traits and facets all play a part in 'big' data.
Ultimately, as data science becomes ingrained in every industry, we need to keep people educated on what it is, rather than use it as a catch-all phrase that does little to explain the work behind it.
How does big-data or artificial intelligence apply to the travel industry?
The rail and coach industry is a very interesting space to be working in data science. With rail, we have a centuries-old system, fundamental to our daily lives, that we are working to modernise. Recent innovations, such as the introduction of mobile tickets, which we're working closely with the rail industry to roll out nationwide, have revolutionised the travel experience.
Now we're focused on enhancing the customer experience even more through cutting-edge tech. For example, we recently launched a voice app, built for the Google Assistant, which operates at 12+ levels of conversation depth. It's designed to make journeys even smarter and easier, helping customers enquire about their journey hands-free, whether at home or on the go.
What distinguishes the work you are doing at Trainline from other travel apps?
We are Europe's leading rail and coach app. We work with 181 rail and coach companies and we sell tickets to customers in 173 countries. We're completely committed to using our tech expertise to create an experience that hugely benefits every customer. For example, we recently launched the UK's first predictive pricing AI for rail tickets, which predicts when Advance fares are likely to increase. Since launching Price Prediction, over 2 million customers have engaged with the AI, resulting in a total saving of nearly £9 million.
What has gone well over the last year, and what has proved challenging?
We've continued to grow our team – it's now made up of almost 50 people with incredible talent. This means we have enhanced capabilities to work on even more exciting projects in the coming weeks and months.
As with any team that's moving at pace and growing rapidly, there has been a learning curve - for me in particular. I've had to adapt how I work with the team to keep the pace while making sure everyone's talents are being used effectively and that each member of the team is given the space to grow.
How do you think the travel industry could improve its relationship with technology?
Every industry is becoming inseparable from tech and travel is no exception. Travel operators and tech companies, such as Trainline, need to work closely with one another to set industry standards that can future-proof the needs of our customers. A big part of this, especially in rail, is implementing international data standards to ensure that as more and more geographies are brought together by tech platforms, one seamless, global experience is offered to the customer.
In your opinion, what will be the next big breakthrough for data science?
It's likely we'll see a series of smaller steps, where the whole is greater than the sum of its parts, rather than a giant leap when it comes to data science. It will result in apps that can analyse even greater amounts of data and present them in a straightforward way at increasing speed.
A little further down the line we could see a tipping point, when machine learning and AI advances to a level at which it is learning of its own accord with minimal human management – but it's still uncertain just when such an advance will take place.
For now, I see data science's role as answering the little, but important every day questions - those that require a tremendous amount of data to answer but have a big impact on the quality of our daily life – questions like, "Which train should I take?".
Fergus Weldon is director of data science at Trainline
Are you a pro? Subscribe to our newsletter
Sign up to the TechRadar Pro newsletter to get all the top news, opinion, features and guidance your business needs to succeed!