Highly regarded cybersecurity firm Norton gives you a number of antivirus options when it comes to protecting your devices and data. It offers the entry-level Norton AntiVirus Plus, which provides fundamental defenses against malware, and more – but there are also internet security suites stacked with extra features (and even a package tailored specifically for gamers).
What's the difference between these various products, and which one is best for you? That's the question we're aiming to answer in this article, in which we'll discuss the features provided by the different levels of subscription Norton antivirus offers, before drawing a conclusion on which one to go for depending on your requirements.
---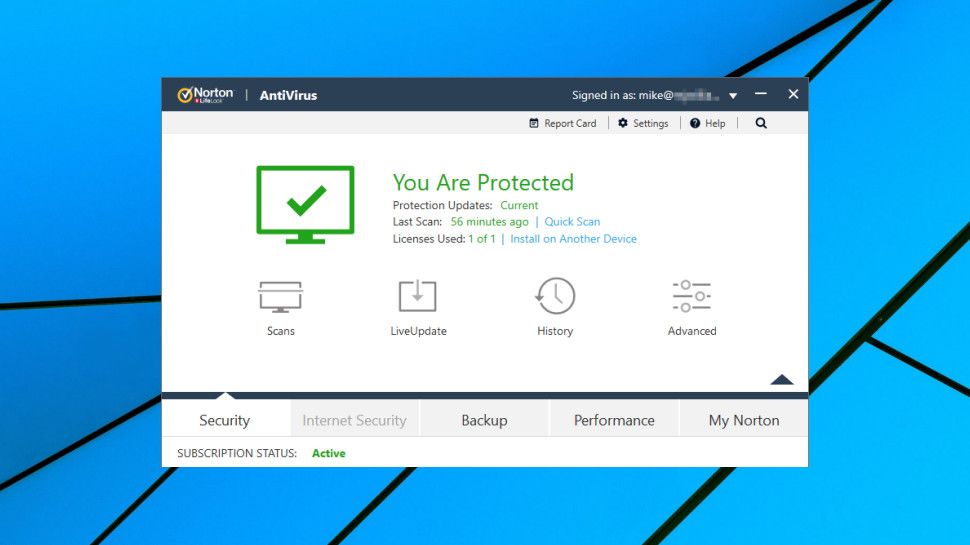 (opens in new tab)
Norton AntiVirus Plus
As mentioned, AntiVirus Plus is the entry-level offering from Norton and, as you might expect, it's the most affordable option and provides the most basic level of cover.
We use the word 'basic', but the core antivirus engine you get here – the most important piece of the security puzzle in keeping your PC free of malware – is exactly the same as what you'll get with the priciest product. In short, all of Norton's offerings give you a good level of antivirus accuracy and protection.
The further positive news is that even with this entry-level package, you get plenty of features. That includes an intelligent firewall, password manager, PC speedup tools, high-quality web browsing protection, and even an online backup facility (albeit with only 2GB of storage space – but most antivirus apps don't give you anything along these lines). Note that only one device – either a Windows PC or Mac – is covered with an AntiVirus Plus plan.
For a baseline antivirus application, Norton AntiVirus Plus is surprisingly well-featured – but you can still get more with the higher-end Norton 360 security suites.
(opens in new tab)
Norton 360 Standard
These fuller security suites start with Norton 360 Standard. Think of this as the midrange package of the Norton line-up. As well as all the above features provided by Norton AntiVirus Plus, it gives you webcam protection, and increases your online storage space for backups to 10GB.
The biggest addition, though, is a fully integrated virtual private network. Specifically, this is Norton Secure VPN, and you get unlimited access to the service. So, if you're looking for not just a security suite, but also a solid VPN to keep you even safer online, then Norton 360 Standard works out as an impressive value proposition (considering the cost of a decent VPN these days).
Note that you still only get coverage for a single device, just like AntiVirus Plus, although with Norton 360 Standard, that can be a mobile device – Android or iOS – not just a Mac or PC. If you want support for more devices, look to the Deluxe security suite.
(opens in new tab)
Norton 360 Deluxe
The big attraction with the next suite up, Norton 360 Deluxe, is coverage for multiple devices. Instead of just a single piece of hardware, it protects up to five devices – Macs or Windows PCs, Android or iOS phones or tablets. You get everything provided by Norton 360 Standard, and the integrated VPN supports all five devices too.
Furthermore, the Deluxe version adds parental controls, and this system to keep your kids safe is commendably in-depth (including not just web content filtering, but the likes of GPS tracking). Extra bonuses include dark web monitoring, which lets you know if your email address has been compromised and sold online, plus the online storage capacity for your backups is extended to 50GB.
(opens in new tab)
Still want more?
There is a flagship suite above Norton 360 Deluxe, namely Norton 360 Premium.
This doubles the level of device coverage to 10, which could be handy for those who have lots of hardware, or need to provide defenses for the devices of multiple family members. The amount of online storage is also increased to 75GB, but really, this plan is all about offering the maximum capacity for plentiful device coverage.
Note that in the US, the flagship package isn't called Premium, but rather Norton 360 with LifeLock (Select or Ultimate Plus). Those options give you different levels of identity theft prevention, and support for unlimited devices in the latter case.
Norton also sells Norton 360 for Gamers, which as you can guess is a spin on its security suite aimed at gamers. Think of this as Norton 360 Deluxe (including the VPN), but with support for up to three devices rather than five. It also keeps any security notifications to an absolute minimum, to help avoid the risk of interrupting a gaming session, and includes dark web monitoring specifically to keep an eye on your gaming accounts.
Which Norton antivirus plan should I get?
Norton AntiVirus Plus will likely be the answer to this question for a good number of folks. That's because while it's the entry-level product, it's surprisingly well-featured, and delivers a lot for a very reasonable asking price (opens in new tab) (especially given the discounts Norton regularly runs across its whole security range). This package will provide robust protection for your PC – but the big caveat is that it only covers one device.
If you want coverage for more than a single device, Norton 360 Deluxe is where it's at, as this suite supports up to five devices. It's a bit more than twice as expensive as AntiVirus Plus, but if you need that extra device coverage, it's obviously worth it (opens in new tab) – and the parental controls are also great for those who have a family.
Norton 360 Standard, which lies between AntiVirus Plus and Deluxe, is kind of in an odd middle-ground as it isn't that much cheaper than Deluxe – it's around 20% to 30% less, depending on discounts – but still only offers single device support. This is only really worth going for if you're sure you'll only want to protect one piece of hardware, and you want the bundled VPN. If you don't need the VPN, or aren't sure it'll be of much use to you, then you should stick to AntiVirus Plus.
Norton 360 Premium is purely for those who have loads of bits of hardware and need that coverage limit of five devices upped to 10. For you, the extra expense will be worth paying.
To sum up, then, most folks will be well-served by Norton AntiVirus Plus if they only want single device coverage, but Norton 360 Deluxe is a fantastic upgrade to get more from your Norton antivirus plan on a greater span of devices.