Sponsored
Choosing your antivirus protection for start-ups or bigger businesses
Easy-to-use enterprise-level security for great value SMB-friendly price.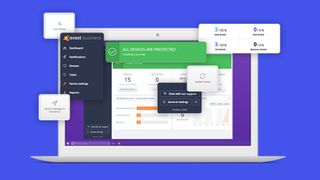 (Image credit: avast)
Who is Avast?
Founded in 1988 by two Czech students, Avast has grown into world-class security giant with over 1,700 people in 25 locations, serving more than 400 million users around the globe.
The company has proved its antivirus credentials by automatically protecting its users from many devastating real-world attacks, including WannaCry, BadRabbit and Petya. There was no re-engineering involved, no emergency updates required-- the software just did its job and kept its users safe.
In recent years Avast has further expanded its range by acquiring fellow Czech-based security company AVG, the popular VPN provider HideMyAss!, and CCleaner developer Piriform.
The company may be well known for its consumer-friendly free antivirus, then, but Avast now offers so much more. Whether you're looking for a handful of endpoint protection tools for a small business, or a managed security platform to cover a global enterprise, there's a solution for you here.
Avast Business Antivirus Pro Plus
Avast Business Antivirus Pro Plus is Avast's top-of-the-range endpoint protection solution, a comprehensive security suite which uses multiple advanced shields to keep attackers firmly locked out of your network.
This starts with the core antivirus engine which scans every point of entry to your system - the applications you run, the files you download, the URLs you click and the email attachments you receive - to detect and block threats before they can do any harm.
Avast's business experience means the protection goes way beyond consumer antivirus apps. For example, a SharePoint module scans every file you upload and download, preventing infected documents from being shared across your organisation.
A powerful firewall monitors network traffic, intelligently blocking suspect connections. The module takes most of the key decisions on its own, so doesn't require any network expertise, although more experienced users can customise its operations to suit their needs.
There are multiple layers of protection to keep you safe online. An accurate spam and phishing filter prevents your employees from seeing dangerous links; if they do click a link elsewhere, its URL and certificate is scanned to ensure it's safe; and Avast's Real Site uses the company's own encrypted DNS system to ensure you're protected from fake websites.
Even if an attacker still somehow manages to find his way in, he'll only face more layers of protection. Avast's Software Defender automatically updates installed applications to prevent exploits, while sophisticated behaviour monitoring detects malware-like activity to block the very latest undiscovered threats.
Avast Business Antivirus Pro Plus isn't just about preventing and responding to attacks. It also bundles a host of valuable tools which can improve your business processes to help avoid future privacy and security risks.
An easy-to-use password manager can generate secure passwords, autofill login forms and sync passwords between devices, for instance (Windows, Mac, iOS and Android), greatly reducing the chance of accounts being hacked.
Deleting confidential files isn't enough, as a snooper can often recover them in seconds. Avast's Data Shredder securely wipes everything to ensure that critical data has gone forever.
The Wi-Fi Inspector looks for network vulnerabilities such as insecure router passwords, helping you find and close security holes before they can be exploited.
There's already more functionality here than you'll find almost anywhere else, but we've saved the best for last. Business Antivirus Pro Plus also comes with full access to Avast's SecureLine VPN, protecting your data and identity on even the most insecure of public networks. This isn't as much a 'bonus extra' as a major service in its own right, and subscribing to a separate VPN could cost you most than Business Antivirus Pro Plus, all on its own.
Exclusive deal
Avast Business Antivirus Pro Plus can run and work its security magic on Windows, Mac and Windows Server.
Mix and match your clients as required and you can optionally manage them all from a single location via Avast's free cloud-based console.
Easy-to-use tools allow you to group devices as required, apply templates and schedule tasks to enforce your business rules. Meanwhile, in-depth reporting tools help you keep track of what's going on, alerting you to security issues before they can spread around your network.
Avast Business Antivirus Pro Plus is good value at its standard price of $74.99 (£60.24) per device per year, but taking our exclusive deal will cut the cost to just $48.74 (£32.66), a spectacular saving of 35%.
Extend your subscription and there's even better value to be had. Signing up for a five device, three-year subscription costs only $379 (£291.54), for instance, just $25.27 (£19.44) per device year.
An exceptionally generous free trial allows testing the product for 30 days on up to 100 machines, perfect for real-world stress testing, and when you sign up, you're protected by Avast's hassle-free 30-day money back guarantee. Give it a try, find out just what Avast Business Antivirus Pro Plus can do for you.
Are you a pro? Subscribe to our newsletter
Sign up to the TechRadar Pro newsletter to get all the top news, opinion, features and guidance your business needs to succeed!