Ghostbusters and Among Us steal the show at the Meta Quest Gaming Showcase
Be (virtually) there, or be square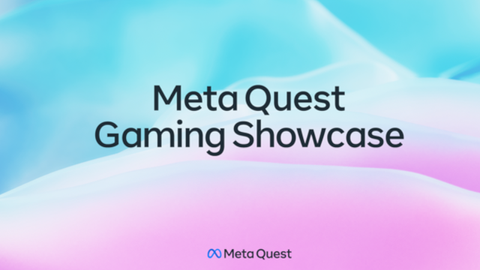 (Image: © Meta)
Facebook re-branded to Meta last year and slapped the new name on its VR headset to boot. Today is the second annual showcase for the device, giving us a first look at all of the games heading to the platform in the not too distant future.
Formerly known as the Oculus Quest and Oculus Quest 2, the family of VR headsets now sports the moniker Meta Quest in line withe Facebook's re-branding at the end of last year. 2021's Oculus Gaming Showcase focused purely on the software coming to the Quest 2, and this year's Meta Quest Gaming Showcase is no different – aside from the name change.
Announced last month, we already have an idea of a handful of titles making their debut at the event. That list includes Among Us VR, Cities: VR , as well as updates to existing games, like Beat Saber. Tripwire Interactive has also teased "something big" for the showcase. Given the reference to sneaking, it's likely a follow-up to 2019's Espire 1: VR Operative, but we'll have to wait and see.
You can tune into the Meta Quest Gaming Showcase over on YouTube or Twitch. We've embedded the YouTube stream below, and will update this post with up-to-the-minute news on the games revealed as it goes on.
Refresh
After two years, The Walking Dead: Saints & Sinners is getting a follow up with The Walking Dead: Saints & Sinners - Chapter 2: Retribution.
Round two is no cakewalk – resources are scarcer, there are more walkers, and there's a "new and bloodthirsty threat" after you. Which I assume is the man who the grizzled voice in the trailer belongs to. So get a fresh pair of pants ready for the release later this year.
NFL Pro Era is the first officially licensed NFL game for VR. The focus is on an authentic NFL experience, that will have you leading your team to victory in the Super Bowl.
Among US VR is finally getting a vague release window. You and your crew mates can dive into the fray before the ends of the year. Being accused of murder in first-person looks like a lot more fun in VR!
Red Matter 2 is a spooky-looking sci-fi romp that picks up from the cliffhanger ending of the original game. The red matter is still at large, and it's on you to stop it.
Puzzling your way through the game is still the focal point of your adventure, but there are new tools, an upgraded jet pack for improved mobility, and some other surprises.
As predicted, Espire 2 has made its debut at the Meta Quest Gaming Showcase. Two years after the release of the first title, you can get another dose of VR espionage.
Your mission is to find the location of a doomsday missile and stop it from launching, using a bunch of fancy gadgets to do so. There's also a separate co-op campaign with unique missions if you fancy dabbling in a side story with a fellow agent.
Quill the mouse is back at it again, with a story that builds on the first game. Now that Uncle Argus is safe and sound, Quill has her own safety to worry about. She'll need to escape the hexed castle where Argus was being held and you're the one to step up and lend her a paw.
Set to launch later this year, RPG fans are in for a treat as they explore a "hidden subterranean realm" for powerful artifacts. You'll start out on your journey a a puny novice wizard, growing into a full-fledged Magus by the end.
Cities: VR isn't a one-to-one port of Cities: Skylines, although it captures the essence of the title. You'll get a whole new look at the scale and scenery of the cities you create.
Resident Evil 4 - The Mercenaries is coming as a free update for owners of Resident Evil 4 on Quest 2. It's been built from the ground up for VR, and features online leaderboards, as well as 20 new challenges.
Completing them unlocks some VR exclusive content like Big Head Mode, and black-and-white Classic Horror Mode. The peacocks among you will love the Golden Gun skins, and as an added bonus, you can bring the unlocked content back with you into the Resi 4 campaign.

Resident Evil 4 - The Mercenaries is out right now, so head to the store and download it for free.
Beat Saber aficionados are in for a treat with yet another music pack to flail along to. Following the release of the OST5 and Fall Out Boy music packs comes the Electronic Mixtape. Expect tracks from Deadmau5, Marshmello, Pendulum, and more.
Bonelab is the sequel to Boneworks, coming to Quest 2 and PC VR. A brand new story sees you escape execution but things aren't looking that cheery, because now you're stuck in a creepy underground lab.

There's also mod support so expect new maps, weapons, and avatars post-launch. Bonelab is set to release later this year.
If you love Ghostbusters, then the final announcement of the Meta Quest Gaming Showcase is going to be right up your street. Ghostbusters VR will let you team up with up to three friends to make your own ghost-busting squad.
We don't have a release date yet, but as with every game in the showcase, it'll be releasing this year.
Sign up to receive daily breaking news, reviews, opinion, analysis, deals and more from the world of tech.
Thank you for signing up to TechRadar. You will receive a verification email shortly.
There was a problem. Please refresh the page and try again.