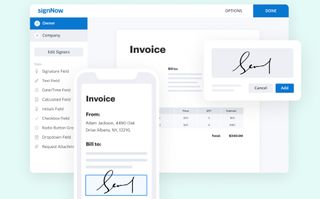 (Image credit: SignNow)
Running a small business has never been easy, but SMBs are now under more pressure than ever before. The lingering impacts of COVID-19 and the associated lockdowns continue to be felt, which - combined with a rising cost of living and general uncertainty - come together to create a challenging environment.
In order to survive and thrive in this climate, businesses need to make sure their operations are as efficient as possible, minimising wasted effort and streamlining their processes to maximise their efficiency. We've already seen this in action with the rise of cloud computing and software as a service, but there are numerous areas in which businesses can be optimised and made leaner.
One of the most time-consuming elements of a business is dealing with repeated manual processes and workflows - usually based around processing documents. For example, when an invoice is received for goods and services, this needs to be filed, and then cross-checked against the corresponding purchase order to make sure it's correct. It's then forwarded to the accounts team, who will approve and issue the payment, and log it appropriately.
The everyday business of an organisation is made up of countless processes like this, but when each one of them has to be manually dealt with at every stage, the time they take can quickly mount up. Workflow automation can remove much of this strain, using technology and tools to quickly move documents from one step to the next.
This is especially important when it comes to signatures. Documents requiring signatures tend to be the most important for businesses - sales contracts, stock deliveries, employment agreements, and so on - and when these important documents are processed manually, this can cause knock-on effects that delay important actions from occurring. Adopting e-signatures, and incorporating them into automated workflows, means that important processes won't be held up by a crucial form sitting in someone's inbox waiting to be actioned.
Workflow automation tools like airSlate Business Cloud allow repeatable tasks to be significantly sped up by using templates to create and process documents based on pre-set rules. You can set up a workflow, for instance, so that when a sales prospect is marked as converted in your CRM system, a contract agreement is automatically generated with the correct details pulled from their CRM records, which can be instantly sent to them for electronic signature via signNow, the e-signature component of airSlate Business Cloud, reducing the time between completion and billing.
This type of use-case is made possible through integrations with a range of CRM systems, and the more tools and services a workflow automation platform can connect to, the more flexibility is unlocked. For example, signNow's integration with Notarize allows customers to not only get documents digitally signed, but to have them verified by a notary in just 15 minutes, 24/7. It also features integrations with major SaaS vendors including Microsoft, Google, AWS, Zapier and Salesforce, which means it can be used to connect multiple different departments and functions within your business.
These platforms can also help alleviate the impact of talent shortages. By speeding up key processes, employees can accomplish more tasks in a faster period, without requiring businesses to invest in additional headcount. Automating the time-consuming manual parts of business operations gives staff more time to focus on areas where they can make a difference and add genuine value through exercising their creativity. As an added bonus, this is often more engaging for workers, and can help reduce staff turnover from issues such as burnout.
Putting these tools to use won't put unnecessary strain on your organisation's IT resources, either. Because airSlate Business Cloud uses no-code design principles, they can be created by any team member, regardless of technical ability; workflows are created using intuitive GUIs, dropdowns and drag-and-drop tools, with no coding knowledge required. You don't need to invest in developers or additional IT staff to make use of the benefits, as individual departments can create specific workflows to self-service their own needs.
As well as speeding up existing workflows, tools like signNow can also enable further digital transformation by laying foundations onto which other processes can be layered. Once you've automated document workflows within your business, for example, it's easier to apply the same automation principles to other areas of the business, leveraging tools like robotic process automation to introduce further efficiencies without needing as much of a learning curve.
When it comes to running a small business, time is money - and the less time your staff have to spend sorting through documents and processing signatures, the more bandwidth they'll have to explore new ways to innovate and grow the company. By removing tedious manual tasks, smart deployment of workflow automation tools like signNow can slash your staff's workload, increase their productivity, and give you a leaner, happier, and more efficient business.
Are you a pro? Subscribe to our newsletter
Sign up to the TechRadar Pro newsletter to get all the top news, opinion, features and guidance your business needs to succeed!