8 gifts we'd like to give Microsoft this holiday season
Has Microsoft been naughty or nice?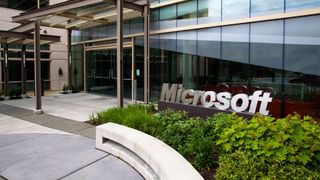 (Image credit: Future)
Introduction
As the year winds down, we've entered into the holiday season proper, which means it's a time for giving. Typically, that means passing out little nuggets of delight to friends and loved ones, with giant corporations barely entering the equation (well, except to sell you things).
However, in the spirit of the season, we've thought of a few things that, if we could, we'd love to give out to a certain tech giant: Microsoft.
Overall, Microsoft had a pretty great year that saw the full launch of Windows 10, a soft-launch of Windows 10 Mobile with the Lumia 950 and Lumia 950 XL, and some stellar improvements for gamers on the Xbox One. But that isn't to say that Microsoft has been immune to some gaffes and questionable moves over the course of 2015, so here's a list of "gifts" we'd hand out to the Redmond-based company to help smooth things over.
1. A Nokia redux
One of the biggest bits of news to come out of Microsoft this year was the company's decision to take an enormous write-down of more than $7 billion over its troubled Nokia acquisition. It's hard to fault CEO Satya Nadella for the decision: as a remnant from the Ballmer years, the Nokia acquisition, with its focus on creating a distinct phone business, clashed with Nadella's new approach to creating a combined Windows ecosystem. However, it was still a gigantic hit, and, more importantly, resulted in a massive round of layoffs.
We're sure the decision wasn't made lightly. And if given the chance, it's almost certain that Nadella would like to go back in time to either significantly change the focus of the company or stop the Nokia acquisition from taking place altogether. So, while we can't exactly give Microsoft a second chance here, it's the thought that counts…right?
2. A pass on OneDrive mistakes
Due to the hijinks of a relative handful of users, Microsoft announced in November that it would be putting an end to unlimited OneDrive storage for Office 365 users in addition to downgrading free storage to 5GB. Essentially, Microsoft says that some insane individuals were using up to 75 terabytes (yes, you read that right) of storage on things like entire movie collections and full PC backups, which is apparently a no-no despite the "unlimited" label. Talk about punishing the many for the sins of the few.
Look, maybe Microsoft shouldn't have advertised the free storage for Office 365 users as unlimited when it truly wasn't. But an Office 365 subscription still entitles buyers to 1TB of complementary OneDrive storage, which should be more than enough for 90% of users. Additionally, Microsoft is throwing in a free one-year subscription to Office 365 for those using more than the new 5GB limit for free OneDrive users to help smooth things over. While it certainly doesn't feel great as a user to have the rug pulled out from under you, and Microsoft is deserving of the widespread backlash, we'd include a bit of a pass on this one in our gaggle of "gifts" if we could.
3. QA assistance
The Surface Pro 4 and Surface Books are extraordinary pieces of hardware. The Surface Pro 4 simply improved on an already lauded line of products, while the Book introduced the world to some of the more interesting engineering we've seen in the hybrid space in recent years. And that's exactly why it was so sad to see both devices subject to such a range of software bugs right out of the gate.
From flickering screens to constant crashes and a deluge of other errors, buying a Surface Pro 4 or Surface Book right after launch seemed like it was a bit of a headache if the deluge of complaints on social media and Microsoft's own support forums are anything to go by. Since their launch, of course, Microsoft has issued a few firmware updates meant to correct most problems, but the fact still remains that many buyers were getting a raw deal if they were early adopters.
Launching a new product en masse is no doubt a difficult process, and there are bound to be some rough spots no matter the company or platform. That's why we'd like to offer up some extra assistance in the testing phase in hopes that bugs like these would be caught and patched up long before the next batch of products makes its way to customers.
4. A boatload of LTE radios
Speaking of the Surface Pro 4, it's a downright shame that there's absolutely no option for LTE in the hybrid line yet. What makes its absence on the Pro line even more confounding is that the option is available on the much lower end Surface 3. Frankly, this approach feels a bit backwards.
Microsoft, the Surface Pro line is a big hit with business users precisely because of the portability and power built into the form factor. The lack of LTE only limits the allure of the machine's portability. So here's a boatload of LTE radios to get you started; we'll leave the engineering to you.
5. A second chance with women
As the leader of one of the world's most powerful and profitable companies, it pays to be careful with your words. Unfortunately, Microsoft CEO Satya Nadella tripped up a little on that aspect of the job earlier this year with his comments regarding women and raises in the tech industry. Specifically, while speaking to an audience made up mostly of women at the Grace Hopper Celebration of Women in Computing, Nadella said "It's not really about asking for a raise, but knowing and having faith that the system will give you the right raise," implying that women should trust in a sort of karma rather than demanding to be paid what they're worth.
Nadella's comments were rightfully met with quite a bit of resistance, and the Microsoft CEO later admitted in a statement to employees that he "answered that question completely wrong" before stating that women should indeed feel empowered to ask for a raise when they think it's deserved. The gaffe was certainly a notable one, but it's clear Nadella is a proponent of equal pay for equal work, and we'd like to give the CEO a chance to start fresh with women.
6. A chill pill
It's understandable that, as the company's latest software product and part of its overall strategy of "one Windows," Microsoft is eager to get WIndows 10 onto as many PCs as possible. That said, the company has been a little more aggressive than is necessary in pushing the upgrade on Windows 7 and 8 users.
The process started innocently enough earlier this year, allowing Windows 7 and 8 users to "reserve" their place in line for the free upgrade before Windows 10's official launch. However, in the months following the OS' launch, we've seen Microsoft pull a controversial move by pre-downloading parts of Windows 10 before users initiate the upgrade, in addition to issuing an update that caused the optional Windows 10 upgrade to become automatically checked in Windows Update (Microsoft later attributed this to a bug).
Ratcheting things up a bit, Microsoft says that beginning in early 2016, it plans to re-categorize Windows 10 as a "Recommended Update," which could cause the upgrade process to automatically trigger depending on one's Windows Update settings.
All of this has been a little controversial, causing some to see Microsoft's approach as unwarranted desperation. Windows 10 has been generally well-received on the whole, so let the OS speak for itself, Microsoft. The upgrade is free until at least next summer for current Windows 7 and 8 users, and people will come in time, especially if any bugs that are causing hesitation get worked out. So have a chill pill on us before potential adopters are alienated.
7. Sturdier Xbox Live backend
This one may only apply to gamers, but considering Microsoft's Xbox division is one of its most successful, it deserves a mention. While the company has addressed many of the complaints surrounding the Xbox One since its release, regaining the trust of gamers in the process, issues surrounding the core online component, Xbox Live, have been a bit of a sore point for the gamers paying its monthly fee.
In short, Xbox Live has garnered a bit of a reputation over the last year or so for being a little spotty at times. It's true that no online system is going to have 100% uptime, but sign-in troubles and limited access to certain services feel as though they occur a little too frequently with Xbox Live, and gamers will be quick to point this out. We know that Microsoft can do online services well, and outside of targeted DDoS attacks by "hacker collectives," we're unsure of what the core issue is here. But if we had all of the resources in the world, we'd hand Microsoft a bulletproof backend for Xbox Live. After all, no one wants a group of angry gamers on their hands.
8. A vault over the app gap
Microsoft is doing some cool stuff with Windows 10 Mobile - just see Continuum for evidence. However, no matter how great the OS may be on the latest set of Lumias, Windows Phones just aren't going to significantly uptake in the marketplace without solving the problem of the app gap. Apps are the name of the game in mobile, and without big players on board, there just isn't a compelling reason for an iPhone or Android user to make the switch.
Now, there are some enterprising indie developers out there making their own third-party apps for some popular services, and we are starting to see more big names look at the platform with new eyes thanks to the Universal Windows Platform. But software development doesn't happen overnight, and it's going to be a long road to app parity if it indeed ever happens.
It's not really practical to suggest there's a quick solution to the problem, but if there ever was a way to spring Microsoft's mobile efforts over the nagging issues presented by the app gap, we'd wrap it up in a nice bow and send it over to Redmond straight away.
Are you a pro? Subscribe to our newsletter
Sign up to the TechRadar Pro newsletter to get all the top news, opinion, features and guidance your business needs to succeed!