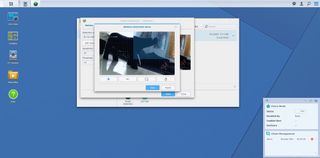 Most new network-attached storage (NAS) devices can handle recording video from a wired or wireless network camera, but NAS-maker Synology has taken it a whole lot further with its Surveillance Station 8.1 app.
When used in conjunction with a set of network-connected security cameras, Surveillance Station will turn your Synology NAS into a surveillance system that has enough in-depth features to suit both SMB and home usage scenarios. It can even integrate into a dedicated security system, or work with compatible smart home products.
Surveillance Station 101
The underlying concept is simple – an IP camera is connected to your wired or wireless network, and the footage can be recorded onto your Synology NAS. Surveillance Station 8.1 has the usual features you'll find in security-cam software, such as motion detection, remote viewing, alerts and so on, but it also includes a truckload of higher-end features which make it a whole lot more useful in everyday life. Most importantly, all the configuration and video viewing is performed via an easy-to-use web interface.
Aside from home or office security, IP cameras are popular for monitoring pets, checking if deliveries have been made and can even be used with video intercoms for two-way communications.
Available as a free download, the Surveillance Station 8.1 will run on compatible Synology NAS and NVR (Network Video Recorder) devices running the DiskStation Manager (DSM) 6.0 operating system and above. It's compatible with over 5,600 different IP camera models. Most Synology NAS devices include two complimentary camera licenses, with the cost to add additional units around AU$60 per camera.
Getting up & running
We tested Surveillance Station 8.1 on a Synology DS1517+, using it to connect to a range of IP cameras that we had on hand. For the purpose of this guide, we're going to presume the basic functions of your Synology NAS are already up and running – if not, follow the hard drive install and initial setup guidelines that were included with your device. Once you're set up, log into your NAS and launch the Package Center, then install Surveillance Station and run it.
For anyone who wants to try before they buy, Synology has this fantastic free online demo of the DSM interface that includes Surveillance Station. It can perhaps look a little daunting at first, but if you get stuck at all, the Help file is very comprehensive and easy to follow.
To connect a camera in Surveillance Station, first make sure you have at least one compatible IP camera powered up and connected to the same network as your NAS.
Then, in the Surveillance Station interface, click the IP Camera icon to load the management tab, then select Add Camera from the top left (or Add Batch for those adding loads of cameras at once).
The Quick Setup option is great for first time users, while Complete Setup gives more in-depth options for selecting frame rate, resolution and so on – all of these can be edited later, too.
Next, enter a camera name, then hit the search button at the IP address box and any active cameras on the network will be automatically identified. Click Test Connection to auto fill the audio and video format, then click Finish.
The next step is to set up some of the basic functionality. Select a camera, then Edit > Recording Settings. Here, you can set the cameras to continuously record, with preset limits based on time and storage space. Recording can also be set to a schedule, or activated by motion detection. Under the main menu, there are also options such as Notification, which allows alerts to be set for triggers such as motion/audio detection, if a connection to a camera is lost and more.
Getting the most from Surveillance Station
Recording video and setting up security alerts is great, but delving into the more advanced features offered by Surveillance Station will ensure your NAS is really put to work.
For a start, we'd suggest installing the DS cam smartphone app (available on both Android and on iOS), which allows easy remote viewing and management on the go, and also enables extra features.
Surveillance Station also has its own add-on apps, such as event detection, which allows a custom area and sensitivity to be set for motion detection.
Moreover, the app I/O port allows integration with security systems, smoke detectors, doorbells and locks and even LED lighting for a true smart home experience.
For day to day use, Surveillance Station also has Home Mode, which makes it easy to customise how the system works when you are at home or not. Most importantly, using the mobile app, this can be set to automatically activate when you leave. For example, the system can detect when you're not at home, and activate video recording and motion alerts, but then automatically turn them off when you get home.
Business use
Surveillance Station is powerful enough to handle security for even fairly large businesses – and all while the NAS device also performs other storage-based tasks.
The new 8.1 version of the software includes POS (Point of Sale) integration, making it easy to match transactions with the video footage, or even send notifications for unusual transactions.
It's also very chain-store friendly, with the ability to archive footage back to storage at the company's headquarters.
Through the Live View mode, you can even have the system monitor an area and alert if an object is removed, or notify you if a car or person lingers in an area over a pre-set length of time.
Are you a pro? Subscribe to our newsletter
Sign up to the TechRadar Pro newsletter to get all the top news, opinion, features and guidance your business needs to succeed!