Activision already has every Call of Duty game until 2027 planned
There are 3,000 developers working on the series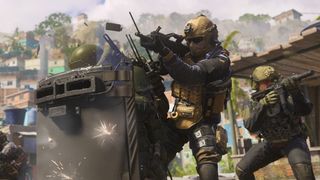 (Image credit: Activision.)
Activision has revealed that it has the future of the Call of Duty series mapped out all the way through 2027.
In a recent interview with GamesBeat, Activision president Rob Kostich discussed the FPS series' history and hinted at where it will go next, confirming that there are around 3,000 developers working on it and that the studio has plans for new games mapped out through 2027.
"We're constantly in our planning phase, our long-term planning phase," Kostich said. "Right now, we have games planned out all the way through '27 for the things that we're working on."
"Look, we've learned. I think we've done a lot of games in the future. We probably went as far there as we possibly could. We made some of the games in the past. You start to see the sweet spot over time and what really resonates with the community."
Kostich continued, saying, "You see things like the Modern Warfare and Black Ops franchises are really popular. We've certainly had some other games that have done really well, like the original World War II game from Sledgehammer in 2017 did really, really well as well.
It's a balance, I think most importantly, that we feel like we actually need to provide good differentiated experiences, good things for people to get in, and feel like they're experiencing new kinds of fun."
When later asked about the decisions behind which time period to set their games in, and why Activision decided to make Call of Duty: Infinite Warfare but didn't make a game like "Call of Duty: Romans". Kostich explained that weapons play a key role in determining the setting.
"I think ultimately for us, the weapons are a hugely important part of the Call of Duty game," he said. "You also think about what narratively that allows you to do, whatever time period that you're in. The challenge is when you go into World War II or even earlier, there's less flexibility when you're trying to maintain a somewhat realistic tone, which is important to Call of Duty. By the way, our fans very strongly define what Call of Duty is and isn't."
The next game in the series Call of Duty: Modern Warfare 3 (2023) is set to launch on November 10 and will be another game set in modern times as it serves as a direct sequel to Modern Warfare 2 (2022).
New to the game is the addition of open combat missions, as well as certain player choices during some story quests, but players can expect all 16 launch maps from the original Modern Warfare 2 (2009) to make a return.
"Once you get into the modern era, you have a lot more flexibility," Kostich added. "You get in the future a little bit, there's even more flexibility with what you can do with weapons. The Black Ops area is super interesting because Black Ops is all about secret stuff no one knows about. There's a lot of applied creativity built into Black Ops, which is always really fun for developers to get after as well."
For more, check out our list of the best FPS games, as well as the best PC games of 2023.
Get daily insight, inspiration and deals in your inbox
Get the hottest deals available in your inbox plus news, reviews, opinion, analysis and more from the TechRadar team.