While it works well enough, the quality of the thermal images on offer isn't at the level of inbuilt thermal phone sensors. For the asking price, the economics of a rugged phone with a thermal camera is close enough to question this option.
Pros
+

Easy to use

+

Works on Android 6.0+ phones

+

Still image and video

+

iOS version available
Cons
-

Phones are better value

-

Limited resolution

-

Can be expensive
Why you can trust TechRadar We spend hours testing every product or service we review, so you can be sure you're buying the best. Find out more about how we test.
30-second review
Thermal imaging was once something only used by the military or rescuers looking for signs of life, but the technology has now become so ubiquitous that it often turns up on mobile phones.
The caveat for occasional users is that they might not want a rugged mobile phone, just the thermal technology that is on that device. The InfiRay Xinfrared P2 Pro offers a way around that dilemma by allowing any Android phone with a USB-C port to gain this functionality through an accessory.
Another version that supports Apple IOS devices and their port is also available.
InfiRay makes one of the better in-phone solutions, and this Xinfrared P2 Pro camera uses the same software as those to provide a 256 x 192 resolution thermal image with a thermal variance ranging from -20C to 550C. That makes it ideal for seeing where a faulty electronic circuit is overheating or the crack in an engine exhaust manifold.
Included with the device are a USB extension cable and a macro lens to further widen the possible uses.
Compared with the thermal sensors being deployed in phones, the Xinfrared P2 Pro is a modest solution that doesn't offer the resolution or sophistication that the best InfiRay and FLIR phones can offer.
It comes down to how much you like your phone. Or if you are willing to sacrifice some image quality to avoid carrying a second device just for this purpose.
InfiRay Xinfrared P2 Pro price and availability
How much does it cost? $299/£299/€299
When is it out? It is available now from Infiray's website
Where can you get it? You can get it in most regions from an online reseller such as Amazon.
What's slightly odd about the InfiRay product range is that while the company is based in Texas, the InfiRay Xinfrared P2 Pro isn't available on Amazon.com.
The P2 Pro is available from Amazon for $299. Just make sure that you click on the tick box to get a $50 discount as the current price is showing $349.
It appears that the often quoted $299 price point is to match that of the FLIR One, an alternative with a lower specification.
However, this camera is available on its own through AliExpress for £194.40 ($239), or £227.41 ($279) with the Macro Lens included, making it much more affordable.
A good example of a modern phone with this capability inbuilt is the Ulefone Armor 19T. That starts at around $480, for comparison. However, the resolution and performance of the thermal camera in the 19T are on a different level altogether.
InfiRay Xinfrared P2 Pro design
Tiny
Metalic construction
Easy to connect
Specs
The InfiRay Xinfrared P2 Pro that was sent to us for review came with the following hardware:
Model: Xinfrared P2 Pro
Resolution: 256 x 192
Connection: USB-C
Options: Magnetic Macro Lens
Works on: Android phones 6.0 or above
Camera: Focal length 3.2mm, F1.1, FOV 52 and 46 degrees
Thermal Range: -20C to 550C
Thermal Accuracy: 2C (plus or minus)
Weight: 9g
Dimensions: 27mm x 18mm x 9.8mm
This is a remarkably small device, and our first concern was not to damage or lose it.
Our review hardware came in a small foam-padded box with the InfiRay Xinfrared P2 Pro on one side and the optional macro lens on the other.
Also in the box is some minor documentation, a small soft carry pouch, and a USB extension cable. For whatever reason, that cable wasn't in our review box, but it's mentioned in the product information, so you should get one.
At just 27mm long, 18mm high and 9.8mm deep, this is like a doll-house camera, but one that's made of metal and feels substantial even if it's barely the size of a postage stamp.
On the top edge is a USB-C prong to connect to the phone, and Apple users have a special version that goes into their proprietary connector.
The beauty of the USB connection is that the camera can be orientated either to the front or the rear, depending on what you are attempting to do. But, the software isn't aware of this orientation, or even if the phone is being held vertically or horizontally.
The macro lens attaches using magnets, making it easy to remove and reinstall, and it comes with a lens cap, something the camera doesn't. Probably for the safety of both components connecting them before putting the assembled camera into the soft pouch is probably a good plan.
Optimistically, to get the camera to work, we searched for InfiRay apps on Google Store. You might find some tools doing this, but none are for this device. Instead, the documentation suggests you search for "P2 Pro" and locate an app with that title.
The only app with this specific title has a description that's entirely in Chinese, which seems like something of a gamble to install, but in this one instance, a gamble worth taking.
This side of the InfiRay Xinfrared P2 Pro experience appears to be at odds with the polished nature of the hardware, suggesting that the software wasn't at the same stage in its development as the camera when the product launched. That said, the app is in English when used and seemed to work perfectly well.
The only obvious limitation of this design when compared with phones that have Thermal imaging inherently is that it can't mix main sensor images with thermal data to show edges and other details.
For that to work, the thermal sensor and the optical camera need to be reasonably close, and here they're typically at opposite ends of the phone.
Design score: 4/5
InfiRay Xinfrared P2 Pro software
Awkward documentation
Simple but powerful
Needs some work
The P2 Pro app, as we've already mentioned, needs to be installed for this tool to work, as it won't interface with the conventional Android camera app.
This application is a useful tool, but the documentation is something of an irritation.
The information is buried deep down inside the app, and for whatever reason, it isn't available if the camera isn't attached. The help is a PDF file made for printing on A4 or Legal size paper. That makes it difficult to read on a smartphone, and there are no options to download it, so you can refer to it on a laptop or print it out.
This manual isn't available on the InfiRay website, or rather we couldn't find it. There is no support for consumer thermal camera products at all at this time, it appears.
We are mentioning this support document mostly because, without reading it, there are many subtle aspects to the application that a casual user won't realise, and browsing through it was invaluable to us.
The first time the app is launched, it displays thermal results in a monochrome palette, but you can select from various eye-popping schemes that grade temperatures with vivid colours.
It also highlights various areas with numeric temperature readings, depending on the distinct areas of temperature the camera detects.
In most other respects, this is a basic camera app with the ability to take still images and video (at 25fps), which it places into a discrete folder structure on the phone.
There is a 'pro' mode that offers a few special extra features, like the ability to put a scale on the images, but nothing exceptional.
What is useful is a feature that can set off an alarm if what's in the view of the camera hits a specific temperature, and this works either if it's heating or cooling. There is also the capability to make the app focus on a specific part of the image ignoring fluctuations outside those boundaries.
There is a mode that will show the conventional phone camera in a picture-in-picture panel, but the value of this is dubious. The main camera is at the other end of the phone, and it might even be pointing rearwards while the P2 Pro is face forward.
The documentation mentions that the temperature accuracy is better the closer a subject is, and it becomes completely inaccurate beyond a certain distance.
Within the scope of the limited resolution of the sensor, the results are decent but not at the level we've seen from the best phone-integrated sensors. We had better results without the Macro lens in position, and reading the manual is essential to get anything like the promotional results that InfiRay show.
One issue we had was that if we put our phone to sleep, very often, the app would not see the camera when we came back to the phone. Sometimes toggling the power mode from "Reverse Charge" to "Charge" and back would make it work again, but most of the time, the app needed to be forced shut and relaunched.
This app needs to have a shutdown mode where it stops powering the camera and then removes itself from memory, quite clearly.
InfiRay Xinfrared P2 Pro camera
Low resolution
-20C to 550C
Not up to the latest sensors
The resolution of the sensor on the InfiRay Xinfrared P2 Pro is low, but there are thermal sensors around that offer even less.
It's the same sensor that InfiRay used in its P2 model, using a custom ASIC chip to process the data from the thermal sensor array, and it consumes 350mW.
One aside point about power consumption is that at the point you insert the camera into the phone, it starts to draw power, even if the app isn't running. Therefore, we wouldn't recommend leaving the camera connected after you've used it.
Where the P2 Pro differs from the P2 is in the temperature scope of the device. Where the P2 could only detect -20C to 170C, the P2 Pro has the same low temp but can go up to 550C on the hot side.
Accuracy is plus or minus two degrees, which wouldn't make this device suitable for detecting temperature changes in people that might indicate sickness. It's just not that accurate to decide if a person is above or below their normal temperature.
The field of view offered by the standard lens is suitable for general use, like deciding which of a series of parked cars was driven most recently or where cold air might be leaking into a home in the winter.
With the application of the macro lens, it can be used on much smaller items such as electronics, enabling the temperature of components to be easily identified so that they can be replaced or eliminated from suspicion.
The only significant problem with the camera is that 256 x 192 isn't a high resolution, and other than presenting what's hot and what's not, it doesn't offer much more help.
It is better than the similarly priced FLIR One Pro LT. But neither of these products is as good as the FLIR Lepton 3.5 sensor used on many phones or the latest InfiRay phone-installed sensors.
InfiRay Xinfrared P2 Pro samples
Image 1 of 11
There are a few problems with this solution. The first is that this resolution isn't impressive compared to that offered by the latest thermal designs.
We have a review of the Doogee V20 Pro coming soon that uses an InfiRay sensor and that has a thermal resolution of 1440 x 1080, providing a level of detail that is dramatically improved over the P2 Pro.
What also makes the results from that phone, and a few others that we've tested, is that they can combine conventional image camera capture with the thermal image to better explain what you are looking at. This feature is very important when looking at an engine, as an example, since random blobs of colour might not reveal exactly where the issue is without additional information.
But the other issue is price, even if you source this product from AliExpress and not from Amazon. A little digging revealed that the Doogee S98 Pro can now be bought for £230/$250, and it uses an InfiRay sensor with the same 256 x 192 resolution.
That's a great rugged phone design for less money, and you can dedicate it to this purpose and get an effective backup phone if you ever need one.
If you want thermal imaging in a phone, we'd still recommend buying a phone with that feature rather than trying to add it using a tiny camera like the P2 Pro.
InfiRay Xinfrared P2 Pro score card
Swipe to scroll horizontally
| Attributes | Notes | Rating |
| --- | --- | --- |
| Value | Expensive for the image quality | 3/5 |
| Design | Small and easy to use. Beautifully constructed. | 4/5 |
| Software | Help needs to be online or downloadable, but the application is fine for the capabilities of this camera. | 4/5 |
| Camera | Low resolution, but better than some other phone add-on devices. | 3/5 |
| Overall | Asking price is far too high for this specification, even if it is remarkably easy to use. | 4/5 |
Should I buy a InfiRay Xinfrared P2 Pro?
Buy it if...
You only want one phone
People get very attached to their devices, and if you want only one phone but need a thermal capability, then the P2 Pro offers that option.
Thermal imaging is a very occasionally needed
There are much better dedicated thermal cameras and phones with integrated sensors that have a greater resolution and more features. But if you only need this feature once a year, and the resolution is good enough, then the P2 Pro might fill that niche for you.
Don't buy it if...
You need thermal imaging every day
The quality of thermal sensors in some rugged cameras is much higher than what the P2 Pro offers. There are also dedicated cameras that are even better. If you use intend to use this feature every day, then you'd be better with a dedicated phone or camera.
You have a medical requirement
The sensor on the P2 Pro isn't a substitute for a medical device to measure body temperature, as its quoted accuracy is 2C plus or minus. We would strongly advise that if you want to identify someone with a fever, there are better and more reliable ways than this.
Also consider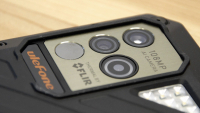 UleFone Power Armor 18T
A cheaper phone that uses the excellent FLIR 3.5 sensor for thermal imaging and sports the effective Dimensity 900 SoC for a good user experience.
It also has 9600 mAh of battery capacity that converts into at least four working days of use or a week of more careful power distribution. And, with 66W charging, it can get 52% of its capacity back in just 30 minutes.
Read our UleFone Power Armor 18T review for more information.
Mark is an expert on 3D printers, drones and phones. He also covers storage, including SSDs, NAS drives and portable hard drives. He started writing in 1986 and has contributed to MicroMart, PC Format, 3D World, among others.