5 Best Free Animation Software
For both - mobiles and desktops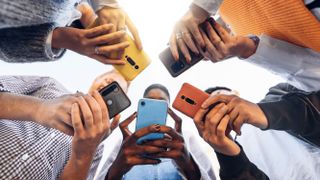 (Image credit: gettyimages/Kar-Tr)
During the current times when social media presence has an importance of its own, animations come in extremely handy for people who like to express themselves using visuals.
There are tons of tools that can help you create stunning animations and you do not need any sort of technical expertise as well to create them.
In this article, we'll list out some of the best animation software you can easily use online, on your mobile or desktop.
5 Best 2D Animation Software - Online
If you have a device that can't handle heavy animation programs, then you can create any type of animation on the following online animation software:
Doratoon
Doratoon is an online video editor that enables you to create a professional-looking animation for free, thanks to all the basic and advanced features required to create high-end videos.
If you're a starter stepping into the field with basic animation knowledge, then Doratoon can help you master skills to even reach professional standards.
Moreover, you can create your character from scratch or perform some tweaks and edits on its appearance, utilizing your full potential.
Also, Doratoon makes use of Artificial Intelligence to get the best possible results. It smoothes your shapes and lines, predicts your strokes, and gives a better dimension to every scenario.
Moreover, this free animation software for beginners can assist with voiceover, enabling you to navigate the auto lip-sync tool to complement the dialogues with situations appearing on screen.
Once you're satisfied with the animation you've created, you can save it in HD format at 1080p resolution or even share it directly to different social media platforms.
Features
Millions of in-app media, including vectors, elements, characters, stock clips, and more
Premade templates suit a variety of topics with customizable backgrounds
Display picture-in-picture and split-screen videos
Give your characters realistic movements with path animation
Convert ppts to videos as well as animations
Powtoon
Powtoon is a reliable tool for people who want to create a professional-looking animation but don't want to spend a hefty amount on hiring animators.
Whether you're a business looking for a mascot for branding or an individual sharing views on a topic, the app can elevate your simple sketches to catchy animations. There are many different tools and animation features that make Powtoon stand out among other software.
Since every animator has their personal animation style that makes them unique, this app is quite handy in letting you change the profile and dynamics of your animation according to your standards. Save your work on your computer or share it on streaming platforms without thinking twice.
Features
Customize your animation with built-in backgrounds, sounds, characters, etc.
Create urgent videos within minutes using templates
Whiteboard animation mode to craft monocolored or classic animations
Import and edit PSD files via Photoshop integration
Animaker
If you're looking for an online tool dedicated to animation making, then Animaker can seal the deal. Since it's in the name, the app is designed to ease animation making by offering various tools that can give your idea a proper shape of reality.
Most animators prefer Animaker because of their ease of use, which helps beginners to learn quite efficiently without taking away the advanced features that professionals may need.
Besides, it works on a drag-and-drop control structure, so you can drop the shapes and implement the movements without programming or coding skills. Moreover, you don't have to invest a single dime for using basic features.
Features
Customize the tool with more than 25 different language options
Over 200 different sound effects and music are accessible
Ready-made templates and elements
Record your real-time footage with the in-app recorder
Pick from 6 unique video styles as per your style
Vyond
For those with a specific budget to invest in a reliable animator that can give a broader domain than most free animation software, Vyond can sharpen your skills to create high-quality animations.
The app has been accompanying the designers since the initial days of animations, known as the oldest software.
Since Vyond has evolved and maintained its growth, it provides you with some top-notch features with advanced customization options. It can also create personalized animated videos lasting up to 120 minutes. You can export these animations in every video format from .wav to .mp4 and more in 720p and 1080p resolutions.
Features
It lets you craft your animations and videos on multiple topics with premade templates
You can add a hint of realism to your animation with auto-character syncing options
Renderforest
If you're searching for an animation creator online that is not only accessible but also simple to use, then Renderforest is the right choice to pursue creating animations. With this software, you can make music videos, teasers, logo reveals, and promos since it's ideal for creating short videos.
Most YouTubers even use it for their video introduction, while business associates acquire it for creating emphasis on their presentations.
It has implemented adequate controls for adding animation to your existing video. You can even create animation using your old graphics or clips and combine them to form an entirely new visual.
Features
Intuitive design with drag-and-drop controls
Save videos in HD format on 1080p resolution without watermark
Over 500,000 stock videos and images.
Design animation on multiple backgrounds with premade templates.
More than 200 pre-licensed music tracks
5 Free Animation Software - Desktop
Although there are many software to choose from, we've compiled only the best free animation software for your desktop mentioned as follows:
Adobe Animate CC
Adobe is the most trusted and relied-on name for graphics designing and motion visuals. The franchise has designed many different tools for specific purposes, even in graphic categories, from which you can choose one depending on your goal.
The program that fulfils all the animation requirements is Adobe Animate CC which can help you in animating not only 2D but 3D environments and characters.
Additionally, it has an intuitive interface but can't be easily operable by beginners and is prominently meant for advanced-level designers.
With its integration with other Adobe platforms like Photoshop and Illustrator, you can also import and edit the graphics and videos designed on that software. It lets you set up tags and adjust your character's facial movement using a webcam.
Features
Customizable features
Different Adobe product integration to make importing and exporting easy
Auto facial appearance and movement controls
Get premade characters from the creative cloud market
Capture motions and pace with real-time shots
DigiCel FlipBook
If you're searching for an easy, powerful, fast interface to create your animation from your desktop, DigiCel Flipbook can add a fun element to your tedious animation moments.
It is one of the most simple and easy animators because of its high-end intuitive controls. The app allows you to create flipbooks as well as animation with the help of thousands of features.
Moreso, it enables the drawing feature within the flipbook from scratch, or you can import your sketches from your computer to give them a better shape. There are several painting and drawing tools to create high-end animation, and you can even perform basic video editing without hassle.
Features
Add soundtracks and lip-sync to take your animation up a level
Work on a single frame or make changes altogether
Zoom, rotate, pan, dissolve, and blur your videos
Export finished animation as avi and QuickTime files
Synfig Studio
Another desktop-based animation tool in our list that also works efficiently as video editing software is Synfig Studio. It helps in creating 2D animation, crafting your characters from scratch, and designing vector graphics for crafting frame-by-frame videos.
If you're looking to add realistic features to use designs, then it would be the best option. The app allows you to use bone regulatory movement control tools for the natural movements of your characters.
For those who want to learn animation in Synfig Studios, there are tutorials on their official website integrated by Udemy for a clearer understanding of animation requirements.
Features
Create timeline-based animations
Advanced feature set for professional animators
Cut-out animation options using bitmap images
Layering based on Skeleton Distortion for complex animation
Blender
For professional-level animators looking for a reliable desktop-based application to make animated videos free of cost, no matter if they are high-end 2D or 3D animation; Blender can work wonders.
It is an open-source animator that deals with graphics and animation on low as well as high poly models. This software will only give you better results if you have all the knowledge about character animation.
The best thing about the app is that millions of people are connected to it and are working towards improving this software and its tools. You can render pre-existing animations, edit videos, simulations, and 2D and 3D animation while exporting at 1080p res.
Features
High-end interface with multiple layout modes and powerful features
Both path-based and freestyle options available for editing
Adjust light and camera for object motion and curves
Sculpting, retopology, curve adjustments, and more
Export and Import files easily via a massive number of available formats
Moho
Moho is a simple yet straightforward 2D animation platform you can use to edit and style your animation.
Using this software, it is vital to have some basic information about animation, editing, tagging, and different dynamics to deal with characters. The key features of this application are that it uses both animation tools and artificial intelligence technology.
With trusted features with Moho, you can easily customize your existing photos as well as give clarity to your characters. Moreover, you can add texture, decrease the motions, add an overlay, and more.
Features
Frame layers feature creates every animated scenario in layers
Artificial Intelligence powered features and tools
Custom bitmap helps with custom brush style
Detailed interface with many different tools
Search in-app media via subwords, Boolean operations, keywords, etc
Camera manipulation and material properties for 2D elements
5 Animation Software Programs - Mobile
Mobile animation has become a new staple for most influencers and social media marketers. Following are some of the reliable animation programs easily operable on mobile phones:
FlipaClip
If you're just starting your designer journey but don't have a PC or laptop, you can step in with mobile animator FlipaClip. It is an ideal platform that provides you with a variety of animation features. You can reach your creative side to access your full potential without hassle.
The application offers all the trendy and modern animation-enriched assets without straying away from classic animation features.
Also, you can draw your simple raw sketches in flipbook mode, and it helps you create high-end animations and animated characters, taking those sketches as inspiration. You can even share your results directly on renowned social media platforms.
Features
Follow the systematic animation timeline just like in desktop animation software.
Record real-time footage
Import existing media files from your gallery
Pressure-sensitive pen support for drawing and text editing
Layered animation features up to three layers for density and dimension
StickDraw
StickDraw is meant for people who want a fun and easy way to create animations with drag-and-drop features. With a wide variety of multiple assets as well as different features, you can boost up any animation just by working on it for some minutes.
Moreover, it is generally meant for stick figures and simple stop motion animations. It is an ad-based Android application, but you can buy the pro version if you want to use the app free of advertisements. Furthermore, it allows you to create professional-looking shorts, posts, and promos for your social media platforms.
Features
Skeleton system allowing systematic animation like PC software
Professional studio animation ideal for the 2D format
Enhance your skills using plugin capabilities
Lip-sync features and automated movements
Textro
For those who are searching for an animation application that can create simple yet elegant videos based on graphics or just simple intro footage, Textro is the way to go. You can add text and pick from different colour palettes, animation styles, as well as fonts to get it done in no time. An animated quote feature can give your text a fling and cartoony style.
You can even export multiple photos, graphics, or clips to merge into a single video and make your animated story stand out.
Features
Multiple styles for text animation to add to your videos
A wide variety of fonts to use depending on the topic
Import media as background
Pick sound effects and voice from in-app media or from your gallery
Share directly to social media applications
Motionbook
If you want to drag the creative person out of you and discover the art of making high-end flipbook animation, then Motionbook can take you on this unique artistic journey. This is an iOS-based application that offers a variety of different tools to create frame-by-frame and layered animation.
With it, each tool has subcategories, like Even the Pen and Erase tool set comes with additional effects like pencil, calligraphic brush, inking pen, paintbrush, marker or hard erase and soft erase. The app is fully integrated with the Apple-supported file system to manage all flipbook files.
Features
Timeline animation with custom FPS
Personalize color palette or choose from in-app palettes
Tweak the details by copy-pasting drawings or duplicating frames
Use any page or image as a reference to your animation using the Onion skin feature
Save your files on iCloud to access on other iOS devices
PicsArt Animator
Last on our smartphone animator's list is PicsArt animators, the two-in-one application for video editing and animation designing. The app lets you avail multiple assets to polish your animations or give dynamic perspective to existing videos.
Also, it is free to use with in-app purchases for advanced features. It helps you create each animated character in detail with a multi-layered environment and frame-by-frame scenarios without much effort.
Features
Work on multiple layers and duplicate frames easily
Turn your animated characters into GIFs, stickers, and emojis
Create moving doodles and overlay images
Detailed library of 50+ pre-licensed sound effects and audio
Conclusion
Animation is the path on which you constantly grow to shape up characters and polish your environment. Give your animation journey a proper partner to get better results and consistent progress by picking the animation software mentioned above.
However, the animation software with all the necessary features, while effectively available anywhere you want, can make your progress durable, just like Doratoon. It has a diversity of characteristics while integrating the latest technology living up to the standards of modern animation.
Get daily insight, inspiration and deals in your inbox
Get the hottest deals available in your inbox plus news, reviews, opinion, analysis and more from the TechRadar team.