WD My Book Duo 44TB: 30 second review
WD My Book Duo 44TB Spec
Here is the WD My Book Duo 44TB configuration sent to TechRadar for review:
Interface: USB 3.2 Gen 1 (USB 3.0 compatible)
Config: RAID-0 ready out of the box
Capacity: 2x RAID optimised 22TB drives
Ports: 1x USB 3.2 Gen 1, 2x USB 3.0 Type-A hub ports
Security: 256-bit AES hardware encryption and password protection
Warranty: 3-year limited warranty
Package Includes
• My Book Duo Desktop RAID storage
• WD Discovery™ software for WD Backup™, WD Security™ and WD Drive Utilities™
• USB-C to USB-C cable
• USB-C to USB-A cable
• AC adapter
• Disk replacement tool
• Quick install guide
The Western Digital My Book Duo series first appeared in 2012 with the My Book Live Duo, the first of this series to combine two drives for extra capacity or resilience.
While single-drive My Book designs are still prevalent, the Duo, with its ability to have the drives replaced or upgraded, offers a tempting option for those that want plenty of capacity connected to their systems.
The latest option, the one with 44TB emblazoned on the box, comes with two WD220EDGZ 22TB drives pre-installed into what looks like the same box that we've previously seen with a wide range of options that include 16TB, 20TB, 24TB, 28TB, 36TB and now 44TB.
For those wanting the best value options, we'd suggest the bottom two sizes. The worst cost per TB is the 28TB design, and the new 44TB option is only slightly more expensive per TB than the 20TB model.
Connecting via USB 3.2 Gen 1 (5Gb/s), the two 22TB drives can be configured as JBOD, RAID 0 (performance) or RAID 1 (Mirrored). JBOD connects the drives individually as two 22TB drive letters, RAID 0 as a single 44TB drive with improved performance, and the Mirror option lowers the capacity to 22TB but can survive one of the drives dying without data loss.
The critical takeaways of this new model are that the capacity is so great that it would take 31 hours or more to write the whole volume of data over USB. And Western Digital will inevitably release an even bigger one when even larger mechanisms become available.
WD My Book Duo 44TB: Price and availability
How much does it cost? $1500
When is it out? It is available now
Where can you get it? You can get it in most regions through online retailers.
Typically with Western Digital, we'd mention the company's online shop to source these types of items since this is most likely to have stock. However, at the time of writing due to a 'Security Incident,' the selling part of the WD website doesn't function.
Hopefully, this will be resolved in the coming months, but for now, online retail is the only source for this or any WD-branded products.
Direct from Amazon.com, the 44TB Duo is $1499.99, and in the UK, the cost is £1,756.39, which seems excessive. As you can get the 36TB Duo for £879 in the UK and the 24TB Duo for $586 in the USA, there are numerous ways to get more than 44TB at a lower cost than $1500. Although having multiple Duo's isn't as convenient.
Currently, the largest desktop drive Seagate makes is a 20TB model. However, with Ironwolf drives with larger capacities now available, these are likely to be introduced to the Seagate Expansion series in the coming months.
A 16TB Seagate Expansion costs just $250, which equates to 96TB in six drives for the same money as the 44TB Duo.
Western Digital's SanDisk Professional brand offers the same drives but in a superior enclosure with Thunderbolt connectivity for $750 for the 20TB single-drive model. That's an equivalent cost per TB, but the all-metal enclosure and Thunderbolt connections make it an alternative option.
A high price is expected at launch for the new flagship Duo, but once some direct competitor products are available, the price is likely to go down.
WD My Book Duo 44TB: Design
Looks like every My Book Duo
Bigger drives and PSU
Still noisy
In my office, I have a 12TB Duo (dual 6TB drives), and from the outside, these units look the same, even down to the finest details.
They share the same black sculpted box with a flat gloss surface at the top and
a rippled silk finish on the lower half. On the back are two USB 3.2 Gen 1 ports that are part of an internal hub, the USB-C port that connects the drive to the host computer and a Kensington security slot.
It's tempting that based purely on appearances, the 44TB Duo is identical to the old 12TB model, although other than the drives, we did notice one significant difference.
The 12TB model uses a socket PSU rated for 3A at 12V (36W), whereas the new unit uses a laptop-style PSU rated for 4A at 12V (48W). The PSU chosen reveals that the 22TB drives consume more power, and the original PSU design was insufficient for these larger-capacity drives.
A little research reveals that the larger PSU comes with Duo's of 16TB or bigger, and that infers it might be a bad plan to get a 12TB or smaller Duo and put 22TB mechanisms in it.
Perhaps WD could develop some way of enabling owners to identify the model more easily from the outside, maybe a colour-coded label. Because if you have a line of these connected to a system, it would be impossible to work out the installed capacity without either opening them or getting a magnifying glass on the tiny labels.
The beauty of the Duo is that you can easily remove the top and replace the drives if required, assuming you've removed all the data previously and powered down the drives.
Inside are two 3.5-inch SATA mechanisms with plastic rails and handles attached that are easily slid out vertically.
In our review hardware were two drives marked WD220EDGZ, a code number that isn't listed on the WD site. Using drive interrogation tools revealed that these are Western Digital Ultrastar DC HC570 mechanisms, originally designed for data centre use.
That probably makes them overkill for this usage profile, but conversely, they should be reliable.
One slight oddity is that out of the box, the unit comes pre-configured in RAID 0. A mode that makes the unit appear to be quick and offers the full 44TB but also guarantees data loss in the event of either drive failing.
We'd strongly recommend anyone buying this unit to reconfigure it to RAID 1 (Mirror) mode even if that waves aloha to 22TB of space. Having this volume of data on a device, assuming that neither drive will ever die, is more optimistic than is healthy for most people.
Similarly, JBOD (just-a-bunch-of-drives) seems redundant as it offers neither the resilience of mirroring nor the performance of RAID 0.
One aspect of this design we wish was better is how noisy it can be. The fault-tolerant drives in these units are always doing something even when the drive isn't in implicit use.
If you have the Duo on the desk, the continuous rumbles and clunks can soon become annoying. WD need to consider that they are desktop devices and, therefore, need soundproofing added to make them less intrusive in quiet working environments.
WD My Book Duo 44TB: Software
Limited apps
AES encryption
The security tool enables you to utilise the 256-bit AES hardware encryption and define a password needed to unlock the drive. You can pre-sanction the computer you are using, though moving the drive to another system would then automatically initiate a password request.
As strong as this potentially can be, password quality aside, it does rely on the owner not forgetting that critical token. Because without it or the machine it originated on, the data is utterly irretrievable, sadly.
At this price point, the software available for this drive is perfunctory at best.
Given the tools that other WD products come with, the selection of software that is included with the 44TB Duo is underwhelming.
Already on the drive is the WD Discovery tool that then allows the downloading and installing of WD Drive Utilities, WD Backup and WD Security software.
Of these, the WD Drive utilities are a prerequisite, as they allow you to change the RAID configuration of the Duo from the dancing-with-disaster RAID 0 mode to the more prudent RAID 1 option.
The backup tool is basic but serviceable, allowing you to secure specific local folders each hour, day or month. You can set up multiple schedules, allowing different frequencies for each folder structure specified.
What this hardware desperately needed was a live tool that secured files from specific folders as they changed and instigated some file versioning. But alas, customers who paid $1,500 for this unit can pay another company for the software to achieve those objectives.
WD My Book Duo 44TB: Performance
Slow vs SSD
Too big for the transfer speeds
As physical hard drives have gotten larger, they've also become quicker due to the increase in platters and heads. However, some of that improvement might also be down to the amount of cache that a 22TB mechanism needs to function.
That said, compared to SATA SSD, the drives in the Duo are painfully slow even if you configure them in the optimal performance arrangement, striped, aka RAID 0.
Looking at the specifications, the interface to the host system is only USB 3.2 Gen 1, or 5Gb/s, but that's still more than enough transfer speed for the combined efforts of two 22TB drives in RAID 0.
In RAID 1, mirror mode, using CrystalDiskMark 8.04. the drive read at just 118.83 MB/s and wrote at 178.86MB/s, showing that some caching was helping the write performance. Over RAID 0, those numbers increased to 317.43MB/s reads and 281.99MB/s writes. A slightly odd result, but the cap of around 282MB/s writing is only 58% better with both drives over one, and you double the chance of data loss for that extra speed and twice the capacity.
Further testing with the AJA system test revealed that when confronted with a large 64GB file, performance in mirror mode reduced to 129MB/s reads and 162MB/s writes, and it maintained that speed for the entire file transfer.
In stripe mode on the AJA test, the unit achieved 226MB/s writes and 302MB/s reads.
The portly pachyderm in this room is how long it would take you to fill the drive from data existing on the host system. Assuming the AJA System Test results are roughly accurate, the transfer times are somewhat scary.
In mirror mode with 22TB to occupy and write speed could be sustained at 162MB/s, it would take around 34.2 hours to write that data and 44 hours to read it back.
Using a RAID 0 stripe with 44TB to transfer would take more than 41.7 hours to complete writing that exercise and 36.8 hours to read it back.
Due to the vagaries of write speed on conventional hard drives as they fill and how smaller files slow down transfers, these timescales might be very optimistic in real-world exercises.
Therefore, that plan that had you securing 22TB or 44TB of local data each night on this external drive is impractical from the outset unless the changes are minor or incremental.
That's realistically the only way to use one of these, feeding it data daily that builds up to represent a much larger capacity.
It's also worth considering that even if built incrementally, returning all that data to the host system if it suffered a failure could take days.
To make these devices more useful, WD needs to consider adding a third drive and an SSD slot for caching. Because merely making the drives bigger each cycle doesn't solve any of the problems associated with using these, and realistically each new greater capacity makes them less flexible and more challenging to manage.
Having this much capacity sounds like a dream, especially for those using a 4TB external drive or a smaller Duo model. But the dream of having this much space is also, oddly, something of a nightmare.
The reality is that curating 22TB or 44TB of data on the Duo is a significant exercise. Transferring it on and off can't be done at a whim, and the thought of losing that much data through hardware failure is terrifying.
For those who don't care about read and write speeds and have two or three copies of everything they put on them, these are useful and cost-effective devices. But for anyone with an important data set to secure and manage, they're probably the wrong way to go.
Three drives would offer greater performance and resilience, and four would be even better.
WD can keep putting bigger drives in the Duo, but this concept may have reached the buffers for those wanting large file collections at their fingertips.
WD My Book Duo 44TB: Report card
Swipe to scroll horizontally
| | | |
| --- | --- | --- |
| Value | For the biggest capacity option, it is one of the better value Duo models. But, you can get 44TB or more much cheaper | 3 / 5 |
| Design | A good design that allows for drive replacements and upgrades, but it is noisy. | 3 / 5 |
| Software | Same limited software you get with cheap WD external My Book models, unfortunately. | 2 / 5 |
| Performance | Performance is fine, if you only copy a few files a day, but too slow for a big overnight backup. | 2 / 5 |
| Total | Huge capacity, but a challenge to fully use that space with these transfer speeds. | 3.5 / 5 |
Should you buy a WD My Book Duo 44TB?
Buy it if...
You want all your files in one place
Having drives this size does enable some impressive data collections to be assembled, but it does assume you don't need all that data dumping back in a hurry.
You want flexibility
The Duo designs allow for drive replacements and potential upgrades, assuming that they still make SATA HD in the future and you have somewhere else to put 22TB or 44TB of data to make that switch.
Don't buy it if...
You backup 22TB or more often
The performance of these units isn't good when compared to external SSDs, or Thunderbolt-connected RAID boxes, like those by TerraMaster. Those wanting fast external storage need more than two drives, and probably SSD cache options.
You need network availability
This is a USB-connected device, and while you could share it from your PC or from a NAS, it doesn't have any server technology in it for that purpose. If you want Network Attached Storage, then buy that, not this.
Also consider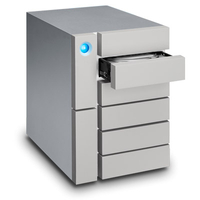 LaCie 6big Thunderbolt 3
At more than double the cost of the 44TB Duo, the LaCie 6big 48TB model has room for six drives, and LaCie offers a model with 108TB of total capacity.
Over Thunderbolt 3 connection, this box can achieve 1200MB/s reads and 1150MB/s writes in RAID 5, and it's even quicker in RAID 0.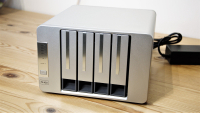 TerraMaster F4-423 NAS
This might be a NAS box, but when complimented with up to four 3.5-inch hard drives and M.2 NVMe drives, it makes a formidable alternative. One of these and four 16TB hard drives is about the same cost as the 44TB Duo, but you end up with 48TB of resilient capacity (RAID 5) or 32TB of mirrored space.
And, over 2.5GbE networking, file transfers will be faster.
Read our TerraMaster F4-423 NAS review for more information.