The Razer Audio Mixer is part of the boutique brand's continued ventures into the streaming world. Aimed primarily at streamers, it sets out to be a solution for balancing sound levels when broadcasting gameplay. While it achieves what it sets out to do, the asking price is so steep that only those firmly invested in the ecosystem are going to get the most out of this.
Price and availability
You can pick up the Razer Audio Mixer in the US, the UK, and Australia from any big box online retailer or from Razer directly for $249.99 / £249.99 / AU$414. It's been available for around a year, originally launching in March 2022. While Razer products certainly carry a premium, the price of this compact XLR audio interface and mixing board is steep.
That's because for around half the cost you can get the TC Helicon GoXLR Mini which retails for around $177 / £150 / $AU313. Now, Razer is a brand known for its premium price tags that go along with the lifestyle aesthetic of the products, so the markup isn't too surprising here, but the sticker price is worth bearing in mind.
Design and Features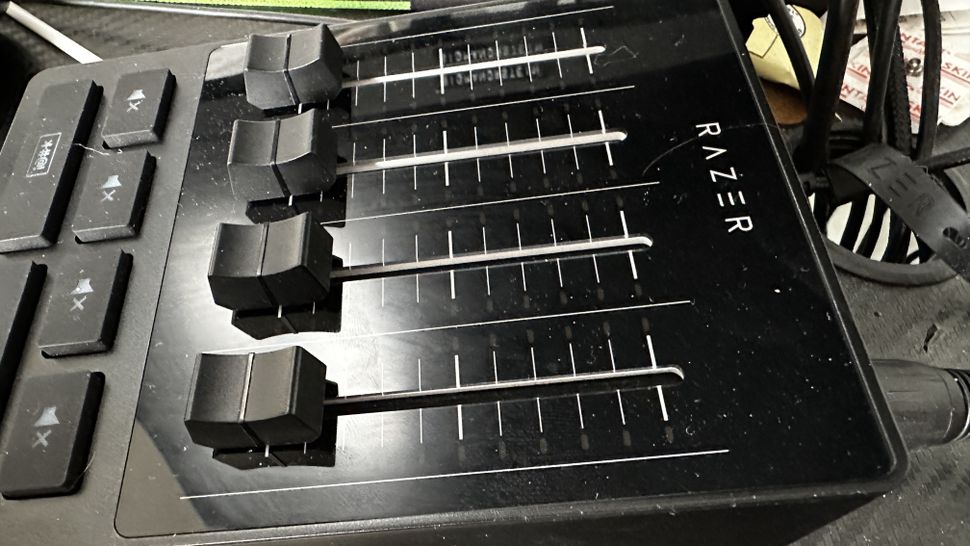 The Razer Audio Mixer is certainly eye-catching. In true brand fashion, it's jet black but adorned with the brand's Chroma RGB software which illuminates everything in a spectrum of color. There are four channel sliders with corresponding mute buttons, a censor / SFX button, and mute. Ports-wise, there's a single XLR input with the corresponding 48v Phantom Power, line in and out, and optical.
There are also two 3.5mm jacks for wired headphones and headset mics. Conveniently, a single USB-C cable that can run straight into the USB-C port on your desktop or gaming laptop powers the entire unit. Curiously, there was no input for any of Razer's USB microphones through the mixer itself as there's no USB-A port for the likes of the Razer Seiren V2 X or the Razer Seiren Emote here.
Given the high price tag on the Razer Audio Mixer, I'm disappointed the four fader sliders aren't motorized. While they don't feel unpleasant to use and have satisfying sliding action, I expected more from the overall build. Though sturdy, something feels incomplete to me about a high-end intimate gallery experience that's lacking from what could have been great with motorized and programmable channels. The sub-$350 / £350 / AU$420 GoXLR Mini does it, so why can't Razer?
Inside the Razer Audio Mixer, you've got a pre-amp that helps to bring out the best of the XLR microphones you plug into it. Naturally, you do the biggest tweaking through Razer Synapse on PC will, as is the case with every peripheral and accessory put out by the brand. Inside the software, you can manually configure levels for the four channels and apply various effects. It all comes together for a user experience that's certainly competent but comes across as more style over substance.
Performance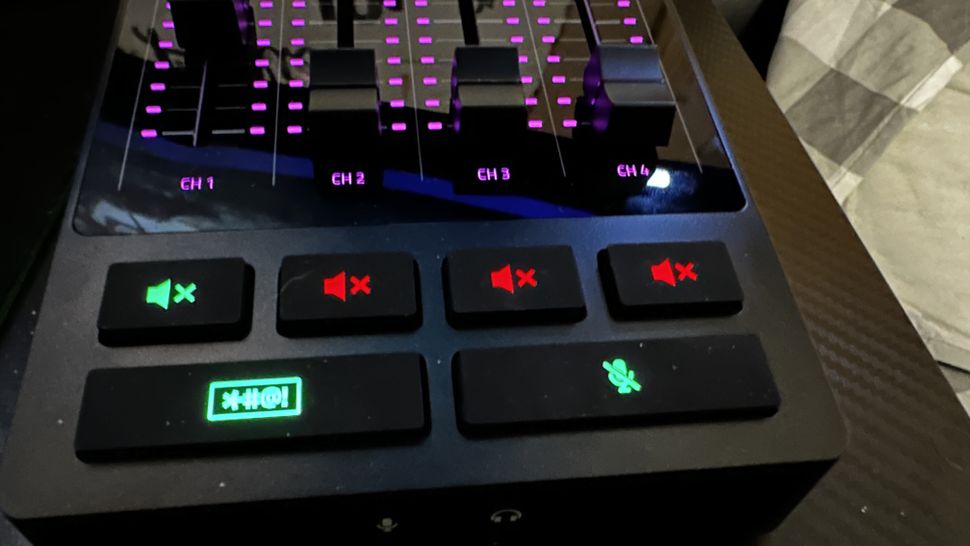 The Razer Audio Mixer does what it sets out to do. I tested this compact XLR with several microphones, including the Rode PodMic and the Rode NT1 5th Generation. These are some of the better-sounding microphones that I own, and the board handles them well I got a nice and clear level when recording my voice and setting up streams.
Getting set up in the Synapse software was also a good way to make more fine-tuned tweaking than relying purely on manually moving the sliders. I particularly appreciate how you can fine-tune the different channels for the gameplay coming through a broadcast alongside how loud the microphones sound. I will say that the censor button isn't something I got any real use out of. It's a fun novelty, but not something I feel should have taken up space on an already small unit when an extra USB-A port or XLR could have fit into that gap.
Overall, the Razer Audio Mixer hasn't won me over. It's just too expensive for the limited functionality that it offers, considering you can get essentially the same product for roughly half the price. Moreover, as an audio interface, many cheap alternatives feature preamps and multiple XLR inputs for less. You can get the Behringer U-PHORIA UMC202HD for $99 / £77 / $AU139 which has two microphone inputs, multiple gain knobs, and direct monitoring.
If you want viable alternatives dedicated purely to game streaming, then you've got the choices of either the Elgato Stream Deck+ or the Elgato Wave XLR, which both come in cheaper at $199 / £199 / AU$358 and $159 / £159 / AU$149. You're better served from a price-to-performance perspective with what these streaming solutions can do considerably cheaper than the Razer Audio Mixer.
Should I buy the Razer Audio Mixer?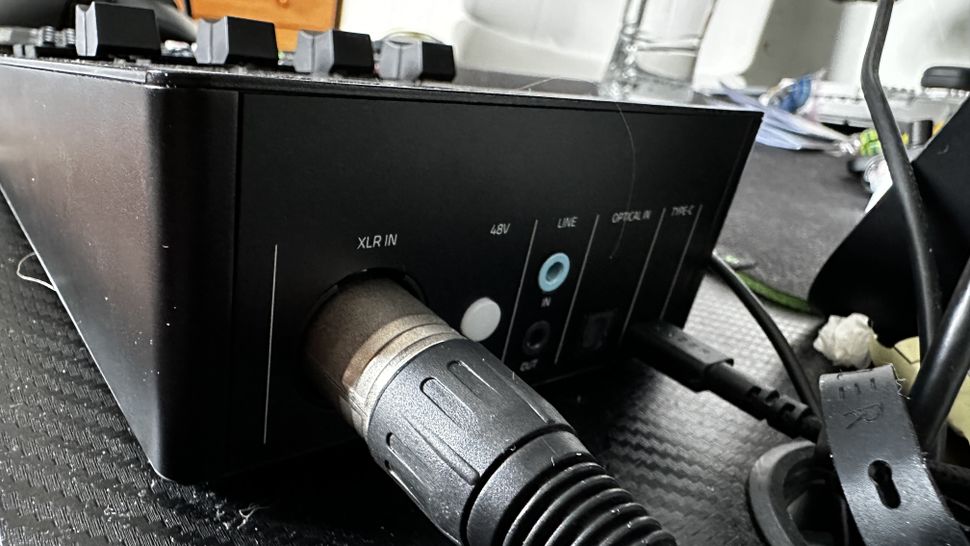 Buy it if…
You're already invested in Razer's ecosystem

If your streaming setup primarily consists of Razer products, then the Audio Mixer will fit perfectly in and perform well for what it is

You're considering going from a USB to an XLR microphone setup

The Razer Audio Mixer doesn't take up much space and only requires a USB-C cable for power making it a good jumping off point for an XLR microphone.
Don't buy it if…
You want good value for money

There's no getting over the fact that the Razer Audio Mixer is overpriced for what it is.