It's not long until The Legend of Zelda: Tears of the Kingdom is released (May 12) and after months of speculation, Nintendo has finally announced a console to celebrate the upcoming Breath of the Wild sequel… and I, for one, think it's absolutely beautiful. At the end of The Legend of Zelda: Tears of the Kingdom demonstration, we were given a sneak peak at this console – and I'm tempted to upgrade now that pre-orders have opened in Australia (where I'm located, though it looks like pre-orders are also open in the US and UK too).
Following the Pokémon Scarlet & Violet or Splatoon 3 Nintendo Switch OLED consoles is no easy feat – both delivered great designs that stayed true to the respective franchises. But there's just something special about Zelda-themed consoles that stands out above the rest, so much so that I've been living with the regret of never grabbing the golden Nintendo 3DS XL that came out alongside the re-release of Majora's Mask back in 2015.
Gold is a mainstay color of the Zelda franchise, those who played the Ocarina of Time back in the '90s might recall the golden N64 cartridge, and The Legend of Zelda: Tears of the Kingdom Edition Nintendo Switch OLED absolutely delivers on this color scheme. The accompanying Joy-Cons are a nice change from typically bright neon options – offering a shimmery muted gold with teal and white graphics on top.
The dock is also on theme, featuring the golden Tri-Force directly in the center of a white background. While recognizable, the design is subtle enough to be pleasant to look at while still delivering the themes of the upcoming new game. In fact, this subtle design is reminiscent of the Animal Crossing New Horizon Nintendo Switch that came out back in 2020, which just so happens to be the console I'd be upgrading from.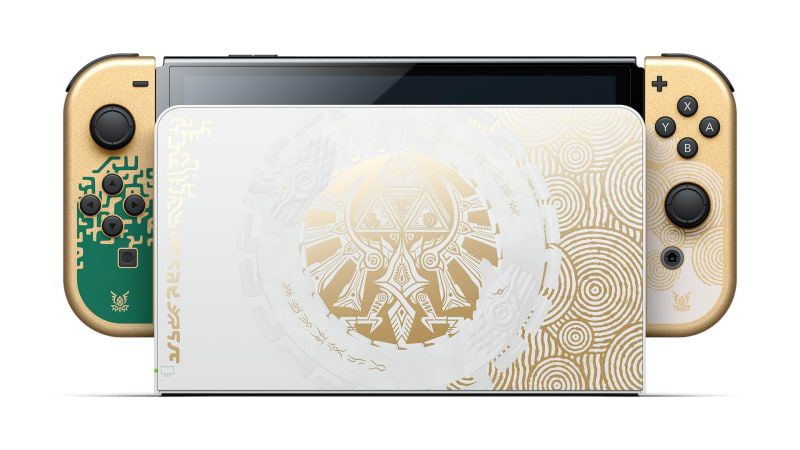 Nintendo appears to now only be releasing themed OLED consoles (there's no sign of a Nintendo Switch 2 anywhere), and if previous releases are anything to go by, finding a place to buy the Joy-Cons on their own will be impossible, with the exception of secondhand sellers. So while this is great if you want to upgrade from the Nintendo Switch, it's not so great for your wallet as these consoles are typically priced at $349.99 / £319.99 / AU$549, though trade-in options exist to help ease the cost a little.
If you don't want to purchase an entirely new console, but want some new Zelda-themed gear, you're in luck. From May 12, the same day as The Legend of Zelda: Tears of the Kingdom is released, you'll be able to pick up a themed Nintendo Switch Pro Controller and a carry case as well. Both these feature the Tri-Force and circular motifs that have played heavily into the latest game's branding, with the controller setting you back $74.95 / £69.85 / AU$109.95 and case costing $24.99 / £19.85 / AU$39.95.
Where to find the Zelda Nintendo Switch OLED
You won't have to climb any cliffs to find this console. Pre-order pages are already popping across a number of retailers, and here's where you can find the console or the accompanying accessories.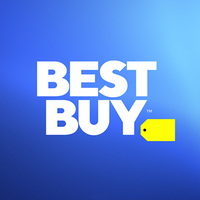 USA – While it's likely we'll see places like Gamestop, Walmart and Amazon also offering the console, currently only Best Buy has it available for pre-order (as of March 28). Here are the following preorder pages for the console and accessories from Best Buy, with the console releasing on April 4, and the accessories landing from May 12: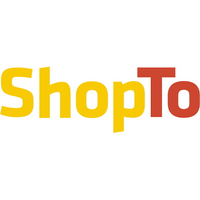 UK – In the UK, ShopTo already has the pre-order page ready to go. Just like the US, the console will be available from April 28, while the Pro Controller and carry case will be released alongside the game on May 12: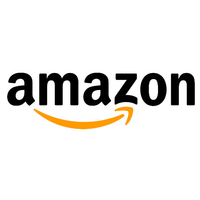 Australia – Amazon Australia has pre-order pages for this Legend of Zelda: Tears of the Kingdom gear, plus you can also find the game for only AU$74 accompanied by Amazon's pre-order price match guarantee. You'll have to wait for May 12 to roll around though to have these arrive at your doorstep:
After facing many years of regret by not picking up Zelda-themed consoles, no Lizalfos or Lynel can stop me now. I will scale the cliffs in the rain or find all 900 Koroks to get my hands on this beautiful Nintendo Switch OLED.