La PS5 te dejará probar juegos instantáneamente antes de comprarlos, dice un rumor
La prueba sería accesible de forma casi instantánea, sin descargas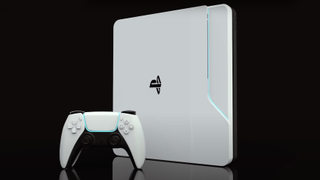 (Image credit: LetsGoDigital/Concept Creator)
Un nuevo rumor dice que la nueva PS5 y PS Store te dejarían probar todos los juegos de forma casi instantánea, sin tener que descargarlo, antes de decidirte a comprarlo.
La supuesta noticia viene de ConsoleTime. Según el texto del tuit, "el nuevo interfaz de la PS Store en la PS5 te permitirá navegar el catálogo y probar cualquier juego instantáneamente, jugable en segundos, sin requerir una descarga tradicional, sin esperas, antes de que decidas comprar el juego completo y descargarlo de la forma habitual".
Nada de esto ha sido confirmado por Sony pero tiene sentido que pueda ser así — aunque, por otra parte, existe un factor que podría ser una barrera infranqueable.
PS5: características técnicas, precio, lanzamiento y video juegos en exclusiva
PS5's New PS Store User Interface Allows You to Browse & Try Every Game Instantly, Playable Within Seconds, With No Traditional Downloading Required, No Waiting, Before You Decide to Purchase the Full Game & Download It as Normal. #Rumour #PS5 #PSStore #PSN $SNE pic.twitter.com/V04o2b9cdVApril 30, 2020
Por qué tiene sentido que haya demos instantáneas
La gran razón para justificar esta nueva capacidad es la competencia con la Xbox Series X. En estos momentos Sony parece que está notablemente por detrás de Microsoft en lo que a características técnicas se refiere. Según un veterano desarrollador de la PlayStation, la Xbox Series X destroza la PS5 en términos de potencia y capacidad.
Para compensar tienen que ser capaces de ofrecer unos servicios que hagan que la Xbox Series X parezca peor. Uno de ellos sería sin duda dejar que todo el mundo pueda probar los juegos de forma instantánea antes de decidirse a comprarlos. No sólo mucha gente está ya habituada a probar juegos antes de comprarlos en plataformas móviles, sino que parece lógico que, para dar el mejor servicio a los usuarios de PS5, Sony pueda ofrecer estas demos.
Todo esto sería posible utilizando streaming. Hasta ahora, sólo Google Stadia y un par de plataformas más ofrecen este servicio. En vez de descargar juegos, los servidores pueden ejecutar el juego y enviar la señal de vídeo por internet a la PS5. El streaming de videojuegos funciona correctamente, sobre todo si tienes una buena conexión de fibra óptica, aunque técnicamente está en su infancia. Tiene sentido que Sony — que además sabemos está invirtiendo en streaming — utilice esta tecnología para ofrecer estas supuestas demos instantáneas.
Por qué podría ser sólo un sueño
Pero aunque esto es técnicamente posible y tiene toda la lógica del mundo para satisfacer al comprador de PS5 y hacer que la plataforma sea más atractiva, todo podría ser un sueño húmedo que finalmente se quede en poco o nada.
La razón son los desarrolladores. No es la primera vez que este rumor ha corrido por internet. Lo mismo sucedió con la PS4 y nunca se llevó a cabo. En teoría, Sony no encontró el apoyo de los sellos que publican los videojuegos. Muchos de ellos no quieren que los fans puedan probar sus juegos porque se temen que no tendrían el mismo éxito que con la estrategia actual. En vez de depender de demos instantáneas, estos desarrolladores quieren seguir con el marketing tradicional, con sus eventos y las demos enlatadas en trailers.
De ser así, es pan para hoy, hambre para mañana. La primera consola que ofrezca este servicio de pruebas instantáneas será, sin lugar a dudas, la que tenga más posibilidades de triunfar en esta nueva batalla de la guerra de las consolas.
Quizás Sony se decida a lanzar estas demos instantáneas con sus propios juegos y los de terceras compañías que vean que esto es parte del futuro de las consolas de siguiente generación. Si es así, tengo claro que los usuarios agradecerán el gesto y, estoy seguro, comprarán un juego que les guste con una demo antes que arriesgar su dinero con uno que no pueda probar antes y que finalmente le decepcione.
Sign up to receive daily breaking news, reviews, opinion, analysis, deals and more from the world of tech.