Advertisement Feature
Is your business ready for the low-code revolution?
Low-code has become a critical tool for businesses going digital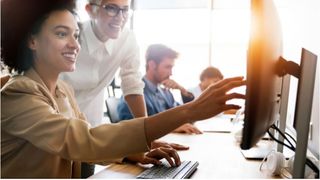 (Image credit: Shutterstock.com)
For businesses across the globe, the march toward going fully digital has quickly become a race, and one largely run and supported by developers, coders, and other IT professionals.
However, many companies are long past the point where demand for these experts has out-stripped the supply of qualified candidates.
This shortage, evident across multiple industry sectors, has led to a wealth of knock-on issues, including overworked IT, tech debt, and an overall slowdown in the growth of innovation. However, with the right tools, your business can thrive under pressure — particularly if one of those tools is low-code.
Low-code: what is it and how can it help my business?
Low-code is hardly a new concept — for almost as long as we have been coding and developing software, there has been a demand to make the process easier and more accessible. This is especially true in the business world, where significant resources are spent trying to do just that. This is where low-code began, primarily as a means of giving almost anyone the tools to build business applications through user-friendly interfaces that require little to no coding.
However, early attempts at low-code solutions were riddled with issues that often created more problems than they had initially solved. Lack of governance led to wasted resources, and the rapid and hands-off development of apps often resulted in security concerns. That's not to mention the raft of poorly constructed low-code platforms rushed out to take advantage of the initial surge, which instead left businesses with messy, broken apps for already overworked IT teams to fix.
The recent creation of more advanced low-code platforms has many turning to the idea once again. Before the pandemic, Gartner estimated that low-code application platforms would account for 65% of all app development by 2024. With the pandemic accelerating the need for businesses to digitize, Forrester now predicts that figure will be closer to 75% in 2021 alone.
The reasons behind this growth are easy to see when examining the capabilities of modern low-code platforms. Using the ServiceNow's Creator Workflows suite of low-code products, passionate employees with limited programming knowledge but a wealth of domain expertise and enthusiasm—can be transformed into an army of citizen developers.
Embracing a low-code platform and tools can free up your experienced coders to focus on more complex issues while empowering citizen developers to tackle your existing tech debt. This results in the faster development of more effective apps, created by an end-user who knows exactly what problems they face, and what solutions they need.
An effective low-code platform will also avoid the shortcomings of older, more convoluted options whilst providing long-lasting, efficient solutions. Assuring security and governance is a must, and the ability to deliver apps that end-users won't just use, but actually appreciate and enjoy, is critical.
Most importantly, the best low-code solutions will encourage closer partnerships between your professional coders and your citizen developers, with cross-enterprise collaboration helping create a smoother, more effective workflow.
ServiceNow low-code
ServiceNow has been providing IT management and digital workflow solutions to businesses around the globe for more than a decade and was named a Leader in the 2020 Gartner MQ for low-code application platforms.
Having worked hand-in-hand with business leaders and IT professionals for so long, the company's Creator Workflows suite of tools was created to produce powerful apps with little to no coding experience. This includes App Engine, which replaces the sometimes intimidating view of traditional code with a dynamic graphical user interface and range of easy-to-start templates, enabling virtually anyone to build powerful apps with little to no experience coding.
Together, these tools can be used to bring new enterprise apps to market in half the time and at one-third the cost.
With businesses needing to embrace all the digital tools possible to ensure they stay ahead of the curve, low-code is set to be one of the most important solutions around to keep your company where it belongs.
Are you a pro? Subscribe to our newsletter
Sign up to the TechRadar Pro newsletter to get all the top news, opinion, features and guidance your business needs to succeed!