10 things Microsoft should do with Office
There's a lot more we want to see Microsoft do with Office…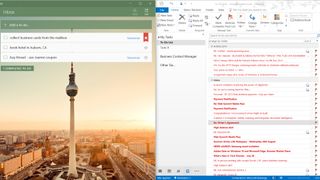 (Image credit: Future)
Introduction
Office is a platform and Microsoft is working hard to make that the basis for its success, from the online equivalents of Google Docs, to the business services of Office 365, along with snapping up startups like Accompli and building its own new tools like Sway to add to the Office portfolio.
What else should Microsoft be doing? You might be surprised to find out how much of your wish-list is already happening, but there are some areas that clearly need improvement.
Multi-year subscriptions
Office subscriptions are a hit, for consumers and businesses. Part of the reason for that is because of the perks: Office 365 gives you free Skype minutes and free space on OneDrive or OneDrive for Business. But mostly it's because you always get the latest version of Office, on multiple devices, with the latest features as they come out.
Consumers can pay monthly or yearly, but how about a multi-year subscription? Enterprises can already get that, if they take the Enterprise Cloud System licence (that includes Windows and Office) through a Microsoft Products and Services Agreement.
As a consumer, you can set your subscription to renew so you don't have to worry about it running out. Or if you pay for another licence key for Office you can add it to your account and that just extends your subscription for another year (or six months if you get a key for a cheaper subscription).
Multi-year subscriptions are already here – you just don't get a discount for paying in advance. And some money off certainly wouldn't hurt…
Replace Office Starter
For a while, new PCs came with a free, basic version of Office, called Office Starter, which had a pane of advertising down the side that you couldn't get rid of (except by paying for an Office licence and installing the full Office software).
Microsoft has already replaced Office Starter. When you're online, the Office Online apps have the same level of features as Office Starter – with new tools like Tell Me for finding features and Bing Insights for looking up information about terms in your document, that make their way into the full Office software.
And even though they are designed for phones and small tablets, you can still use the Office Mobile apps on any Windows 10 device to view your documents (although you need an Office 365 subscription to use Office Mobile for editing on a screen that's 10.1-inches or bigger). Office Mobile is restricted in different ways from Office Starter and Microsoft could do a better job of explaining how and when you can use Office for free, but you still have free options.
Handle accounting
Given that just about every business and many consumers use Excel, why doesn't Microsoft have an app or a service for handling accounting? In the past Microsoft has had both business and consumer services, but the annual changes to tax law in every country in the world make running accounting services uneconomical unless that's your only business, because keeping them updated is a significant amount of work.
And personal money management tools died out when online banking became common, because you can see your statements – and many banks and credit card suppliers give you analysis and budgeting tools anyway. But even Excel Mobile comes with a vast number of free templates, includes ones to analyse your spending, and Excel 2016 has over 200 different templates for accounting.
Invest in OneNote
OneNote has gone from being Microsoft's best kept secret to a great note-taking tool available on OS X, iOS and Android as well as Windows and on the web, and it's free as long as you're happy to keep your notebooks in the cloud.
But the version of OneNote that you pay for on Windows, which has business integration features like linking to your Outlook meetings, hasn't had many major new features since Office 2010. It was a powerful program already, but it needs more than getting the new Office 2016 interface to keep up. The free OneNote Mobile for Windows 10 is still woefully basic – and it isn't even a universal Windows app, so it's different on a phone compared to a tablet.
The OneNote team is clearly working hard on their iOS and Android versions – perhaps if they had more resources, they could give OneNote on Windows a few updates too.
Feature parity for Office on Windows and Mac
After so many years without a real update, Office 2016 is a great improvement for Mac (or it will be once Microsoft sorts out the problems on El Capitan). But there are plenty of advanced features from Office 2016 on Windows, especially in Excel, that just haven't made it into the OS X version. Microsoft needs to add those, perhaps in a business version.
On the other hand, Office 2016 on the Mac has some excellent features that Windows users don't get – like better OneDrive integration than Windows, and being able to right-click on a spelling mistake and choose to always have it automatically corrected, instead of having to fix the same typing error every time.
Microsoft still talks about Office being best on Windows, but we want to see all the features that don't rely on specific OS features on both platforms.
Integration with all cloud services
Office on the iPad makes it easy for you to load and save files in Box and Dropbox. But on Windows, Office 2016 just gives you OneDrive, OneDrive for Business and SharePoint as locations on the File menu.
None of the Office versions have integration with Slack or other collaboration tools like Asana. And if you want to open a file someone shared with you on Yammer, you have to go to Yammer or Delve to get it. Office needs to link to all the cloud services where the Office documents you want to work with are going to turn up.
Give Windows some real touch features
Office 2013 added some useful touch features. Not just the larger ribbon icons, or even the quick action buttons at the side of Outlook which let you reply, delete messages, set follow flags and other common actions, but some touch tools that are actually easier to use than the mouse equivalent.
Tap a cell in Outlook and pick Autofill from the mini-menu bar that pops up and you can drag with your fingers to pick the cells you want to autofill; that's much easier than hovering the mouse on the precise pixel to trigger the Autofill cursor. Office 2016 adds a few more touch features, especially multi-select for pivot tables in Excel, and making the Outlook quick action buttons context-sensitive.
But given how many PCs have touchscreens now, isn't it time the Office apps got more touch tools? How about the touch features from PowerPoint Mobile's presentation view, like getting a laser pointer when you touch the screen or being able to see all your slides when you pinch zoom?
Those tools are in Office for iPad Pro, along with shape drawing tools, where you can draw a circle with the pen and have PowerPoint tidy it up for you. Office has had pen tools on Windows for a long time, for annotating and drawing on documents, but there's no option to use those on a touchscreen with a capacitive stylus.
Giving you the option to use touch as more than a glorified mouse would take advantage of ever more popular touchscreens, especially as the iPad Pro makes larger tablets look like a good idea.
Sync all the settings
Sync is another thing that Office does differently on different platforms. On Windows, Office can sync some but not all of your settings; it automatically puts your custom dictionary on every PC, but not the icons you've pinned to the Quick Access Toolbar – and you have to copy your email signature out of an old message and create it by hand every time.
On OS X, Office 2016 has superb support for OneDrive, showing you not only all your own folders but all the folders people have shared with you. Want to work on a file someone mailed you about last year? No need to dig through old messages – just go to the right folder and get started.
On Windows, the only way you can see those shared folders is if you choose to sync every file in them to your PC – and that only works on Windows 10. Office urgently needs to do syncing well on all the platforms it's available on.
Make sense of the acquisitions
Microsoft's spending spree has bought it some popular apps, but they don't all feel part of the Office family yet. Accompli – which is now Outlook on iOS and Android – is the furthest along, but the Windows and Windows Mobile mail tools aren't quite the same yet, and the Clutter feature in Outlook isn't the same as the mobile Outlook focused inbox.
The Sunrise calendar app is still something separate, and the Wunderlist to-do app is still completely separate from tasks in Outlook and OneNote, or in Project. Microsoft needs to make sense of all these apps on platforms beyond iOS and Android.
Prototype but integrate
The new Sway app has lots of hooks into other Office tools – you can embed a PowerPoint or pull in images from OneNote. The new Mix tool is a PowerPoint plugin. But if you want lightweight conversations without subjects, signatures or visible headers that are longer than the message you're sending, do you do that with Office 365 groups or the new Send app on iOS? Because they're two very different ways to do almost exactly the same thing.
Later this year, Outlook will get Facebook-style Mentions (as well as Likes) for email, while Delve will let you give co-workers a gold star for sharing a useful file – so you'll have yet another way to tag people without the clutter of a full email message.
Then there's the new Snip app from the Microsoft Garage. It has more features than the built-in Windows snipping tool, but not all the features of the OneNote snipping tool that replaces the Windows snipping tool when you install Office. Why isn't there just one snipping tool that's part of Office and does all of that?
Or take the new Invite app for iOS (which will come to Windows Phone and Android later) – why isn't giving the person you want to meet a range of different times to choose from something you can do easily when you create an appointment in Outlook? Garage apps are a great way for Microsoft to try out new features, but when they're good, they need to make their way into the full Office products.
Office has a phenomenal range of great tools – but this scattergun approach to where and how new features show up means that the only way to get the best of what Office can do is to use every single device that Office runs on.
Yes, different devices and operating systems have different strengths. But there are plenty of tools that Office has in one place that would be useful on lots of other systems. Microsoft needs to make sense of all this in order to make Office a real cross-platform system that shines on every device.
Are you a pro? Subscribe to our newsletter
Sign up to the TechRadar Pro newsletter to get all the top news, opinion, features and guidance your business needs to succeed!
Contributor
Mary (Twitter, Google+, website) started her career at Future Publishing, saw the AOL meltdown first hand the first time around when she ran the AOL UK computing channel, and she's been a freelance tech writer for over a decade. She's used every version of Windows and Office released, and every smartphone too, but she's still looking for the perfect tablet. Yes, she really does have USB earrings.