Advertisement Feature
Your conference calls deserve better than a built-in webcam
Investing in proper video equipment is essential for your professional image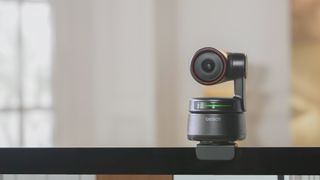 (Image credit: Obsbot)
Video calls aren't a new innovation by any stretch of the imagination; they've been around for years, enabling us to keep in touch with people wherever they are in the world. Similarly, video meetings have been a growing staple of business communications for at least two decades, but their ubiquity has truly exploded since the pandemic and the resulting remote work boom that followed.
The effect has been transformative. Video conferencing is now a key part of almost every organization's IT infrastructure, and most have used it as an opportunity to institute some form of hybrid working policy, allowing staff to work outside the office and simply dial into important calls. In fact, for many businesses, the number of video meetings they have now vastly exceeds the number which are conducted face-to-face.
The impact of video conferencing
This shift has been enabled by cloud platforms such as Zoom, Microsoft Teams, Google Workspace and more, and these providers have progressed rapidly, rolling out features including digital backgrounds, live transcription, gesture recognition and integrations with a huge range of other SaaS tools in order to make video meetings as smooth and productive as possible.
It's all the more surprising, then, that the most crucial element of video conferencing has gone overlooked by so many organisations for so long. Video quality is, by definition, the most important element of a video call, but for many workers, it's still exemplified by grainy image resolution, washed-out skin tones, poor lighting and other woes. This can sometimes be blamed on low-bandwidth home broadband connections, but if you're searching for the main culprit, look no further than the top edge of the average laptop.
Almost every laptop features a built-in webcam, which allows users to conduct video calls without having to worry about connecting any additional cables or peripherals. This is certainly more convenient than using an external webcam, but the quality simply doesn't measure up to what you can achieve with dedicated hardware. Although some laptops feature better webcams than others, they're almost never going to be as good as a standalone webcam.
This is partly a problem of physics; cameras work by capturing light, which means two of the most important factors for camera quality are the size of the lens that the light travels through, and the size of the sensor which registers that light. The bigger they are, the more light they can process, and the better the overall image quality they can achieve. In short, this means that a physically larger camera is more likely to produce high-quality results, so squeezing a webcam into a laptop chassis means making some compromises.
In bygone eras when it would only be needed for the occasional video call with geographically distant relatives or overseas business partners, image quality was less of an issue, and easy to overlook. These days, however, it's much more important. First impressions count for a lot, and if the first time you're interacting with someone face to face is over a video call - whether it's a new team member, or a prospective client - making sure your equipment is presenting you as well as possible can make a big difference.
Quality matters
Because standalone webcams like the Obsbot Tiny 4K aren't bound by the same space constraints as integrated units, they can incorporate larger components, including a ½.8in image sensor which delivers up to 4K resolution at 30fps, or 1080p footage at 60fps. Most laptops, by contrast, usually only have a 720p webcam, going up to 1080p in some rare exceptions.
Image quality isn't the only factor to take into account, of course. As any film buff will tell you, the angle and framing of video footage can have a powerful impact, often without us even realising. Ideally, your webcam should be at eye level for the best results, with a wide enough angle to ensure that your face isn't completely filling the screen. This can be quite tricky to achieve with a built-in webcam, as the only native adjustability is the angle of tilt applied to the screen - to achieve anything else, you'll have to find something to stand the laptop on top of or reposition it on the desk.
Standalone webcams are much more flexible. The Obsbot Tiny 4K, for instance, comes with not only a magnetic mount for easy placement on laptops and monitors, but also a 1/4in screw mount, allowing the user to connect it to tripods and clamp arms for even more adjustability. This is augmented by pan-tilt-zoom (PTZ) functionality, which combines with a 4X digital zoom and AI auto-tracking to intelligently follow subjects as they move around the room - so you no longer have to be shackled to your laptop on video calls.
Finally, a standalone webcam offers improved security and privacy for businesses or home workers concerned about the possibility of cyber criminals remotely accessing their camera. The Tiny 4K can be tilted down to put it into 'sleep mode' when not in use, and the single connection cable features a physical power switch to completely cut power to the camera - ensuring a hack-proof way to safeguard yourself.
Video calls are an inseparable part of remote working, and with hybrid working set to be the future of business, it's crucial that you've got the right equipment to effectively support your important meetings. Investing in a high-quality, purpose-built webcam isn't just an exercise in vanity - it's an investment in your professional image.
Are you a pro? Subscribe to our newsletter
Sign up to the TechRadar Pro newsletter to get all the top news, opinion, features and guidance your business needs to succeed!