Why Arnold Schwarzenegger said yes to this strange offer: 'How could I say no?'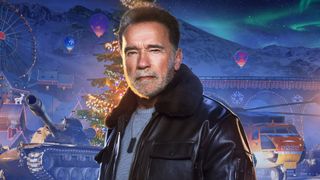 (Image credit: Wargaming)
Arnold Schwarzenegger, bodybuilder, Hollywood actor, and unlikely politician. Schwarzenegger's career has had more twists and turns than the plot of Total Recall.
We've seen many of Schwarzenegger's iconic characters brought to life in games over the years – Terminator, Conan the Barbarian, Dutch from Predator. But the 2023 Holiday Ops event in World of Tanks didn't focus on any of these iconic roles, instead paying tribute to the man himself.
The action star appeared in a strange Winter Wonderland, handing out objectives to players, which they could trundle off to compete in a permawar of online tank battles.
On the surface, it seems like a strange crossover event, but then the action star was asked for by fans. In 2021 the Austrian superstar's team saw a petition on Reddit that called for him to make an appearance in the game. A fan had dug out an old photo of Schwarzenegger driving a tank while training in the army, and sure enough, Arnold today owns one of these weapons of warfare himself.
"I was in the Austrian Army as a tank driver. That is where the love came from. I guess if you wanted to go deeper, when I was very young, right after the Second World War, the British occupied my village. And I would see them drive through with their tanks and jeeps, and occasionally, they would give me bubble gum."
"I owe everything to my fans, so when they ask for me to do something like this, how could I say no?"
The action star is incredibly recognizable, with people still approaching him today. "I love when fans come up to me and do my lines in my accent," Schwarzenegger says. "You have to realize, when I was trying to get my first jobs in Hollywood, they told me my accent would never work. So, to hear everyone do their own version of my accent 40 years later? It's heaven. I proved the naysayers wrong!"
Schwarzenegger's appeal seems to grow with time, thanks to the time capsule quality of his movies. "People love the action, the muscles, the explosions," Schwarzenegger explains. "It was so over-the-top in the 80s. It's hard to do that today because everyone wants to be taken seriously."
In one way cinema has moved on is with a newfound appreciation for video game adaptations. Currently, one of the top-rated shows is HBO's The Last of Us TV show and, despite concerns about Chris Pratt's accent, the upcoming Mario movie looks like it may actually be quite good. Back in Schwarzenegger's peak, video game movies were less well-regarded... look, Street Fighter has some good qualities, alright?
While Schwarzenegger isn't announced to appear in any more games, he did say he would "love" to star in a video game movie – "They just need to ask me".
Perhaps we've found our Marcus Fenix if we ever see a Gears of War movie.
Sign up to receive daily breaking news, reviews, opinion, analysis, deals and more from the world of tech.