Samsung Pass vs Samsung Wallet: What's the difference?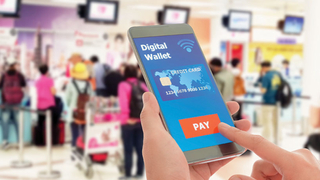 (Image credit: Business World)
---
If you own a Samsung smartphone, you might wonder what the difference is between Samsung Pass and Samsung Wallet. Both digital wallets allow you to securely store important items like bank cards, loyalty cards, boarding passes, and other essential documents directly on your phone.
However, despite their similarities, Samsung Pass and Samsung Wallet have clear differences, starting with their placement in the Samsung ecosystem. (Hint: Samsung Wallet includes Samsung Pass.)
Here's a look at both options.
Samsung Pass
Samsung Pass was initially created as a password manager but has undergone many software updates. Currently, Samsung Pass can support payment cards and various types of digital content. It also utilizes biometric authentication to provide extra security for your data. Samsung Pass is slowly being integrated into the larger Samsung Wallet.
With Samsung Pass, you can use biometric authentication to access various services using your fingerprint or iris. Your data is safeguarded by Samsung Knox, allowing you to securely and effortlessly unlock your vehicle door and more using a digital key.
Features of Samsung Pass include:
Login security: With Samsung Pass, accessing websites and applications is effortless; all it takes is a single fingerprint tap or a quick glance at your face. This login method is faster and more secure than typing in a username and password.
Passwords: With Samsung Pass, you can store all your website and app passwords securely, eliminating the need to recall them. Also, Samsung Pass will automatically enter your passwords whenever you log in to a website or app.
Protecting your data: Samsung Pass utilizes the security features of your device to safeguard your data, which encompasses your passwords, biometric information, and other data stored in Samsung Pass.
Samsung Pass is compatible with the majority of Galaxy devices. It can also be utilized on your desktop through the Samsung DeX application.
Samsung Wallet
The newer of the two apps, Samsung Wallet, is a more comprehensive digital wallet solution. While supporting more traditional objects like payment and loyalty cards like Samsung Pass, Samsung Wallet also works with digital IDs, boarding passes, and car keys, among other things. It also uses biometric authentication to protect your information better.
Samsung Knox safeguards the Samsung Wallet and works alongside the Samsung Blockchain Wallet, assisting with cryptocurrencies. Moreover, it can also integrate with Samsung SmartThings, enabling you to unlock doors where supported.
Key features include:
Bank and other payment cards: With Samsung Wallet, you can conveniently store all your credit, debit, and gift cards in one place. This lets you quickly pay in stores, online, and through various apps.
Loyalty cards: With Samsung Wallet, you can easily keep track of your loyalty cards from popular retailers such as Starbucks, Walmart, and Target. You can use your cards to take advantage of various rewards and discounts these stores offer.
Boarding passes: With Samsung Wallet, you can conveniently store your boarding passes for flights, trains, and buses. These passes allow you to quickly check in for your flights and board your trains and buses hassle-free.
Digital keys: With Samsung Wallet, you have the convenience of storing digital keys for your home, car, and hotel room. These keys can then unlock your doors and quickly start your vehicle.
Digital assets: With Samsung Wallet, you can securely store digital assets like cryptocurrencies and non-fungible tokens (NFTs). You can use these assets to make payments, invest, and collect.
Using Samsung Wallet offers many benefits beyond just increased security. The convenience of not having to carry physical cards or boarding passes is a major perk. Samsung Wallet is also compatible with most Samsung Galaxy products and can be accessed through the Samsung DeX app on Windows.
Finally, Samsung Wallet is expected to be further developed, with the addition of mobile driver's licenses and student IDs, when available.
Samsung Wallet is available for download from the Galaxy Store and the Google Play Store.
Isn't Samsung Pass now a part of Samsung Wallet?
Samsung Wallet is the successor to two popular Samsung apps, Samsung Pass and Samsung Pay. Samsung Pass was widely used for password management and was one of the first apps to be integrated with a mobile payment app. On the other hand, Samsung Pay was a mobile payment app that utilized near-field communication (NFC) technology to send payment information from your phone to a payment terminal.
What features does Samsung Wallet include?
Samsung Wallet offers four important features, namely Samsung Pay, Samsung Pass, Digital Keys, and Digital Assets. Furthermore, there are plans to add more features in the future, including driver's licenses and student IDs.
See also the best payment gateways and best forex trading app.
Are you a pro? Subscribe to our newsletter
Sign up to the TechRadar Pro newsletter to get all the top news, opinion, features and guidance your business needs to succeed!
Bryan M. Wolfe is a staff writer at TechRadar, iMore, and wherever Future can use him. Though his passion is Apple-based products, he doesn't have a problem using Windows and Android. Bryan's a single father of a 15-year-old daughter and a puppy, Isabelle. Thanks for reading!