The professional sports industry has embarked upon something of a data transformation over the last decade, both in terms of the way play is analyzed and the way content is served up to fans.
One significant example can be found in Spain, where the national football league, LaLiga, has pivoted towards a data-centric model designed to improve the quality of resources available to teams and, by extension, the end-result for spectators.
To find out more, we spoke to Rafael Zambrano, Head of Data Science at LaLiga Tech, who talked us through the league's new data strategy, the purpose of its dedicated technology arm and the ways in which the sport will evolve as the usage of data expands.
---
Give us an overview of the LaLiga data strategy and what it is designed to achieve
Before 2013 and the change of the LaLiga presidency, there was no real data or technology strategy, which meant each club would have their own processes and there was no centralized way to handle it. We wanted to overhaul our approach, transforming our ability to analyze and interpret data for the benefit of players, fans and clients alike.
Adopting the Databricks Lakehouse platform played a big part here, and it set the foundation for LaLiga Tech (opens in new tab), the technology arm of LaLiga – allowing us to use data as a tool to improve the game and set the bar for the industry as a whole, pioneering data-driven sports.
Now, LaLiga Tech has a team of more than 150 in-house experts who come from a variety of backgrounds, some sports, some finance, legal, and even retail. The team has been built based on its expertise in data science, analysis and programming, which are skills that we saw were lacking in the sports and entertainment industry some years ago.
How does LaLiga's approach differ from other major football leagues?
Football clubs haven't historically used data for decision-making, or at least, not in a centralized way. LaLiga's mission is to change that by providing sports properties with the opportunity to analyze real-time information from any part of the sports ecosystem: matches, fan engagement, competition management and more. This equips them with a better understanding of how to get the most from their players and deliver the best experience for fans. With a deeper understanding of these data insights, clubs can improve match outcomes, prevent player injury and deliver the exact information that fans crave to drive team loyalty and revenue.
We try to be one step ahead of what other leagues are doing, and our technology is among the most advanced on offer. For example, our goal probability metric was the first of its kind, measuring factors such as the distance between the ball and goal, and even the individual shooter's success rate to predict their chances of scoring a goal.
What is the purpose and remit of LaLiga Tech? What kinds of customers does it serve?
LaLiga Tech's purpose is to transform the world of sports and entertainment. Through our digital ecosystem, clients are able to develop new platforms to advance their competition, such as creating their own OTT platform, analysing real-time data from their matches, digitally managing match kit selection or protecting content from piracy. The real-time data that is generated from all these platforms gives an unprecedented level of actionable insights — revolutionizing the way the game is coached, played and enjoyed.
The data is also being used to create personalized and impactful customer campaigns, which have been wildly successful. After spearheading innovation within LaLiga, LaLiga Tech has now become a data and AI company in its own right, offering these capabilities to sports teams around the world.
The technology offered also extends beyond sports, with the potential to revolutionize how data can be used in the entertainment industry as a whole to better understand fan behaviour.
What kinds of insights is LaLiga generating via its analysis of footage? And who has access to those insights?
Our technology and data solutions are available to all clubs. Through Mediacoach, our match data analysis and visualisation platform, we are collecting over 3.5 million positioning metrics per match, which are delivered to clubs in clear dossiers that can be studied to analyse past matches or upcoming opponents.
As a league it is important that we extend our expertise and innovations to all participants to help the competition grow collectively. Adoption has generally been strong. Part of our role as a league is to present these new opportunities to clubs and provide education and consultancy, which has helped even smaller clubs with limited internal resources to exploit the value that we are offering. Media partners also receive dossiers of information regarding our matches before, after and during the match, meaning they can prepare unique match previews, reports or add our real-time data to the match transmission, as we are seeing currently.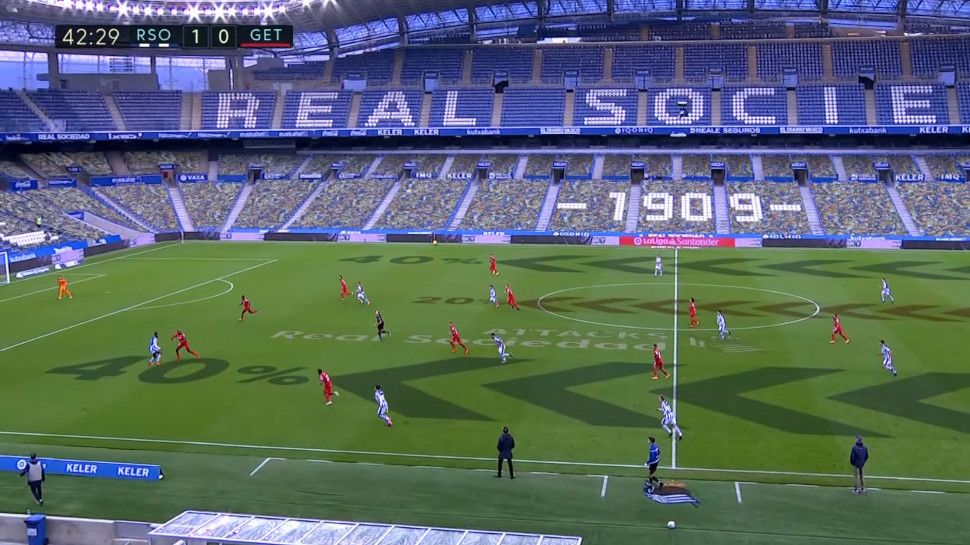 How do LaLiga Tech's data efforts translate into new experiences for fans?
On game day, cameras throughout each stadium capture everything in high definition – permitting each and every single movement of the ball to be captured and stored. The cameras capture more than 25 frames per second.
This creates scores of valuable information that can be analysed by each club's team of data scientists and used to gain tactical insights that influence decision making.
LaLiga Tech's data scientists also have the task of visualizing and interpreting that data for broadcast audiences on game day. Each match is an opportunity to learn more and more about the game. Those learnings can then be used to improve and reimagine how sports are experienced on a wider scale.
Tell us about the significance of moving to a data lakehouse system. What specifically has this allowed LaLiga to achieve?
Previously, LaLiga's technology was piecemeal – managing isolated processes but with no central repository to analyse the information we were creating. To combat this, we established our business and analytics teams – but we were still dealing with the need to harness massive amounts of structured and unstructured data. In the face of this, we were finding it hard to efficiently ingest the volumes of live-action data and extract insights that business stakeholders could understand and put into action. We needed a solution that unified all data on a single platform and allowed us to gain insights in real-time, enabling machine learning at scale.
The Databricks Lakehouse platform was a natural choice for us, as it removed much of the complexity and simplified everything into one data lake. We're now able to perform AI, ML and BI on a single platform that the entire team can access quickly and easily. This new ecosystem changes the game for fans and club data scientists, as data collected during games can be viewed in real-time and then used for both in-game analysis, to make tactical changes or to predict player injuries before they occur. This use of data presents a new asset that can be used by teams to gain a competitive advantage, so in our view the whole area of analytics will become a new battleground for clubs.
With the adoption of the Databricks Lakehouse platform, we have made significant progress in our ability to analyse and interpret data for the benefit of players, fans and clients alike. We're now able to gain insights that were unheard of before, using match statistics and in-play analysis to improve performance.
What will be the broader effect as football becomes more and more data-driven? What aspects of the game are likely to see the greatest change?
This is just the beginning for us. What we've achieved so far is just the tip of the iceberg for what could be achieved through data and AI in the sport and entertainment industry. In the future, data will be used more widely to enrich the experience of sports fans, as well as clubs and players. This will also bring benefits to other sports organisations who are currently working out how to execute their own digital transformation. From LaLiga Tech, we can offer these organisations a way to accelerate this transformation through the solutions that we have been perfecting over many years, and the expertise that we offer both as a sports competition and a technology provider. There are many sports technologies on the market, but none with the complete and industry-focused approach that we have been able to create.
Additionally, a major benefit of becoming data-driven will be understanding changing fan behaviour. Some fans, particularly in younger generations, have become less engaged with traditional ways of viewing sport, choosing digital platforms instead. Armed with data, clubs can learn more about what where fans are interacting with sport and what content they are consuming, building a more complete profile of the fan which allows us to build much stronger, direct relationships with them. In this way, tech can play a crucial role in allowing sports entities to keep up with an evolving industry and convert themselves into data-driven businesses that are able to make more informed decisions.