If you run a small business then you'll be acutely aware that it's critical to look after every single customer, and if you want to do a great job in that department then it's worth considering a Customer Relationship Management (CRM (opens in new tab)) tool like Bigin by Zoho CRM (opens in new tab).
CRM tools offer more flexibility and a broader range of features than everyday office software and email clients (opens in new tab), so they're tempting for small businesses who want extra control without the pricing or high-end features of enterprise CRM software.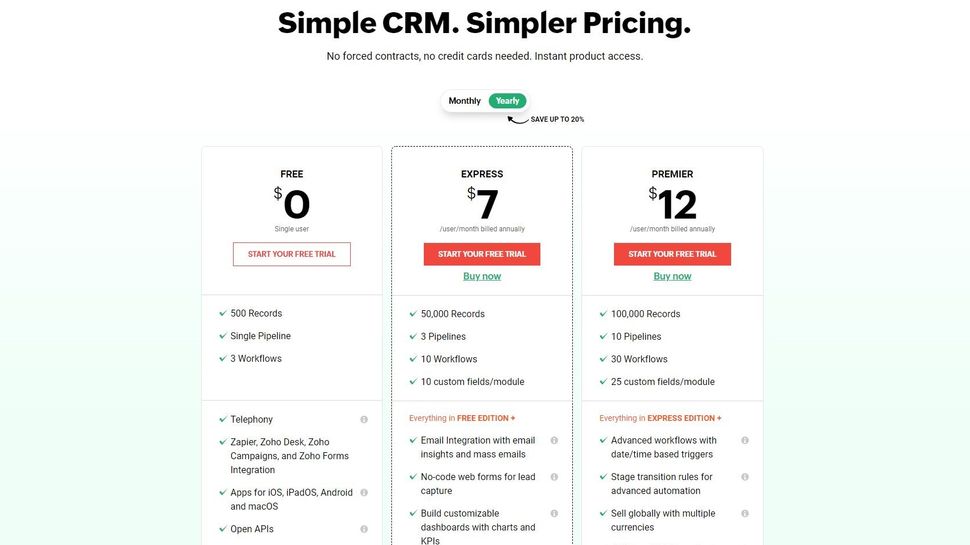 Plans and pricing
Impressively, you can use Bigin by Zoho CRM for free – although the free tier (opens in new tab) is limited to 500 records, a single pipeline and three workflows, so it's pretty restrictive.
Zoho's Express (opens in new tab) product costs $7 per user per month if you pay annually, and that massively beefs up the feature set: you get proper email integration, web forms, customizable dashboards and integration with other Zoho tools and third-party software alongside ten workflows, three pipelines and 50,000 records.
The Premier (opens in new tab) option adds advanced workflows based on date and time triggers, advanced automation, multiple currency support and more records, pipelines, workflows and custom fields. If you pay annually, it costs $12 per user per month.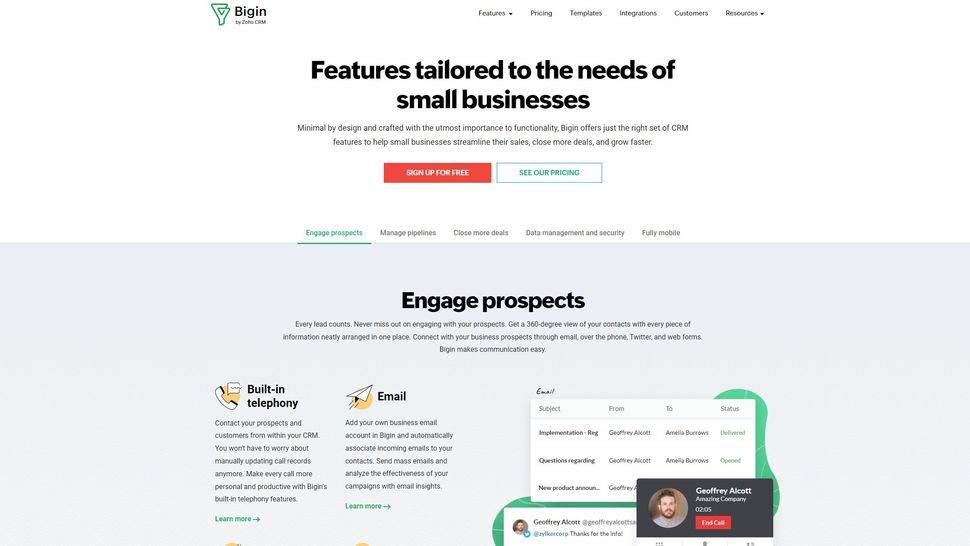 Features
Zoho knows that lots of its customers may not have used CRM software in the past, so there's a big focus on ease of use.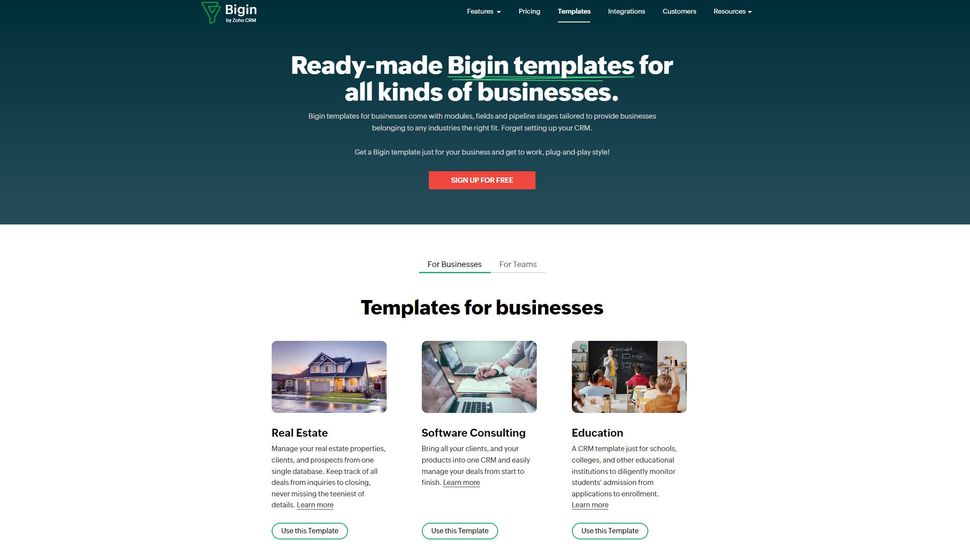 The app uses templates designed for different industries, so if you work in real estate, software, insurance or loads of other areas then you can instantly select an interface that's geared to your needs. The interface itself is great: clear, straightforward, and without overwhelming features.
Those templates can be customized, and you can build your own pipelines that reflect how customers flow through your business. It's easy to build multiple pipelines for different operations in your company – think one for sales and another for customer service – and the pipelines function as timelines, so you can quickly and easily see every interaction that a customer's had with your company.
You can click on items in the timeline to open specific modules, so you're able to quickly get more information about what's happened to each customer, and built-in communication tools mean you can make phone calls and send emails from within the app.
It's easy to automate everyday tasks with Bigin by Zoho CRM, and you can use email alerts, tasks that start when certain conditions are triggered and scheduling.
Bigin by Zoho CRM has iOS and Android app that offer much of the same functionality as the desktop tool, and you can use the software to create no-code web forms that allow potential customers to easily make contact with your business. No matter the platform, you'll get real-time notifications about your pipeline progress, support ticket updates and incoming communications.
When it comes to record-keeping, you've got plenty of options: you can create custom files and viewing rules to ensure that your database remains relevant and accurate, and dynamic lookup fields, fast searching and advanced filtering make it easy to zip through data. Similarly, your activities are kept in check with follow-up tasks, scheduling, filtering and a complete log of what you've completed and what needs doing.
You can create a list of products, import product data, apply discounts and use bulk actions to manage your inventory, and pre-built dashboards are an ideal option for monitoring your entire business, with a straightforward interface, loads of data, plenty of visualization options and KPI monitoring.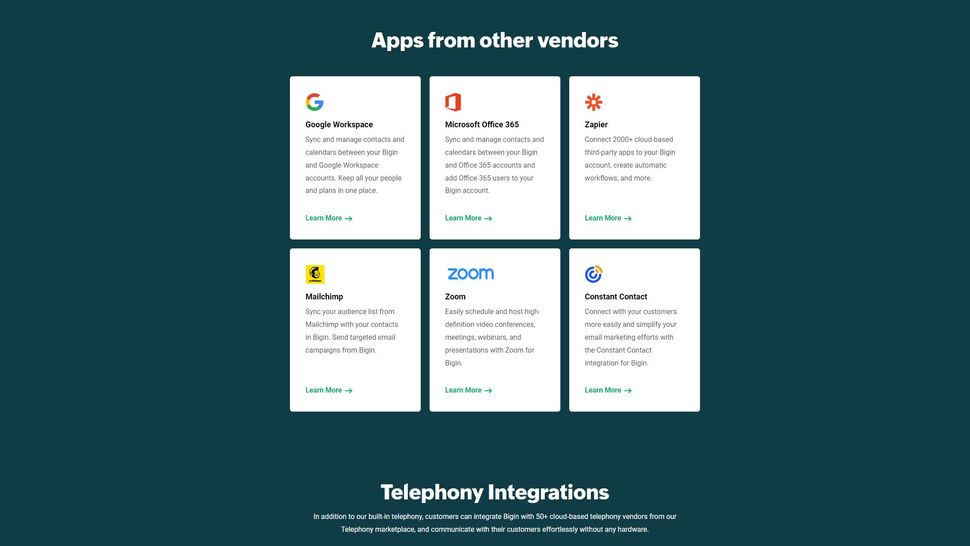 Bigin by Zoho CRM is an impressive tool in isolation, and it integrates with Zoho's other apps and third-party software from Microsoft, Google, Zoom, and dozens more. API access is also available with Bigin by Zoho CRM's pricier access tiers.
While Bigin by Zoho CRM has plenty of impressive features for small-business CRM, it's worth remembering that the company's full Zoho CRM (opens in new tab) product goes further in terms of functionality. You'll get sales forecasting, lead scoring, advanced email tools and far more control over product customization with the full-fat product. You can also benefit from more powerful analytics options, marketing campaign options, collaboration features and inventory management utilities.
There's no doubt that Zoho CRM has more features, but most of those will only be useful for larger businesses, and it's several times more expensive than Bigin by Zoho CRM.
You could find more features elsewhere, too. Freshsales CRM (opens in new tab) is another small business option that has more extensive marketing options than Bigin by Zoho CRM – but it costs at least $15 per user per month. Salesforce Essentials (opens in new tab) ties into the market-leading Salesforce system, and it's a better option for more complex businesses. It costs $25 per user per month, so it's pricier than Zoho, and it's a suitable alternative if you're already familiar with Salesforce products.
Final verdict
Bigin by Zoho CRM doesn't have the power or features of full-power CRM products, but that's not necessarily a problem unless you need CRM software for a sophisticated business with loads of product stacks or if you want enterprise-level power.
Instead, Bigin by Zoho CRM functions as an entry-level CRM tool for smaller companies that want the power and control that everyday office software can't provide – and it does a tremendous job.
It's got a straightforward interface, slick tools for creating and navigating multiple business pipelines, and a chronological interface that makes it easy to see how customers are interacting with your business. It's pretty easy to manage products, records and data in every area of the app, and it's more affordable than its key rivals.
You'll want to pay more for a different product if you want more power or extra marketing options, but Bigin by Zoho CRM is a superb choice if you need small business CRM (opens in new tab) or if you want to dip your corporate toes into the water and start to streamline your organization.