An effective tool for live translating that doesn't need a phone or any other accessories. Simple and easy to use, lightweight and reliable, the only major downside of this elegant solution is the price.
Pros
+

Hands-free operation

+

Reads signs and documents for you

+

Excellent battery life
Cons
-

Expensive

-

Lacks 3.5mm audio jack

-

No lanyard included
Why you can trust TechRadar We spend hours testing every product or service we review, so you can be sure you're buying the best. Find out more about how we test.
Timekettle Fluentalk T1: Two minute review
Timekettle is a language technology company that offers a range of products designed to help users learn a new language quickly and effectively. Its primary product is a real-time conversation translation device called the WT2 Plus.
This product was very popular, but it required an Android or iOS phone alongside the device to function.
Through its Fluentalk branding, Timekettle has now resolved that limitation with the T1 portable translator, with an Android device and real-time translation device that is small enough to be hung around the neck.
It features a bidirectional translation of more than 50 languages and dialects and can accurately translate speech in real time. The device also offers a range of features, including phrasebook and dictionary translations, voice recognition, and speech-to-text and text-to-speech capabilities. It is small, lightweight, and has a long standby life, making it an ideal travel companion.
But, surely you can do many of these things with a good smartphone? Yes, you can, but having a dedicated device with a separate battery dedicated to this function has many advantages.
One of these is how rapidly the T1 responds via Streaming ASR technology by using one of 150 servers worldwide should respond to the input in just 0.2s.
Being able to translate what is spoken to the device and your reply quickly should enable the conversation to flow better, something that could be critical in a business discussion or retail product exchange.
But the T1 isn't exclusively limited to audio input. It can take pictures of the world with an inbuilt 8MP camera and translate that for you, enabling you to read street signs and other important notices written in a language and letterform that you don't speak or read.
To achieve this, the Android technology in the T1 uses an e-SIM and mobile contract, free for 2-years from purchase and functional in 75 countries, to interface to the Fluentalk servers.
However, it does support a subset of 8 languages without mobile data connection through an offline mode which should work anywhere, even underground.
That's a unique selling point of this over competitor products, and if you need translation specifically in one of those languages, it's a comfort to know you are not limited by requiring a reliable cell service connection.
The offline languages include Chinese, English, Japanese, Korean, French, Spanish, Russian and German, and any translation between these. Including the offline selection, the T1 can audibly translate 40 different languages and 93 accents, and 36 languages can be translated from images.
There are a few minor things about the T1 we'd of liked to be different, but generally, the only drawback to this device is the cost, which is on the high side.
Typically translation devices of this type are usually around $200, and this is another $100 more than that. However, it is the best of these products we've tested, and possibly worth the investment for anyone moving to a foreign country without previous language experience.
Timekettle Fluentalk T1: Price and availability
How much does it cost? $300 / £300
When is it out? It is available now
Where can you get it? Widely available from the larger online retailers in most regions, such as Amazon.com in the USA.
The price of this device is consistent almost wherever you buy it, being $300 or the exchange rate for that amount in local currency.
This device comes with an e-SIM offering two years of cellular data inclusive of the purchase price. And after those two years are up, you can continue using the T1 via Wi-Fi, insert a physical SIM, or buy more data on the e-SIM contract.
Compared with competitor devices, the cost of this one is high, but it has a few significant features that might make it worth the extra.
Timekettle Fluentalk T1: Design
A phone repurposed
Simple but elegant tool
Android 10
Spec
Here is the spec of the Fluentalk T1 sent to TechRadar for review:
Model Number: Fluentalk T1
Size: 4.59 x 2.30 x 0.01 in (116.8 * 58.6 * 11.2mm)
Weight: 0.25 lb (115g)
CPU: Quad-core ARM 14nm 2.0GHz
Storage:3GB RAM, 32GB ROM
Operating System: Android 10
Screen Size: 4.0" Oncell display with 540 x 1080 resolution
Camera: 8 megapixels
Microphone: Multi microphone
Speaker: Dual speakers
Charging: Type-C 5V⎓1A
Battery: 1500mAh
Connectivity Technology: Wi-Fi/Nano-sim/E-sim(built-in)
Wireless Network Technology: 2G/3G/4G LTE
Continuous Translation Time: 3.5h
Standby Time: 96h
Charging Time: 210mins
At first glance, this is a small Android phone, and digging deeper into the technology used here, that's a reasonable assertion.
Except it isn't possible to make calls with the T1 or install other Android applications, it's been exclusively made to run the Fluentalk interface and its pre-installed software.
With a size of just 116.8 x 58.6 x 11.2mm, the T1 is small enough to place in a shirt pocket, and it's light enough to hang on a lanyard if you have a spare one. A wrist strap is included, but no lanyard.
Like a phone, the T1 has a volume rocker and USB-C charging port, along with a power button and two other buttons.
When using the T1 for the first time, there might be some confusion about these buttons, as the designers chose to throw some established conventions out of the window.
The buttons are red, blue and yellow. So obviously, which button is used to power it on? It's the yellow one, confusingly.
Blue and red are used to translate in different directions using the one-click mode, enabling the user to say something in their native language that is translated into another and then translate the reply into the native language.
The two languages can be set using the touch panel on the T1, and it is relatively easy to change these to different ones should you need to converse with someone else in a different language.
There are other modes that can spectate what others are saying or interprets what languages are being spoken to handle both sides of a conversation, in addition to the ability to use the camera to read foreign languages.
It's all very simple and easy to navigate, and it even shows you two clocks from different time zones on the homepage.
Digging deep enough into the interface will eventually bring you to Android settings, where you can add Wi-Fi connections, the font size used on display, and how many free cellular data days you have left.
What's a little odd is that the T1 has Bluetooth functionality allowing ear pods or headphones to be connected conveniently, but there is no headphone jack. Being able to have conversations without having to hear everything is preferable, but restricting the user to Bluetooth-connected headphones seems an unnecessary limitation.
An 8MP camera is on the rear, and this can be used to snap images that are then translated for you. What we didn't follow about this was that having already defined our languages, in our case English and Spanish, these don't transfer to the photo mode.
Instead, we discovered that it had randomly chosen English and Chinese until we altered it. Not sure that having this difference makes much sense, but the language controls are clearly separate in this system for whatever reason.
There isn't much more to the T1, but the simplicity of this device is one of its charms.
Timekettle Fluentalk T1: Features
40 Languages(93 Accents)
8 Languages Offline Translation
36 Languages of Image Translation
Launguages
40 Languages(93 Accents):
Arabic / Bulgarian / Cantonese / Catalan / Chinese / Croatian / Czech / Danish / Dutch / English / Finnish / Filipino / French / German / Greek / Hebrew / Hindi / Hungarian / Icelandic / Indonesian / Italian /Japanese / Korean /Malay / Norwegian / Polish / Portuguese / Romanian / Russian / Slovak / Slovenian / Spanish / Swedish / Tamil / Telugu / Thai / Turkish / Ukrainian / Urdu / Vietnamese
8 Languages Offline Translation: Chinese, English, Japanese, Korean, French, Spanish, Russian, German
36 Languages of Image Translation:
English / Chinese Simplified / Chinese Traditional / French / Spanish / Portuguese / German / Italian / Russian / Arabic / Japanese / Korean / Indonesian / Thai / Vietnamese / Malay / Norwegian / Swedish / Finnish / Danish / Dutch / Catalan / Greek / Hungarian / Polish / Czech / Slovak / Romanian / Slovenian / Croatian / Bulgarian / Turkish / Ukrainian / Filipino / Icelandic
The critical feature in the T1 is the ability to handle a large number of translations between many different languages with a claimed accuracy of 95%.
It's hard to gauge if it can achieve those levels, especially when you consider how often people use colloquial terms or slang and subvert known words into alternative meanings.
That said, if we are trying to be understood, we wouldn't generally use those things, even if it's hilarious to see its attempts to interpret Cockney rhyming slang into Russian.
With a cellular data service, the T1 can work with 40 languages, including 93 accents. English, for example, comes in fourteen different accents that include English as spoken by Kenyans and Nigerians.
Logically, the eight languages that are available for offline translation are those that are most commonly spoken, i.e. Chinese, English, Japanese, Korean, French, Spanish, Russian and German. Or, at least those spoken by those likely to buy the T1.
Alongside the conversation modes and one-click interpreting, the T1 offers 'Common Expressions' that deal specifically with certain scenarios and locations, such as at the Bank, shopping, in a restaurant or Hospital. No dating options yet, but I'm sure they'll add those at some point. Again, the language for this function is not tried to the one-click mode or photo modes, strangely.
We're sure that the T1 could do more, and maybe some tools to help those learning a new language might be helpful, but for someone travelling abroad that needs help, this is a remarkably straightforward way to get some.
Timekettle Fluentalk T1: Performance
Enough battery for general use
Quick translations
Cellular Service
75 Countries / Regions of 2-year Free Data:
Hong Kong / Macau / Japan / Taiwan / Singapore / Laos / Malaysia / South Korea / Thailand / Indonesia / Philippines / Cambodia / Vietnam / Myanmar / New Zealand / Australia / Austria / Belgium / Bulgaria / Croatia / Cyprus / Czech Republic / Denmark / Estonia / Finland / France / Guyana / Germany / Gibraltar / Greece / Hungary / Iceland / Ireland / Italy / Latvia / Liechtenstein / Lithuania / Luxembourg / Malta / Netherlands / Norway / Poland / Portugal / Stay / Niwan / Island / Romania / Slovakia / Slovenia / Spain / Sweden / United / Kingdom / United States / Canada / India / Argentina / Brazil / Chile / Colombia / Ecuador / El Salvador / Guatemala / Mexico
Being such a small device with only a 1500mAh battery, the operating life of the T1 is somewhat limited. That said, it will last 96 hours on standby and continuously translate for 3.5 hours, or 230 minutes, on a full charge.
Charging takes 210 minutes (3 hours 30 mins), so you end up with roughly an equal amount of uptime and down. Is that enough?
That depends entirely on how you use the devices, but it seems more than adequate for asking for directions or for the waiter to bring water.
Where it might be an issue is if you're at a business meeting that goes on for a working day, but you should be able to get the T1 powered in those circumstances.
For those concerned that the T1 might run out of power just before receiving that critical information about avoiding the red light district, maybe carrying a USB-C power pack with you might be the answer.
Where there is less of a question mark is in the speed of translation. Even with the relatively modest quad-core CPU and memory, the T1 is very quick at translating, and this helps conversations flow more naturally.
The T1 does what most tourists and business people need on an international excursion, providing a simple-to-operate mechanism for being understood and understanding those around you.
It is possible to use a mobile phone for these functions, but that assumes you have a SIM that will work in that location and the battery is well-charged.
But, as this device is specifically designed for translating, it delivers a better and less staccato communication experience than using software on the phone.
It's not cheap, but the outlay might be worth the investment to avoid those awkward moments when communication becomes necessary.
Timekettle Fluentalk T1: Report card
Swipe to scroll horizontally
| | | |
| --- | --- | --- |
| Value | Expensive, but refined | 4 / 5 |
| Design | Simple and yet effective | 4 / 5 |
| Features | 40 languages, 95 accents, two years of Cellular data | 4 / 5 |
| Performance | The battery might have been bigger, but that would make it heavier | 4 / 5 |
| Total | Expensive but possibly worth it for those that need to travel and don't speak the local languages | 4 / 5 |
Should you buy a Timekettle Fluentalk T1?
Buy it if...
You only speak one language
Being able to go to remote places and not worry about being understood is remarkably helpful, especially for business people.
You are moving to a new country
Learning languages isn't quick for most adults, so having this device could be invaluable while you are learning.
Navigating is required
Reading road signs in Asian countries is a nightmare for westerners and vice versa. The T1 can make sense of these and other printed information without asking for directions.
Don't buy it if...
The destination is remote
As good as the T1 is, there are languages and accents it doesn't support. For example, Catalan and Basque are both widely spoken in Spain but not included. Check the T1 will translate the language spoken where you intend to go.
You are happy using your phone
Some people, mostly because they've used it successfully, are happy to use their phone to translate. For them, this is another piece of equipment to carry around.
The talking will be technical
Business meetings are often full of language and terms that are industry-specific or science related that the T1 might struggle to translate. For those situations, human translators that understand technical language might be better.
Also consider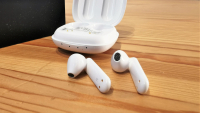 TimeKettle WT2 Edge AI Translator Earbuds
A prior TimeKettle design that uses a smartphone to handle the processing and provides Earbuds to deliver the translations directly to you. They are not much cheaper than the T1, require a smartphone, and for whatever reason, can't be used to listen to music.
Check out our TimeKettle WT2 Edge AI Translator Earbuds review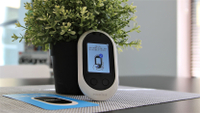 Pocketalk Translator
Pocketalk Translator makes it easy to hold conversations in different languages and can really help break down barriers when you're travelling for work or pleasure. However, it is more expensive when it comes with an e-SIM included, and the version that requires a SIM be inserted is a similar price to the T1.
Check out our Pocketalk Translator review
Mark is an expert on 3D printers, drones and phones. He also covers storage, including SSDs, NAS drives and portable hard drives. He started writing in 1986 and has contributed to MicroMart, PC Format, 3D World, among others.