Bratislava-based ESET was founded by a group of friends some 25 years ago to market their NOD antivirus software. These days it has a broad portfolio of products covering all the major platforms, and is used by 100 million customers all around the world.
ESET NOD32 Antivirus is the company's baseline product. It's far more focused on the core antivirus task than some of the competition – there's no file shredder, password manager or other bonus extras – but that doesn't mean the package is short on features. If anything, it has more than most.
There's real-time malware protection, of course. A cloud-based file reputation service helps you quickly detect the latest malware, while an antiphishing module detects and blocks scam websites.
ESET NOD32 has extra layers to block exploits, protect you from ransomware, and detect attacks using PowerShell and malicious JavaScripts.
A Device Control module limits the risk of infection from other devices by controlling access to USB sticks, external hard drives, optical storage media, even devices connecting by Bluetooth and FireWire.
ESET NOD32 is a little expensive at £30 ($38) for a one PC, one-year licence. Multi-system licences are a lot cheaper, though, with a four computer, three-year licence costing only £100 ($125).
If you've several computers to cover, also consider ESET Multi-Device Security. It adds many security suite features – a firewall, antispam, parental controls, webcam protection, more – but is only fractionally more expensive, with for example a four computer, three-year licence costing £115 ($144).
Setup
ESET NOD32 is available in a 30-day free trial. We had to provide our email address to grab a copy, but a helpful 'welcome' message arrived immediately with account details, more download links, information about telephone support (8:30 to 20:00 Monday to Friday in the UK) and other sources of help.
Our installation seemed to run very smoothly. The setup program correctly prompted us to remove an incompatible program, downloaded and installed the main ESET NOD32 package, automatically updated itself and ran an initial scan.
Unfortunately, there were some issues later. We left the test system for a while, but when we returned it had almost entirely locked up. After waiting a few minutes and trying various things, we powered down and restarted. The system froze again on boot, becoming usable again after a few minutes, and there were no subsequent lockups. There can be odd problems with any antivirus package, and we can't definitively say this was down to ESET anyway, but it's still a small concern.
We quickly noticed another issue with ESET's desktop alerts. As part of our tests we have Internet Explorer regularly check a set of RSS feeds, and as a result, every five minutes ESET displayed a notification when IE accessed a URL it didn't like. If you prefer Bitdefender's Autopilot approach, where the software makes all the decisions itself, you might have to spend a moment tweaking ESET's notification settings.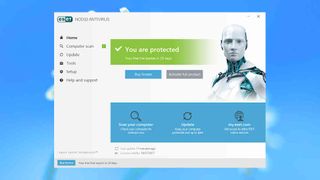 Features
It may be lacking in security extras, but ESET NOD32's interface is still surprisingly bulky. There are buttons, and sidebars, and links, and windows, and it's hard to see why. The program isn't difficult to use – at a minimum, you click the scan computer button, and a scan is launched – but there are frequent irritations, from pointless desktop notifications to a scan results window that's too small to display the full paths of its files, and can't be resized.
Scanning times were fast, though, especially after the first run. ESET's Smart Scan tries to ensure that only changed or new files are checked next time round, and that can make a huge difference. Detection rates were good, too, with the program picking up all our sample threats, although it did raise false alarms over a number of legitimate programs.
URL filtering was average, missing plenty of malicious sites, even though ESET NOD32 seemed significantly more aggressive than other products. It regularly raised alerts about legitimate sites that other antivirus tools ignored.
A Device Control feature enables defining what happens when users connect a host of device types to the system: external storage, a USB printer, Bluetooth device, scanner, smart card reader, modems and more. Options include making devices read-only, displaying a warning to users or blocking them entirely. Rules can apply to all or specific devices ('block all USB storage apart from x, y, z'), apply to some or all user accounts, and the system logs all device connections for review later.
This is a very powerful system, but it's not easy to set up. There's no simple library of prebuilt rules, and no user-friendly visual rule creator. Instead you're mostly choosing technical options from lists and hoping you understand them correctly (check the Help page on the feature here). It's very much an experts-only feature.
There's better news with the Tools menu. Here, you can view logs, see what the program has blocked, watch running processes, download ESET's bootable SysRescue cleaning tool, and more.
ESET SysInspector is a highlight, an excellent tool which takes a snapshot of your system and highlights interesting items: running processes, network connections, critical files (HOSTS), important Registry entries and more. It's not for beginners, but if you've used tools like Process Explorer you'll soon feel at home.
Overall, ESET NOD32 has more features than you might expect for a pure antivirus app. Beginners can ignore the more advanced options and allow the program to do its work, but the real value here is for experts, who'll appreciate the Device Control module and ESET's extreme configurability.
Protection
ESET proved accurate in our quick malware detection tests, but to get a full picture of its effectiveness we also checked ESET's ratings with the major testing labs.
AV Comparatives' monthly real-world protection tests generally place ESET in the lower mid-range of its test set: not great, but not bad, just somewhere in between. The tests didn't report any of the issues with false alarms that we had noticed.
AV-Test's April 2017 'best antivirus software for Windows home user' report is more encouraging. ESET didn't block 100% of threats, but it got extremely close, even with tricky zero-day threats, and it performed better than most packages.
SE Labs' January-March 2017 anti-malware report delivers the best results for ESET, with the company receiving the top AAA award along with Kaspersky, Norton, Bitdefender and Trend Micro.
There's not complete agreement here – which is no surprise as each lab has its own tests and scoring procedures – but our view is that overall, ESET provides above-average levels of protection. It's not quite up to the standard of big names like Kaspersky or Bitdefender, but the differences are marginal, and if you can use some of ESET's more advanced features – like the powerful Device Control – it may be a smart choice.
If you'd also like to be sure the package won't slow you down, we've good news. PassMark's Performance Benchmarks 2017 report assesses the performance impact of 15 security suites by using 23 key metrics. ESET trampled over most of the competition to reach second place, just behind Norton Security. AV Comparatives' May performance test went one better by awarding ESET first place, and although not everyone agrees – AV Test reports a measurable slowdown – we think the product has minimal performance impact.
Final verdict
ESET NOD32 could be used by beginners, but its main value is to experienced users who'll appreciate its advanced features and low-level configurability.