Advertisement Feature
Top tips to keep your family safe online
Read our guide for some quick steps towards keeping your family safe online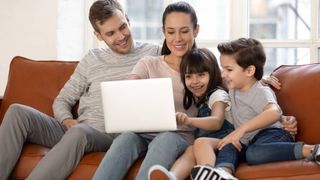 (Image credit: 123RF)
As we live ever-greater portions of our lives online, the need for effective security for the entire family becomes increasingly acute.
If you know what steps to take, you can dodge many of the dangers, but your children, friends and other relatives may be less adept at staying safe online.
So if you're looking for a family security refresher, we've got some tips to help make sure you don't fall afoul of any online threats.
Safeguard all your devices
We all have many connected devices these days – a PC for work, a laptop for mobile working, or tablets and smartphones to keep the whole family busy.
It's the sad truth, though, that the more connected devices you own, the more likely you'll be targeted by online threats. Some devices may also simply lack adequate protection, which is particularly risky in the hands of less security-savvy users.
Fortunately, Bitdefender Premium Security Plus can help protect all your devices, as the platform works across Windows, macOS, Android and iOS. It can be used on up to 10 devices per household, keeping your home office safe from threats.
Get a VPN running
Many of us are familiar with Virtual Private Network (VPN) software, having either had to use one to connect to a company network when working from home, or to access content from other countries.
But a VPN can also keep you and your family safe online by masking your internet connection, meaning the websites you visit can't track your internet activity or your location, giving you the freedom to surf the web without fear.
Bitdefender Premium Security Plus has Premium VPN built right in, encrypting all your internet traffic, including downloads, passwords and banking information. What's more, unlike other providers, it includes unlimited encrypted traffic for your Windows, Android, macOS and iOS devices, adding that extra layer of security for peace of mind.
Stay clear of phishing
Phishing is a notorious type of email scam where criminals aim to trick victims into handing over personal information or financial details by using legitimate-looking emails that hide malicious links.
These scams have evolved in recent years, and criminals often impersonate a real company by replicating their branding and imagery to trick unsuspecting victims into clicking on dangerous links.
Bitdefender Premium Security Plus protects against these cleverly-engineered schemes thanks to an advanced filtering system that warns you whenever you visit websites that may try to scam you, and an advanced anti-phishing protection mechanism that helps sniff out and block any malicious websites that seek to steal your financial data, passwords or credit card numbers.
Boost your passwords
The importance of using unique passwords for each account cannot be stressed enough. If you keep recycling the same password across all your accounts, hackers only have to compromise one to gain access to your entire digital life.
Using password auto-fill so that your family members can quickly access their various accounts admittedly saves time. But it can be a grave security risk. Instead, it's recommended to use a strong, unique password for each account. Employing a mix of uppercase and lowercase letters, numbers and special characters is more likely to help keep you safe by ensuring your password can't be easily guessed.
Remembering all of this may sound like a challenge, but Bitdefender Premium Security Plus includes a comprehensive multiplatform password manager equipped with the strongest data security protocols, keeping all your most valuable accounts safe and sound.
For news on all the latest threats, you can also get real-time updates about malware outbreaks and scams on the Bitdefender Blog.
Are you a pro? Subscribe to our newsletter
Sign up to the TechRadar Pro newsletter to get all the top news, opinion, features and guidance your business needs to succeed!