Are IT staff just there to fix broken PCs?
How IT departments can go from being 'fixers' to 'brokers'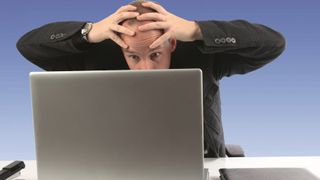 Office workers in Western Europe are digital-savvy, they're confident, and they don't want any advice from the IT department. That's according to analysts at Gartner, whose digital workplace survey revealed that although 81% of respondents in Western Europe said they regularly approach IT to solve technical issues, only 28% go to IT for best practice advice on how to use technology.
"The concern for the IT department is that digitally proficient employees tend to see IT as a purely technical resource," says Debra Logan, VP and Fellow at Gartner. "To grow in importance and recognition, IT leaders must embrace digital business, they must become experts in the many ways technology can meet business goals and use this expertise to elevate their role within the organisation."
Do people only call the IT department when there's a problem with their PC?
Why are IT staff seen only as 'problem solvers'?
A quarter of a century ago, offices across the world were being fitted with computers for the first time – corporate IT departments instantly got a halo effect without even having to work that hard. Business productivity gains were therefore all down to the IT department.
"Things are different now," says Simon Johnson, Director of Sales and Operations at Freshdesk, which provides IT service management and service desk tools. "IT is often seen as the custodian of the IT infrastructure, or as the people who fix unreliable IT, rather than the business innovators of old."
IT's position within the business has been slowly chipped away, and there are plenty of reasons for that. "The focus slipped from how to use IT to run the business more efficiently to how to run IT more efficiently," says Johnson, who adds that many who work in larger IT organisations struggle to see how IT fits into a company's big picture.
It's also fair to say that the pace of change has increased (bye-bye, two-year pilot projects that go slightly over-budget) so that employees are now far more tech-savvy, and that expectations of IT are now much higher.
"IT often has to step in when individuals or departments have made technology choices that are not fit for purpose," says Johnson. "The problem here is that this continues the stereotype of IT being only required when things have gone wrong, and that IT can make it work."
Tech-savvy workforce
"The multi-device, tech-savvy office workforce of today is causing major issues for IT departments," says James Butler, CTO at Trustmarque. The use of more unsanctioned devices and apps – in particular cloud apps like Dropbox, Apple iCloud and Google Drive – in the workplace is not making IT departments irrelevant as such, but does put them in a difficult position.
"The shift in how IT is being consumed by users requires a similar shift in the mind-set of Chief Information Officers and IT departments, from being the builder of IT systems to becoming a broker of services," says Butler. IT Service Management (ITSM) needs to change precisely because so many employees struggle to trust and understand the IT department.
"Relationship building, marketing IT services and learning to become brokers of technology is where ITSM will see the greatest growth in the next three to five years," says Toby Moore of AXELOS, the Government/Capita joint venture which owns IT service management framework ITIL.
"The real question here is why does IT not give good advice to employees?" adds Moore, and employees are indeed going elsewhere for advice – Gartner reports that 40% of employees with an IT problem look for an answer on the internet. "There's a perception that IT is the department that says 'no'," says Johnson.
Are you a pro? Subscribe to our newsletter
Sign up to the TechRadar Pro newsletter to get all the top news, opinion, features and guidance your business needs to succeed!
Jamie is a freelance tech, travel and space journalist based in the UK. He's been writing regularly for Techradar since it was launched in 2008 and also writes regularly for Forbes, The Telegraph, the South China Morning Post, Sky & Telescope and the Sky At Night magazine as well as other Future titles T3, Digital Camera World, All About Space and Space.com. He also edits two of his own websites, TravGear.com and WhenIsTheNextEclipse.com that reflect his obsession with travel gear and solar eclipse travel. He is the author of A Stargazing Program For Beginners (Springer, 2015),