Advertisement Feature
Why buying your first server can be the key to business success
Looking to buy your first server but not sure where to start? We've got you covered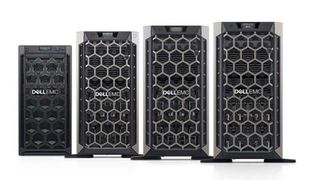 (Image credit: Dell Technologies)
In today's business world, ensuring you stay ahead of the competition is paramount, and embracing the benefits that technology can bring is vital.
For small businesses looking to take that step up and expand, upgrading your technology stack by adding server hardware can greatly help expand your business' computing power, allowing you to scale up and grow faster and more effectively.
But how do you start looking for the server that's right for you? We've teamed up with Dell Technologies to provide a helpful guide into everything you need to know about buying your first server.
Why should you buy a server?
Put simply, a server will allow you to significantly boost the computing capabilities of your business, forming the central core of a network of linked devices.
A server features significantly higher computing power than a regular PC, and can therefore be used for more power-hungry tasks such as handling data workloads or running specific business applications.
Servers allow multiple devices such as PCs, laptops and smartphones to connect into a central hub, allowing remote or mobile employees to connect to a company network where they can gain access to key files, documents or resources, wherever they may be working. Sharing, editing and collaborating on such items can be made easier, with all changes and finished work saved on your own system - which also means you have a safe, centralised backup if anything goes wrong.
From a management perspective, having a server also means more control over your IT infrastructure as a whole, giving you and your IT team oversight into what items and systems are being accessed on your network at any time. It also gives you more centralised control over a range of other functions to help you grow your business, from internal website development, mobile device support, and email management to name but a few.
What do I need to look out for?
Dell's PowerEdge tower servers are ideal for small businesses, offering a powerful yet efficient expansion to your computing power. Starting from less than £1000, the company offers a number of server products that can help address your business needs.
If your business is just starting out, one-socket tower servers, which are powered by a single CPU, provide an entry-level option to boost your computing capabilities, allowing you to connect a range of basic workloads and tasks. Dell Technologies offers a range of one-socket tower servers that are ideal for connecting tasks such as printer management, file sharing and database storage, giving you more space and time to grow your business.
For those looking for something a bit more substantial, two-socket servers offer a bigger range of options, boosted computing power, and more room for expansion. Whether it's running a web server, virtualisation tasks, or even supporting workers across different territories, Dell's PowerEdge servers start from around £1400.
So if you think getting a server could be the right move to help grow your small business, you can get in touch with Dell's Small Business Technology Advisors to help you make the right choice. You can call 0800 085 4878 – or chat with a Dell Technology Advisor here.
Are you a pro? Subscribe to our newsletter
Sign up to the TechRadar Pro newsletter to get all the top news, opinion, features and guidance your business needs to succeed!