Beyond 2022 live: Day 2 of data analytics and cloud updates from Las Vegas
All the latest news and updates from Beyond 2022 in Las Vegas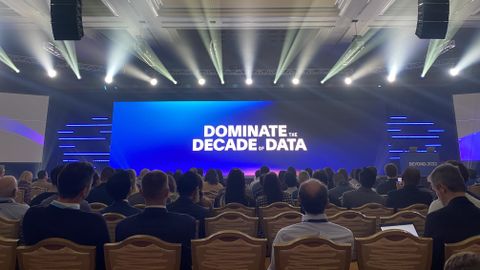 (Image: © Future)
TechRadar Pro is live in Las Vegas to report all the key updates from Beyond 2022, where this year's theme is centered around dominating the decade of data.
Yesterday's session kicks off with an opening keynote address by ThoughtSpot CEO, Sudheesh Nair, who identifies the massive wave of change set to happen in the next decade, with data at the core of it all.
We've heard of space-based manufacturing and the metaverse, but even deeper than this is the 2.5 quintillion bytes of data that will be produced, causing a huge power shift driven by data.
For all the latest updates from Beyond 2022, keep refreshing our live blog for the final wave of news and product updates.
Refresh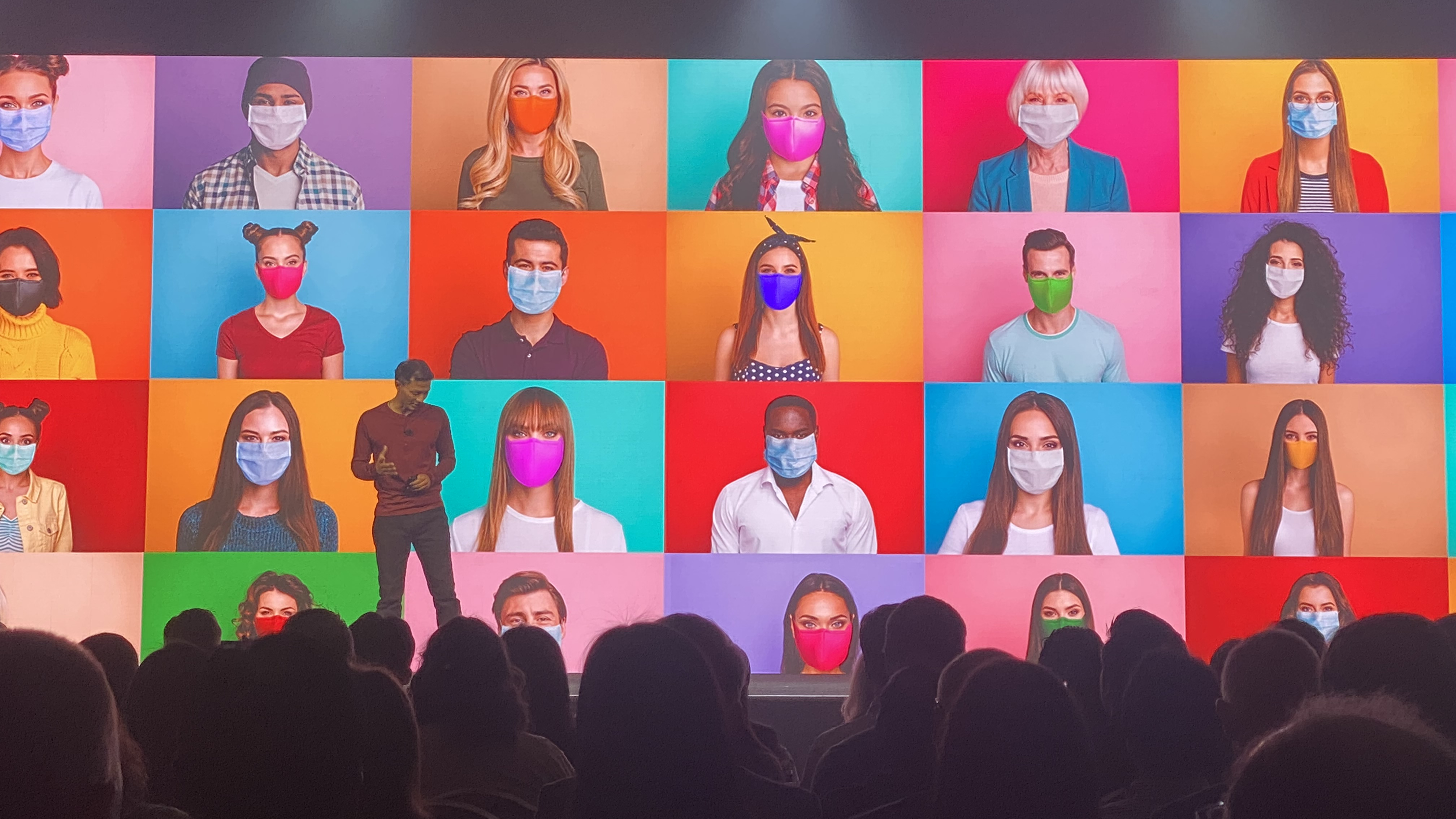 Incoming... Beyond 2022 opening keynotes
ThoughtSpot's CEO Sudheesh Nair takes center stage with opening notes addressing just how impactful data will be over the next decade.
There's already lots of new product launches from the company for its customers to bring the modern analytics cloud to their products and services.
Through the use of cloud, ThoughtSpot is planning on transforming how their employees and customers take advantage of data.
Modern analytics cloud expanded
ThoughtSpot, the Modern Analytics Cloud company, today announced a significant update to the organization's platform during the Beyond 2022 conference.
These new capabilities include ThoughtSpot Sync, CodeSpot, Bring Your Own Charts, new Liveboard capabilities, and multiple new SpotApps.
ThoughtSpot Sync lets companies operationalize insights by using automatic trigger actions in other applications and services through APIs.
Bring Your Own Charts is for users that want to engage and see their insights in new ways with charts, graphs, or visualization capabilities.
"With today's new capabilities, we're answering the call of customers. Whether they're looking to bring insights to everyone in their organization, build products and apps with Live Analytics, or launch new use cases, we're ready to help them make that possible with the Modern Analytics Cloud," said Ajeet Singh, cofounder & Executive Chairman, ThoughtSpot.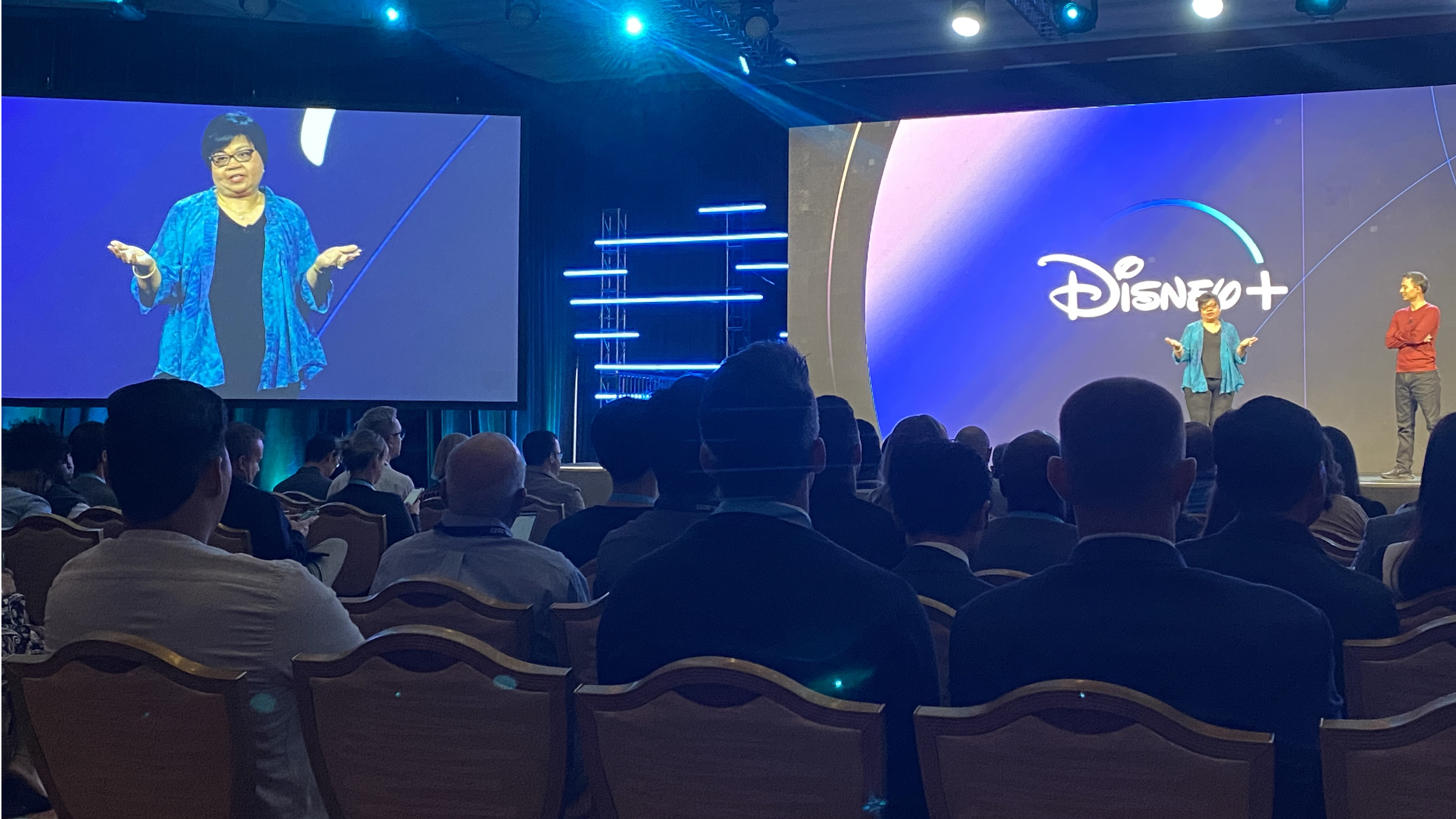 Hyper-personalization is key
Disney Streaming's chief data officer, Jaya Kolhatkar graces the stage with key insights on getting the most out of data.
Her key take home was that businesses should be data literate. Looking at the insights from the data analyzed and using it accordingly is the recipe for using data to improve a business or service.
Poor data literacy is ranked as the second-biggest internal roadblock to the success of the CDO's office, according to the Gartner Annual Chief Data Officer Survey (opens in new tab).
By 2023, data literacy will become essential in driving business value, demonstrated by its formal inclusion in over 80% of data and analytics strategies and change management programs.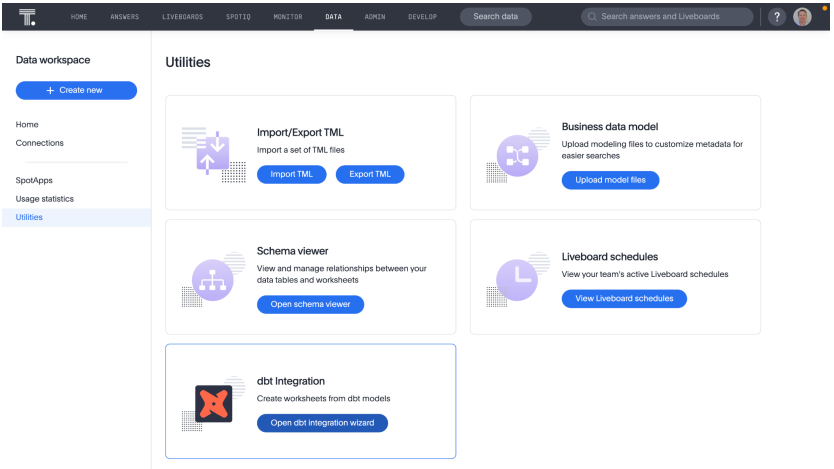 dbt cloud and open source dbt
A new integration to dbt has been announced to help analytics engineers integrate dbt models into ThoughtSpot's analytics layer.
It also lets analysts and engineers collaborate on transformation workflows using just their shared knowledge of SQL.
ThoughtSpot customers on dbt Cloud or open source dbt will be able to access the integration directly from the newly enhanced Data Workspace. From there, users can connect to their cloud data platform, create searchable views with their own custom SQL commands, and ship their analytics-ready dbt data model to business users throughout their organization.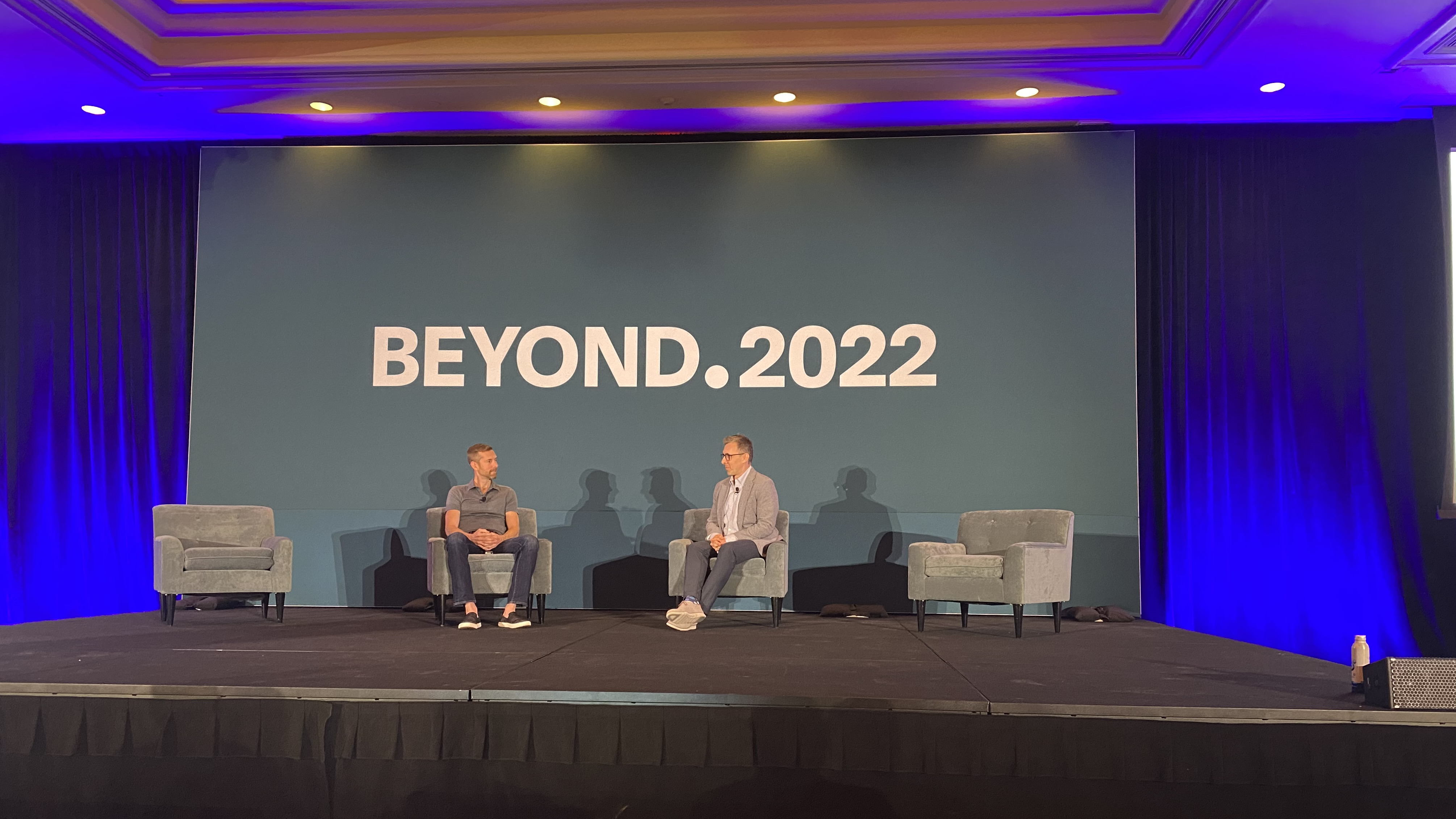 HP delivers insights
In the final breakout session of the day, Juergen Kallinger, director, risk management & analytics at HP, says analysts now spend almost all of their time on data analytics and very little time on data preparation. In the past, it was the other way around.
In regards to moving away from more analysis-driven tools, the vast majority would benefit for more simple-to-use tools that deliver insights on business data.
Embedded analytics matters
ThoughtSpot announces the availability of CodeSpot, a searchable repository of ThoughtSpot blocks and code samples to help developers embed engaging analytics experiences into apps for the modern data stack.
CodeSpot uses the knowledge and experience of ThoughtSpot Everywhere developers, data analysts and engineers to build an ecosystem of shareable assets.
That's it for day one of Beyond 2022, but join us tomorrow for more news, updates and product launches.
Viva Las Vegas!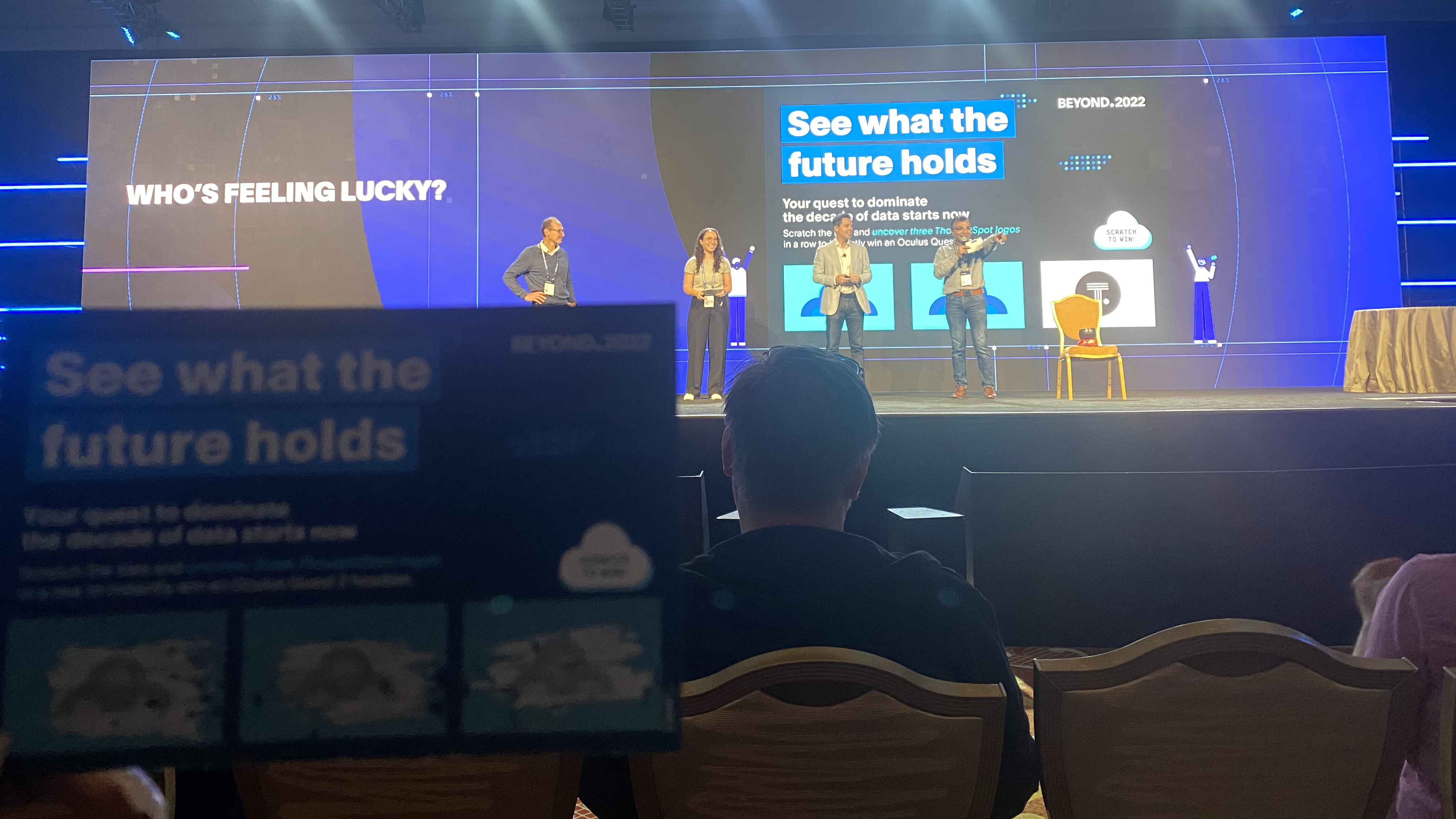 Good morning from Las Vegas
Day 2 of the Beyond 2022 conference kicks off with opening keynotes and a quick recap of yesterday's program.
And what better way to get the crowd going in Vegas than to take part in a little gambling. With scratch cards placed under each chair, three lucky winners who matched three ThoughtSpot logos won amazing gifts including a VR headset.
Comments from Scott Holden, CMO of ThoughtSpot
"The biggest theme at this year's Beyond 2022 conference is if you want to dominate the decade of data, you need to embrace the modern data stack. Some of the momentum we are seeing from partners who are in the cloud, are embracing this new way of doing modern data and modern analytics.
We are in a seismic shift right now to the cloud and embracing these new technologies such as AI and search, applied in a data context to democratize data in a way that we've always dreamed of, but was not really possible until now.
We are bringing partners from across the data stack into our vision, and we are removing a whole bunch of friction, thanks to the cloud, where companies of all sizes and teams of all sizes can now deploy ThoughtSpot's integrated solutions from our partners easily."
Sign up to receive daily breaking news, reviews, opinion, analysis, deals and more from the world of tech.
Thank you for signing up to TechRadar. You will receive a verification email shortly.
There was a problem. Please refresh the page and try again.