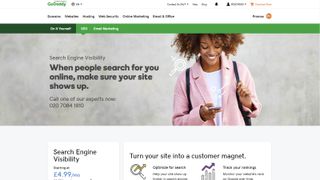 If you ask a GoDaddy why you should do business with them, they will point out that they have over 17 million customers worldwide and over 75 million domain names under management.
While statistics never tell the whole story, the high level of subscription does strongly hint that GoDaddy is doing something right, even if not all their customers write glowing appraisals of them.
You can find the five reasons why many people head to GoDaddy first when looking for a domain or website hosting.
1. Domain and Hosting
This point might seem obvious, but having the domain registered by the same operation that is also hosting the website can make a potentially complex situation much simpler.
Should an issue develop dealing with a single company should avoid the scenario where the domain registrar blames those hosting and vice versa.
2. Flexibility
All businesses aim to start small and get big, even if occasionally those plans work in reverse.
Having the ability to scale is critical to any venture, and especially to those that have a website that got tens of visitors one week and exponentially more only a month later.
Being able to smartly adjust the hosting package will help a site to grow more smoothly, providing a more consistent user experience and a greater number of returning visitors.
3. Security
No site or service is 100% secure, whatever is claimed by others. The security model that GoDaddy created is purpose-built, continually updated and immediately alerts you if files appear on your site that you didn't intentionally upload.
With so many sites under their wing, security is a high priority for them.
4. Attention to detail
In many business relationships being contacted by the provider isn't always a welcome thing. But in the website business, I'd much rather get a call asking me about a domain or site that was about to expire than find out with a call asking me why a site is now inaccessible.
The GoDaddy representative will also make you aware of any special deals or new options that relate to your current hosting packages. These might not reduce the overall spend, but they might get you better value for money at the very least.
And, if these calls annoy you, tell them, and you won't be bothered.
5. GoDaddy loves WordPress
You can create custom code and host it on GoDaddy, or you can use their site creation tool, but one of the most popular tools they use is WordPress.
GoDaddy uses the same version of WordPress that is hosted by the creators and on a million other sites, enabling anyone with experience of this platform to jump right in.
WordPress hosting is a specific GoDaddy product, and alongside it, you can take a WordPress support package and get some tailored help with WP when you need it most.
Are you a pro? Subscribe to our newsletter
Sign up to the TechRadar Pro newsletter to get all the top news, opinion, features and guidance your business needs to succeed!