Performance
Simple, if slow, data transfer process
Limited benefits for 1080p TV owners
Looks great on a 4K TV
Substantial improvements for virtual reality titles
Once you have your new PS4 Pro hooked up, it's time to turn it on and get it setup. Thankfully, setting up the PS4 Pro is still lightning-fast. You can cruise through the menus without breaking much of a sweat, inputting the most basic of information like which timezone you're in, your Wi-Fi network ID and password and which language you'd like to use.
But after the introductory information is set up, things start to slow down. You'll need to download a 312MB patch to bring the included software up to version 4.05 which, depending on your connection speed, might take a while.
Then it will come time to transfer data. The process is relatively straightforward: hook both systems up to the same Wi-Fi network and connect them to one another via an ethernet cable and you're good to go. We had about 158GB of data on our old PS4, and that took about an hour to transfer to the PS4 Pro.
We really liked how easy Sony made it to transfer the content from one PS4 to the next, and even though we had to wait nearly an hour and a half for the process to complete, when all was said and done it had everything from our old console, exactly the way we had it set up previously.
But let's get to the meat and potatoes here: actual performance. As you might know, the PlayStation 4 Pro's biggest draw is that it offers "enhanced performance" for 30 of your favorite titles – including all games released on PlayStation VR – as well as 4K HDR streaming from Netflix.
Enhanced performance can manifest itself in different ways - one way might be that games will play at 4K resolution at 30 frames per second; another might be more detailed textures, or even the option to choose a higher framerate at 1080p resolution. It's up to developers to choose how they want their games to take advantage of the upgraded processing power of the Pro in a feature Sony calls "Pro Mode."
As of today, there are currently 30 games that support Pro Mode in some way, shape or form. You can read the full list on this PlayStation 4 Pro Games round-up, but some highlights of the list include The Last of Us Remastered, The Elders Scrolls: Skyrim Special Edition, Titanfall 2 and Uncharted 4: A Thief's End.
So what can you expect when you pop in some of these games? We've broken down the performance based on what screen you'll be potentially viewing it on.
Performance for 1080p TVs
Let's start with the 1080p TV owners. Admittedly, the biggest draws to Sony's mid-gen upgrade is 4K and HDR functionality, both of which you'll be missing out on. But, what you will see a benefit on is the framerate of some of your favorite titles. In Rise of the Tomb Raider: 20 Year Celebration, for example, you can expect increased refresh rates that make the action feel a whole lot smoother while textures get a bit of extra detail as well.
We weren't completely blown away with what the PS4 Pro offers for 1080p TV owners. While extra framerates are a nice bonus, they're just not enough of an advantage to warrant spending the extra cash. But Sony didn't design the Pro for 1080p, it was designed for...
Performance for 4K TVs
Here's where things start to heat up a bit. With a 4K TV in your living room, old games start to take on a whole new light – that's especially true if your TV is HDR-capable. Games like Infamous: Second Son have been given a facelift to utilize both technologies, making particle effects pop off the screen and contrast ratios spike through the roof. It's worth making especially clear here however, is that PS4 Pro isn't capable of outputting native 4K for all games – every title that supports 4K Pro Mode at this point has been upscaled to that resolution. That doesn't mean games won't look absolutely incredible on your 4K TV – they most certainly will – however you shouldn't expect them to look gaming PC quality just quite yet.
Performance for PlayStation VR
But there's one last area that we wanted to cover here, and that's how PS4 Pro enhances the PlayStation VR experience. Ever since its announcement, Sony Interactive Entertainment CEO Andrew House has touted the PS4 Pro's ability to enhance PSVR games. We're happy to report that he's absolutely right – games run noticeably better on this machine. PS4 Pro Mode titles feel like they're not only better looking with more detailed textures, but they also feel a hair faster in terms of framerate on the new system.
The bottom line? If you're new to the Sony ecosystem and plan on buying a PlayStation VR alongside a console, you should definitely shell out for the PlayStation 4 Pro.
The PlayStation platform, three years on
Continued growth in services, including PlayStation Now, Spotify and 4K Netflix.
One of the greatest pleasures for a tech journalist is watching a platform blossom from a dawdling little toddler, devoid of any serious content and full of big ideas, to a fleshed out fully functional battlestation. It's taken three years to get to this point, but we finally feel like Sony's system is hitting its stride in this regard.
What we mean there is that not only is the PlayStation Store full of great content to purchase - with literally everything from super niche indie darlings on there to big budget titles, movies and music available – but there's always something new waiting for it on the horizon.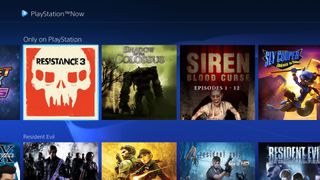 Most recently that was PlayStation Now streaming on PC. Before that was PlayStation Vue announcing its expansion to every city in the Continental US. Before that it was Sony dumping its lackluster proprietary music service for a partnership with Spotify. Every month or two brings with it a platform update that will meaningfully change the way you interact with the system – and that's why we feel so comfortable giving it a good recommendation.
Sure, you can find party chats, Twitch integration and apps like YouTube and Amazon on any platform, but Sony always finds some way to make you feel like you're part of something bigger.
Sony also hasn't skimped when it comes to supporting other territories with video content. The Australian PlayStation Store is full of most of the major catch-up TV services, including SBS On Demand, ABC iview, 9Now and PLUS7, though TenPlay has yet to make an appearance. Foxtel Play is also available, allowing Pay TV subscribers to stream right to their console.
What the Pro adds to the conversation is 4K streaming … well, it will as soon as Netflix updates its PS4 app. Sometime soon the platform will support 4K video streaming, and that in many ways will help not only bolster the number of people using 4K, but perhaps light a fire under content creators' posteriors as well.