Advertisement Feature
Phishing could be the most dangerous security threat you face this year - here's how to stay safe
Stay protected from phishing threats with these top tips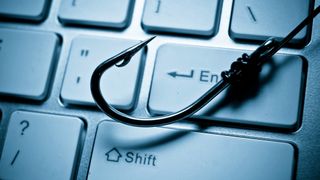 (Image credit: weerapatkiatdumrong / Getty Images)
Phishing is a notorious type of email scam where criminals aim to trick victims into handing over personal information or financial details by using legitimate-looking emails that hide malicious links.
The scams, where criminals target victims using legitimate-looking emails hiding malicious links, often use realistic assets to spoof a real company, with similar branding and corporate images used to fool users into clicking on dodgy URLs. Victims can be hooked by fake CEO messages, invoices from a fake accounting department, and even pretend IT department messages - phishing scams are wide-ranging and can be a serious threat to you and your business
Phishing emails may have been around for years, but sadly they still often prove effective - so here are some of our top tips to keep you protected.
Secure all your devices, all the time
Modern workers and consumers alike typically juggle a number of connected devices these days – whether that's a desktop PC for work use, a laptop for mobile productivity, or tablets and smartphones for personal or entertainment use.
However the more connected devices you own, the more likely it is that you'll be targeted by online threats as your threat landscape grows ever-larger. Some devices may also simply lack adequate protection, which is particularly risky in the hands of less security-savvy users, and switching between different form factors (e.g. answering work emails on a smartphone) can often lead to simple errors such as accidentally swiping or clicking on a suspect link.
To make sure all your devices are safe, Bitdefender Premium Security Plus works across Windows, macOS, Android and iOS devices, providing comprehensive protection for up to 10 devices per household, sniffing out suspect websites and keeping all your devices, whether work or personal, safe from threats.
Safeguard your digital identity
If the worst does happen and you do fall victim to a phishing scam, there are still some precautions you can put in place to make sure your most valuable information remains secure.
Your identity and personal data is often the most valuable for hackers, so always ensure any email or website asking for such details is legitimate and from a trusted source. If an email seems suspect, don't click on any links within, and remember many important organisations won't ask for personal data in an email.
Bitdefender Premium Security Plus offers range of tools to protect from ID theft scams, not least in its Digital Identity Protection tool, which allows users to constantly monitor, alert, and protect your personal data, scanning the web in real-time for leaks and sending alerts if any of your information or accounts are exposed. It also provides users with an Identity Protection Score to track and manage your digital footprint, giving a risk map alongside a list of suggested actions to ensure your details remain safe and secure.
Keep passwords updated
Similarly, if you think you might have slipped up and accidentally fallen victim to a phishing scam, it's a good idea to quickly update the passwords for all your key accounts immediately.
Having unique and complex passwords for different accounts is common advice, and it's worth remembering that if you don't, hackers may only need to gain access to one of your accounts to potentially access all of them.
Bitdefender Premium Security Plus features an in-built Password Manager tool to keep track of all your login details in a special cyber-vault, giving you (and only you) access when required, as well as recommending secure passwords and even auto filling online forms if needed, making sure you don't slip up.
For news on all the latest threats, you can also get real-time updates about malware outbreaks and scams on the Bitdefender Blog.
Are you a pro? Subscribe to our newsletter
Sign up to the TechRadar Pro newsletter to get all the top news, opinion, features and guidance your business needs to succeed!