Advertisement Feature
Top tips to make sure hackers aren't spying on your home office
Keep your workspace safe from criminals with our guidance.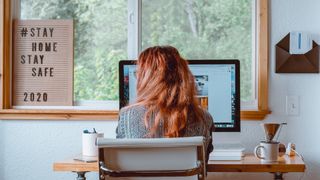 (Image credit: Unsplash)
As many employers move towards a world of hybrid working, split between the office and home, the need to have the right technology set-up is vital.
But aside from having a good office chair, laptop stand and second monitor, home workers also need to make sure they have the right security protection.
With many companies slow to respond to the home working boom during the pandemic, criminals were quick to prey on insufficient or even non-existent home office security situations. But don't fret - there are simple steps you can take to ensure you stay protected.
Secure your identity for good
Whether you run your own start-up or are employed by a multinational business, it's worth remembering that criminals will always be hungry to steal the data you work with.
It's not just big business that is under threat from hackers these days - all companies need to ensure their security protection is up to scratch. Making sure your identity stays protected is vital, so always ensure an email or a website asking you for personal or business data is legitimate, so that you aren't giving away valuable data without knowing it.
Bitdefender Total Security comes with a range of tools to make sure you don't fall victim to ID theft, ranging from a strong privacy firewall to specialised social network protection. The platform also offers an improved vulnerability assessment which will scan for security holes and vulnerabilities such as missing Windows security patches and potentially unsafe system settings, then indicates the best fix.
Get all your devices up to security speed
Although many of us are well aware of needing to make sure our laptops or desktops are secure, other devices in the home office often get forgotten.
However tablets and smartphones, as well as other devices such as printers and even internet routers, can be easy targets for cybercriminals looking to hack into your network, and need the same level of protection.
Bitdefender Total Security works across multiple platforms and software versions, and
can be used across up to 15 devices per household, whether Windows, macOS, Android and iOS protection - meaning you can be sure all your devices are protected.
Make sure your VPN is working overtime
You may well be used to using a Virtual Private Network, or VPN, to help get access to internal company information or websites, but the service can also be a vital security tool as well.
A VPN disguises your IP address and connection to hide your real location, meaning hackers or stalking software shouldn't be able to track your internet activity or find out where you are.
Luckily, Bitdefender Total Security comes packaged with an improved Secure VPN service that offers complete online privacy alongside a 200MB/day per device allowance, meaning you can ensure your internet enjoyment isn't compromised.
Don't let down your guard
Remote working undoubtedly offers a number of benefits, from comfort to productivity, but the blurring of home and office may also lull you into a false sense of security.
It's important to stay aware of new and dangerous cyber-threats, particularly if you use the same laptop or smartphone for both work and personal purposes. If one area is compromised, that can have a serious knock on effect, potentially threatening your files across both spheres.
Bitdefender Total Security comes with high-end threat detection systems to stop sophisticated malware, alongside technologies to protect against zero-day attacks and multi-layer ransomware protection to keep your files safe.
Are you a pro? Subscribe to our newsletter
Sign up to the TechRadar Pro newsletter to get all the top news, opinion, features and guidance your business needs to succeed!