Advertisement Feature
The key to value up device efficiency - smart and rugged design ready for AIoT transformation
Is your business ready for the AIoT?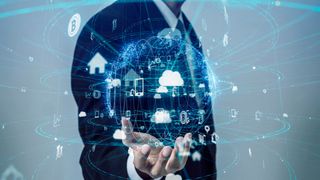 (Image credit: Shutterstock)
You're probably already aware of the Internet of Things (IoT), but as more industries and businesses look for more power and connectivity, the last few years have seen the growth of the Artificial Intelligence of Things (AIoT). Covering the range of hyper-intelligent IoT platforms powered by Artificial Intelligence, AIoT devices will be the key towards taking our world to the next technological level.
With the expanding number of AIoT devices, development and management complexity is also rapidly increasing. Creating a unified solution to this management challenge requires focusing on specific vertical applications, ensuring industrial-strength quality throughout, and harnessing the expertise of subsidiaries.
Innodisk is one of the key players in the AIoT space, with the company's hardware and software integrated solutions helping more than 3000 customers in regards to a wide range of vertical markets and systems. Innodisk believes that the AIoT can address challenges faced by businesses in virtually any industry, but how exactly does it all work together?
If the IoT is largely dominated by consumer-facing products such as smart thermostats and fridges, then the AIoT offers businesses across multiple verticals the chance to boost productivity and efficiency through more effective connectivity. So what are some of the products available to help your business seize the opportunity presented by the AIoT?
With huge amounts of data being created by organisations every day, the need for effective and reliable storage has never been more important. Innodisk believes recovery capabilities are essential to IoT devices in order to reduce higher and higher maintenance fees from global deployments. In many scenarios, on-site operators do not have in-depth specialist knowledge about the system so the recovery process should be simple and manually triggerable. Downtimes must be reduced to a minimum or approach zero - however, this is not technically feasible.
Innodisk 's full recovery technology covers out-of-band management, on-site recovery to autonomous self-recovery, Innodisk's InnoAGE and InnoOSR series provide full recovery portfolio to IoT edge devices. Systems are required to restore and reboot in the shortest possible time.
Innodisk full recovery portfolio - all problems solved
The InnoOSR 2.5" SATA SSD 3TO7 is the world's first SSD dedicated to system recovery, including features for one-click system recovery, simple management tool and data partitions, which allows easier on-site repair for faulty systems with software-level damage, making sure your valuable data will stay protected. The advantages lie in the very low maintenance costs and require no human intervention (mode 3) and 24/7 autonomous monitoring of edge devices. Available in capacities between 32GB and 1TB, the InnoOSR is capable of operating at temperatures between -40C and +85C alongside 20G vibration and 1500G shock protection, making it ideal for factory, industrial and automation work.
For those providers looking for a strong and resolute memory upgrade, Innodisk's embedded DRAM memory modules could be just what you need.
Offering the full gamut of power across unbuffered and ECC modules from DDR1 all the way up to DDR4, Innodisk's hardware can handle huge amounts of data without sacrificing speed or capacity, making them the perfect fit for edge computing expansions, especially across the gaming, POS, kiosk, medical and automation applications.
The combined smart solutions from Innodisk Group, infused with industrial quality, and a laser-like focus on specific applications checks all the boxes for implementing an AIoT solution free from the compatibility and management headaches usually associated with such complex systems. Visit the company's website here to find out more.
Are you a pro? Subscribe to our newsletter
Sign up to the TechRadar Pro newsletter to get all the top news, opinion, features and guidance your business needs to succeed!