Advertisement Feature
It's time to boost your computing power with AMD Ryzen™ PRO 5000
The new AMD Ryzen PRO 5000 Series could be the key to your next great business upgrade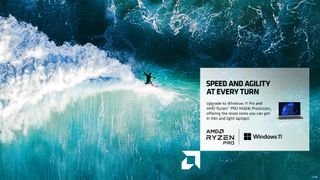 (Image credit: AMD)
When you're looking to grow and expand your business, having the right hardware is vital. Blending power and efficiency, utilising the best technology stack for you can make all the difference.
When it comes to computing power, AMD has been leading the way for years, with its Ryzen PRO hardware powering businesses of all sizes across the globe. The company recently revealed the AMD Ryzen PRO 5000™ Series, offering greater customization, stability and security for customers everywhere, but what can it bring to your organizations?
First off, the Ryzen PRO 5000 Series offers a significant upgrade on previous generations, meaning more power to keep your company running.
Across a mix of industry-recognized benchmarking tests, the AMD Ryzen PRO 5000 Series outscored its competitors in a range of areas, meaning devices powered by the hardware will offer more productivity and longer battery life than rivals.
Whether it's content creation, running multiple apps for long periods of time, or simply starting up and loading the programs you need, the Ryzen PRO 5000 Series outperformed the competition time and time again, with the company's hardware triumphing across a range of Cinebench and Passmark tests.
When your workers are looking for more performance and a longer device lifespan in today's flexible working, multitasking world, you can be sure that AMD hardware will provide the power you need.
With that power comes great manageability and customization for your enterprise. It's no surprise that many IT teams often simply don't have all the resources they need to ensure all your devices are up to speed with all the latest updates, but AMD thinks it has the solution.
The Ryzen PRO 5000 Series is equipped with the company's DASH (Desktop and mobile Architecture for System Hardware) platform, allowing your business to manage its technology the way you want to.
Many current manageability tools often end up overloading already-stretched enterprise devices with programs and apps that aren't needed, locking you into vendor deals and increasing costs and complexity.
DASH looks to reduce all of this, offering a standard for secure remote management that is based on open standards, allowing your IT team the chance to work with multiple OEM vendors, and even both AMD and Intel processors. Covering tasks varying from remote diagnostics to patch management to remote power control and boot control, DASH can cover desktop and mobile devices across your business, freeing up vital time and resources for your IT team.
With new threats seemingly appearing every day, having the right security protection within your business is more important than ever, and the Ryzen PRO 5000 Series is well-equipped to make sure your data stays protected.
The PRO processors come equipped with AMD's Shadow Stack technology, which adds protection against malware directly into the hardware, and the aforementioned DASH manageability platform also means that there's no need to leave systems running overnight for after-hours patch management, with updates able to be sent out as preferred.
DASH offers transport-level security, meaning you can counter any risks in messages sent between client and management consoles, as well as offering encryption support, and ensuring HTTPS and TLS protocols as a standard - all freeing up your IT admins from worries around ports or traffic routing.
So if you're looking to take your business hardware to the next level, take a look at the AMD Ryzen PRO 5000 Series - you can find out more here.
Are you a pro? Subscribe to our newsletter
Sign up to the TechRadar Pro newsletter to get all the top news, opinion, features and guidance your business needs to succeed!