Advertisement Feature
Give your home office a security makeover
The way we're working may be about to change, but that's no reason to let up your security practices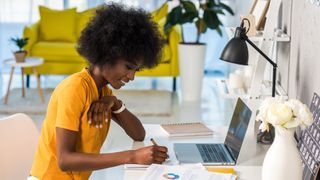 (Image credit: Shutterstock)
After months of lockdowns and remote working, workers across the world are gradually starting to return to the office as the pandemic threat begins to recede.
However the past year has shown that remote working can work, and many of us will look to continue the practice in some form as businesses around the globe allow workers more flexibility.
But whilst this new way of working does allow some amount of extra freedom, that's no reason to let up when it comes to staying safe online - so here's a few tips to keep your home office secure for the age of hybrid working.
Get all your devices secure
After the last year of working from home, many of us will have our home office set-up just the way we like it - and more than likely, that will include more than just a PC.
But it's crucial to remember that extra devices such as printers, tablets, and even your internet router itself can be security weak spots, allowing hackers a cheap entry route into your network.
Luckily, Bitdefender Total Security has everything you need to secure all your home office devices. The platform works across multiple software versions, including Windows, macOS, Android and iOS, and can be used across up to 15 devices per household, making sure your entire work set-up stays protected online.
Boost your password protection
A change in habits can be a good time to make sure everything else in your home office is suitably up to speed too - especially when it comes to passwords.
It's always a good idea to keep your passwords fresh, changing them every few months if possible to make sure your vital online accounts stay secure. Using a different password for each account is always a good idea, mixing letters, numbers and special characters to make them harder to guess - as if you re-use passwords across multiple accounts, remember all it takes is for one to be compromised for hackers to gain knowledge of your logins to everything else.
To help you keep track of all these passwords, Bitdefender Total Security comes with an in-built Password Manager service to look after all your details, meaning one less thing to worry about.
Take extra steps to safeguard your identity
Even if it seems farfetched, it's always worth remembering that your information is extremely valuable for hackers and criminals alike. Getting their hands on your login details or even data such as a date of birth or phone number could help them gain access to your accounts.
Keeping your identity and personal information safe online has never been more important, and Bitdefender Total Security comes with a range of tools to make you stay protected from all the latest threats.
This includes an advanced filtering system that warns you whenever you visit websites that may try to scam you. There's also advanced anti-phishing protection that helps sniff out and block any websites that masquerade as trustworthy in order to steal financial data such as passwords or credit card numbers.
Get a VPN on board
Using a Virtual Private Network, or VPN, has become vital over the past year, as workers look to stay connected to a workplace intranet or collaboration network - but it can do much more than that.
If you still haven't used one, a VPN allows you to disguise your internet connection to make it appear to originate from a different country or region entirely, meaning your online activity and location should be safe from any snooping.
Asides from keeping your online habits safe and secure, a VPN can also allow you to watch and enjoy entertainment streaming services from anywhere in the world. Bitdefender Total Security comes packaged with its own Secure VPN service that offers complete online privacy - and with a 200MB/day allowance, you can ensure your online enjoyment is kept a secret.
Are you a pro? Subscribe to our newsletter
Sign up to the TechRadar Pro newsletter to get all the top news, opinion, features and guidance your business needs to succeed!