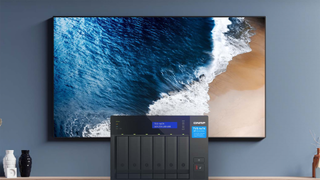 (Image credit: QNAP)
If you're a content creator or are someone who works with massive media files – or perhaps you're someone that manages this sort of work – you'll know the bane of managing external storage. It doesn't matter whether a slick, powerful laptop or a massive, desktop tower is being used, tethered to it will likely be (at least) one very expensive, external hard drive that acts like a real-world ball and chain to your digital files.
Sharing these files also involves unplugging the drive and moving it to another PC like some kind of computational caveman. This is even less practical in a time of hybrid work or when your computers are in different parts of a building. Fortunately, thanks to QNAP, there's now a better way.
Consumer and SMB routers with multiple, fast, 2.5Gpbs and 10Gbps ports have fallen in price, while Wi-Fi 6 and even Wi-Fi6E has meant that genuinely fast and reliable, wired-like, network performance can be achieved wirelessly and cheaply. But, attaching simple, external-drive-like storage to a network has traditionally meant using a NAS – filled with high-capacity and relatively slow hard drives and slow network ports that all act as crippling performance bottlenecks... especially when shared with other users.
But, not anymore.
Say hello to QNAP's cache acceleration and Qtier
QNAP's new NAS boxes, with Qtier technology, utilise fast SSDs as 'Hot Storage' for live data which negates having to wait for it to be written (and read) on slow, 'Cold Storage' mechanical drives. In technical terms, the high IOPS and low response times required, when working with large files, are finally achievable on NAS devices.
This is what content creators – especially those working with video – have been crying out for. With video shoots often generating raw, UHD footage, from multiple cameras, with file sizes around 300GB per hour, the ability to dump everything in one, single location (that can be easily scaled to add more storage capacity) and then to work directly with it, is transformative. There's no more waiting around for multiple, huge file transfers, no more version control problems and no more dusty collections of old, expensive, portable hard drives: the NAS is now fast enough to simultaneously store and edit your 4K video. What's more, you can collaborate with colleagues, who can access the same files, whether they're in the same building or working remotely.
The speed boost also opens the door to other functionality like online transaction processing, email server hosting, virtual machine hosting and other virtual desktop infrastructure (VDI). It also improves storage reliability (through the reduction of mechanical drive movements) along with power consumption and noise(!)
Meanwhile, Qtier technology takes caching to the next level through automated, tiered organisation. This dynamically relocates data between hot and cold storage, in the most efficient way possible while simultaneously running storage-performance evaluations and optimising the data-layout design.
Qtier can operate autonomously or you can manually set-rules based upon monitored auto-tiering metrics or workflow requirements. You can also configure tiered RAID groups, schedule times for data to be shifted between hot and cold storage (when not under peak usage) and monitor auto-tiering statistics to evaluate other auto-tiering policies.
It's simple to convert existing 'cache SSDs' into Qtier in a few clicks. Furthermore, unlike other NAS providers, the range of compatible drives that work with QNAP NAS boxes is large, meaning you're not being forced into paying hefty premiums for 'certified' storage.
At last, content creators and editors can move away from the limitations of external drives and start editing directly off NAS. Doing so even brings additional, inherent benefits like much-greater data security, data that's more-accessible to more people and no more swapping files between SSDs and external drives.
So which NAS devices can you buy? QNAP has drives to suit all scenarios and budgets. The following are key examples:
QNAP TS-462
This wallet-friendly, dual-core, Intel Celeron-based NAS has four drive bays and bays for two, speedy M.2 2280 PCI Gen 3 SSDs which support QNAP's caching and Qtier technologies. There's a built-in 2.5Gbps network port plus a PCIe expansion port that can add an additional 5Gbps or 10Gbps network connection.
Additional storage can be added via four USB-A ports, including two USB-A 3.2 Gen 2 ports for speedy, 10Gbps backups of USB devices. Meanwhile, there's an HDMI port for direct video playback.
It's got a funky white and gold design which will fit well into a home environment or stylish office. It uses QNAP's reliable QTS operating system and can even organise your photos with facial recognition using Google's Edge TPU technology and the QuMagie app.
Find out more about the QNAP TS-462 here.
QNAP TS-464
Upping the ante is the prosumer-and-SMB-focused TS464 which is one of QNAP's most popular Australian models. It takes the base spec of the TS-462 to the next level by adding beefier quad-core processing power, double the amount of RAM, plus an additional, built-in 2.5Gbps port. These specs also make the QNAP TS-464 ideal for streaming video, which is helped along by the built-in GPU that enhances video conversion.
Like the TS-462, it also has a PCIe slot which can be used to add even-faster network ports – all the way up to 10Gbps.
The QNAP TS-464 packs an awful lot into its diminutive size, and its stylish good looks make it a device that adds a touch of class to your work area. It's perfect for power users and those who need to collaborate on projects with colleagues, while the four-bay design offers a scalable upgrade path for your storage needs.
Discover more about the QNAP TS-464.
QNAP TS-673A
QNAP's business-oriented six-drive bay NAS offers higher-end specs including a beefy AMD Ryzen V1500B quad-core processor with a Turbo Boost speed of 2.2GHz. There are two built-in 2.5Gbps network ports and two expansion slots which, among other things, allow the addition of network ports (offering up to 10Gbps each), USB ports, wireless networking and Fibre Channel to be attached. You can also add an (entry-level) Nvidia GPU for video processing or GPU-passthrough to VMs.
There are two SSD bays to facilitate caching and Qtier performance boosts, and it runs QNAP's powerful QuTS hero operating system with features like inline compression, inline deduplication, power failure protection, self-healing and enhanced security.
To learn more about the QNAP TS-673A click here.
QNAP TS-h874
QNAP's TS-h874 may hold the appearance of an eight-bay NAS, but it offers features and performance you'd normally associate with a full-blown server. Based around powerful 12th-Gen, Intel multi-core processors (i5, i7 and i9 variants are available), 32GB (up to 64GB) RAM and two, PCIe Gen 4 SSDs, it runs the QuTS hero operating system, is capable of near limitless backup snapshots and can even operate real-time SnapSync disaster recovery technology.
In addition to Edge TPU, it supports Intel's OpenVINO's AI image recognition which is accelerated by the integrated, Intel UHD graphics – offloading CPU workloads.
It has three USB 3.2 Gen 2 ports, two 2.5Gbps ports and comes preinstalled with a 10Gbps expansion card in one of its PCIe slots. There's also an HDMI port which supports Full HD video output. Meanwhile, upgrade-limited computers and laptops can connect directly to it using QNAP's 'portable USB 3.2 Gen 1 to 5GbE adapter' that allows devices to connect to networks via USB.
It's capable of running as a Virtualisation Station, container station and Linux station. Multiple network security features are built in – including firewall protection, secure cloud (remote) access, VPNs, SD-WAN and surveillance functionality and even anti malware. It can run an entire office.
Click here to find out more about the QNAP TS-h874.
Enhance your creative process now
NAS has always been a superior choice for storage so it's great to see that the banished bandwidth bottlenecks have finally freed the technology to overtake external storage. Whether you work alone, as part of a team or in a large organisation, it's ultimately much more efficient to let a NAS drive do the heavy lifting while your system drive handles your software. So, check out QNAP's content creation solutions today.
Are you a pro? Subscribe to our newsletter
Sign up to the TechRadar Pro newsletter to get all the top news, opinion, features and guidance your business needs to succeed!