Advertisement Feature
Get your small business connected with Aruba Instant On
Stay connected when it matters most with Aruba Instant On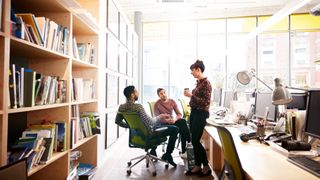 (Image credit: Getty Images)
As the pandemic moved workers out of the office to work wherever they were able to, the need to stay connected and online has never been more important.
We've all been there. Suddenly the video call freezes or drops, robbing everyone of the chance to hear about your hard work. Or, your Wi-Fi network takes days on end to set up.
Fortunately, there is a way to make sure your business Wi-Fi network remains reliable and accessible whenever you need it - and it could be a lot easier than you think. Small businesses often face connectivity challenges due to a lack of dedicated IT support, but there are a number of network solutions available to help your business stay ahead of hiccups without breaking the bank.
When it comes to connectivity, Aruba, a Hewlett Packard Enterprise company, is already a well-known name, and its Instant On portfolio of small business access points and switches could be the addition you never knew you needed.
Keeping your Wi-Fi network at the top of its game can often be a challenge, but Instant On is able to provide turbo-charged connectivity and robust bandwidth whilst addressing some of the most common business headaches.
If that video call scenario we described earlier rings a painful bell, then have no fear, Instant On is able to automatically prioritize important voice and video calls, making sure you never drop out at the worst time. You can also set bandwidth limits to make sure the network can support important tasks when needed.
To make sure your small-medium business (SMB) stays connected at all times, Aruba Instant On access points and switches work together to build a network you can rely on that covers your entire space.
As you add employees or expand your business' footprint, you may find you have areas with limited or non-existent Wi-Fi coverage called "dead zones." Aruba Instant On access points support Mesh Wi-Fi, which allows you to connect and build out a network of APs, without the need for added cabling. Once the first AP is connected, you simply plug the 2nd AP into an AC power source, and with a single click it connects to the primary AP over Wi-Fi automatically. It's a simple way to get the Wi-Fi coverage you need indoors or out.
Setting up a network can be done in a matter of minutes with the Instant On mobile app, giving you insight and customization options no matter where you are. As well as simplified smart Mesh setup and straightforward deployment and multi-network management direct from your phone, the app will also provide instant security updates and notifications to ensure your business stays safe and secure from the latest threats, at no extra cost.
So if you're looking for a way to ensure reliable, secure, fast Wi-Fi for your small business, Aruba Instant On could be the answer - head to the company's site here to find out more.
Sign up for SMB news from Aruba Instant On here.
Are you a pro? Subscribe to our newsletter
Sign up to the TechRadar Pro newsletter to get all the top news, opinion, features and guidance your business needs to succeed!