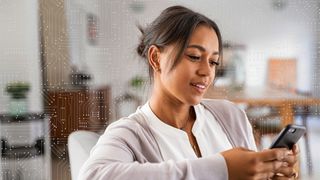 (Image credit: Getty Images)
Identity protection is an especially sensitive area of tech security, demanding the kind of personalized, white-glove approach that can be hard to achieve within existing systems.
Iris' Identity Protection solves this intimacy issue with a people-first, tech-forward identity protection platform – flexible and tailored to every need, yet capable of working effortlessly at scale.
From securely storing and curating critically sensitive data (enabling clients to maintain a strictly hands-off approach if they desire) to the tailor-made front-end UI – everything on offer here can slot easily into your existing brand values and technical architecture alike, seamlessly and with zero exposure.
'White-glove' service is not just a modern corporate buzzword. It originates from the classic British butler, constantly attentive but utterly subtle.
Iris follows in this tradition of unobtrusive excellence, delivering world-class service behind your brands.
Best for you
Historically, the industry hasn't thought your enterprise needed an identity protection system that's this good.
Iris disrupts the traditional model, offering an array of customization options that allow you to integrate comprehensive identity protection solutions with your customers and teams at every level.
Handling the fundamentals is the Iris Identity Protection API, meeting you where you are with a robust set of features and service partners that you can plug into your existing software, apps and platforms.
Iris Micro-Experiences are Iris-managed solutions but still very customizable. Whether you want your tool to be client or co-branded, this type of identity protection experience can be quickly deployed. These tight-focused services can provide relief for victims of ID theft, scams or fraud; other options are more preventative, helping your customers steer clear of such crimes.
Another offering is the Iris OnWatch® portal, a completely customizable Iris-managed and hosted solution uniquely branded to you and deployable with minimal client-side input.
Whether it be an API, Micro-Experience, or OnWatch portal, Iris even takes on data ingestion, management and hosting, until now an all-too-common barrier to entry.
There are all sorts of reasons why you may not want to hold the kind of detailed customer data that contemporary high-end identity protection demands. From an increasingly rigorous regulatory landscape, to the limitations of in-house legacy databases, it can be a daunting task.
Iris keeps it clean and simple, taking care of data ingestion and normalization, offering seamless and zero exposure integration, and even holding the data itself if required – delivering friction-free peace of mind for both businesses and consumers at every step.
And this extends to the front-end UI, allowing your customers and team members to seamlessly connect through existing systems via a variety of enrollment options.
Best for your users
However you deploy the service, Iris helps keep your customers safe.
Iris Identity Monitoring continuously tracks user data and monitors the dark and deep web for compromised credentials and suspicious usage, helping to shut down threats before they occur, thwarting account takeover attempts and detecting fraud at its inception.
Credit monitoring is available for a single or all three major credit bureaus: Equifax, Transunion, and Experian, sifting through transactions that could indicate fraud.
In addition to all of this, you can order an online health check for your users. IDRiskIQ compares user demographics, devices, and online behavior to assess and close off vulnerabilities.
At the same time, the Iris Breach Catalog allows you or your users to track previously compromised consumer data, extending Iris' protection even to breaches that occurred prior to sign up.
Finally, if and when the worst happens, Iris remains one of the few global companies in this space capable of offering your customers a genuinely personal and empathetic response. As a stand-alone offering or offered in combination with other solutions, Iris' expert team is poised to assist at their on-site resolution center.
24/7, 365, and all while flying your colors (if that's what you want).
Are you a pro? Subscribe to our newsletter
Sign up to the TechRadar Pro newsletter to get all the top news, opinion, features and guidance your business needs to succeed!