Nintendo necesita una consola virtual mucho mejor para competir con la Steam Deck
La nueva consola Steam Deck será un paraíso para los gamers retro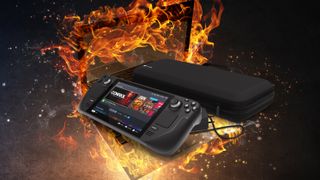 (Image credit: Sergey Nivens / Shutterstock / Valve)
La Steam Deck ya es una realidad. Los pedidos anticipados se han abierto y los gamers va a poder comprar un dispositivo portátil (suponiendo que no esté agotado hasta el 2030) para jugar a toda su biblioteca de Steam, que probablemente tiene juegos que se remontan a los años 90. Pero además, será la plataforma de emulación perfecta para cualquier juego de cualquier plataforma de cualquier año.
Los usuarios de Steam Deck podrán jugar a sus juegos favoritos en cualquier parte usando un emulador de N64, GameCube e incluso NES y SNES [o Sega MasterSystem, Neo Geo, arcades de todo tipo, PlayStation y hasta Atari Lynx y cualquier otra cosa—Ed.] aunque a Nintendo no le haga gracia.
Dónde están los juegos, matarile
La Nintendo Switch se lanzó hace ya más de cuatro años pero sigue teniendo menos juegos clásicos que la Nintendo 3DS, una consola mucho menos potente. Ahora mismo, sólo puedes jugar al puñado de juegos de NES y SNES que Nintendo incluye con su suscripción online. Hay 120 juegos en total de estas dos consolas. Nada de N64 o GameCube.
Esto siempre ha sido un descuido por parte de Nintendo, pero ahora que existe una consola portátil de la competencia con la que se podrá jugar literalmente todos los juegos de Nintendo de la historia, la compañía japonesa tendrá que esforzarse por ofrecer su biblioteca completa a los jugadores.
Quizás haya muchos juegos en su gran biblioteca para los que conseguir las licencias de re-edición es una pesadilla. Pero probablemente no sea así para todo el catálogo de Nintendo. Seguramente hay cientos de juegos que Nintendo podría lanzar para Nintendo Switch con un esfuerzo mínimo. El lanzamiento de Steam marca el momento perfecto para que la compañía nipona de el salto.
Hay cientos de miles — probablemente millones — de fans de Nintendo a los que les encantaría dar su dinero a Nintendo para volver a jugar a sus juegos favoritos,.
Nintendo debería absolutamente a atender a esa base de fans. Si no lo hace, Valve no va a impedir precisamente que la gente ejecute emuladores en su nueva plataforma y los fans abandonarán la Switch en tromba.
Un planteamiento diferente
La Steam Deck tiene un enfoque completamente opuesto a su biblioteca que la Nintendo Switch. La Steam Deck es básicamente un gaming PC al que puedes jugar en el metro. Jugar a todos los juegos Steam retro de la historia es algo de Japón.
Pero Valve ha dado un paso más allá y — aunque Steam Deck vendrá con SteamOS instalado — es una plataforma completamente abierta. Incluso puedes borrarla e instalar Windows 10 si así lo deseas.
Incluso Tim Sweeney — que llegó a organizar la Epic Games Store porque no le gustaba Steam — alabó la Steam Deck por este enfoque.
Los gamers que compren la Steam Deck van a poder jugar al juego que quieran, sin importar su antigüedad o quién lo haya vendido. Como Sweeney, soy un gran fan de esta idea y definitivamente lo usaré para jugar a un montón de viejos juegos de Final Fantasy en vez de usar la Switch — especialmente porque los Pixel Remasters de Final Fantasy 1-6 no van a ser lanzados en Nintendo Switch por alguna razón.
Lo mío es una pequeña victoria para la Steam Deck, que seguro se va a repetir en millones de gamers con decenas de miles de juegos.
Sign up for Black Friday email alerts!
Get the hottest deals available in your inbox plus news, reviews, opinion, analysis and more from the TechRadar team.
Bill Thomas (Twitter) is TechRadar's computing editor. They are fat, queer and extremely online. Computers are the devil, but they just happen to be a satanist. If you need to know anything about computing components, PC gaming or the best laptop on the market, don't be afraid to drop them a line on Twitter or through email.