La Nintendo Switch OLED tiene un secreto escondido: una salida 4K sin activar
Un chip de escalado a 4K que no utiliza — todavía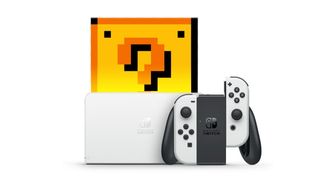 (Image credit: Future)
Atención gamers, porque la Nintendo Switch OLED tiene un gran secreto que podría cambiar totalmente nuestra percepción de la consola del fabricante japonés: un chip de escalado 4K integrado en el dock.
El descubrimiento es de @KawlunDram, que ha abierto el dock y ha encontrado el nuevo chip para el escalado 4K soldado en la placa madre. Según Kawlun, que publican una imagen, es un chip de Realtek RTD2172N KBDQH1, catalogado como "SoC multimedia 4K UHD".
Esto coincide con información encontrada en el código de la Switch en enero de este año, que fue lo que llevó a pensar que la nueva consola sería 4K cuando estuviera conectada a la TV.
Hi gamers. Nothing ever gets properly done on the internet so I decided to do some digging myselfThe DP2HDMI chip on the Switch OLED dock is a RTD2172N KBDQH1 which seems to match what @SciresM datamined from the Switch OS back in January pic.twitter.com/6i2Z8zei0WOctober 11, 2021
Sumado al cable HDMI 2.0 incluido con las nuevas consolas Switch OLED, parece una muestra evidente de que el dock debería ser capaz de emitir 4K/60fps escalados a un televisor compatible sin problemas aunque no sea la resolución nativa.
El chip Tegra X1 utilizado en la Switch OLED, la Nintendo Switch y Switch Lite, es técnicamente compatible con 4K. Los modelos de 2015 y 2017 de la caja de streaming Nvidia Shield TV utilizaban el mismo chip Tegra X1, y pueden emitir resolución 4K e incluso HDR.
Pero eso no significa que pueda renderizar juegos en 4K. Sin embargo, si Nintendo quisiera, sí podría escalar la salida 1080p a 4K directamente desde el nuevo dock usando este nuevo chip.
Lo que no está tan claro es si esta señal escalada será mejor que la que consiguen los propios chips dedicados de los televisores 4K.
Conspiranoias en 4K
Sea como sea, el cable HDMI 2.0 incluido en la caja sugiere que el OLED de Switch está destinado a ser utilizado para una salida de mayor resolución en algún momento.
Quizás en el futuro aparezca una actualización de firmware que abra esta capacidad ahora ocultas, como vimos cuando Nintendo lanzó la compatibilidad con auriculares Bluetooth cuatro años después del lanzamiento de la consola.
Por otra parte — como señala el dataminer @SciresM — el chip de Realtek podría estar ahí para mejorar la transferencia de audio, no necesariamente para escalar la señal 1080p a 4K.
Quizás la solución a estas teorías de la conspiración es que, simplemente, sea más barato comprar chips preparados para 4K aunque no utilicen esa capacidad. Puede que Nintendo haya tomado una decisión comercial de invertir en ciertos chips y cables de forma preventiva, aunque todavía no los esté utilizando en todo su potencial.
Nos hemos puesto en contacto con Nintendo para ver si puede aclarar algo, aunque lo más probable es que no comenten sobre este tema en absoluto.
Habrá que esperar para ver qué pasa con una futura actualización de la consola actual o al lanzamiento de una Switch 4K, que no llegará hasta 2023 como muy pronto.
Get daily insight, inspiration and deals in your inbox
Get the hottest deals available in your inbox plus news, reviews, opinion, analysis and more from the TechRadar team.
Henry is a freelance technology journalist, and former News & Features Editor for TechRadar, where he specialized in home entertainment gadgets such as TVs, projectors, soundbars, and smart speakers. Other bylines include Edge, T3, iMore, GamesRadar, NBC News, Healthline, and The Times.