Advertisement Feature
Why securing your smartphone might be the best move you make
It isn't just computers that need securing in this day and age - here's all you need to know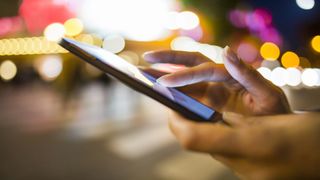 (Image credit: Shutterstock.com)
We're all aware of the need to keep our computing devices secure, with a range of security solutions available for PCs and laptops - but what about our mobile devices?
Smartphones have made huge leaps forward in terms of power and capabilities over the past decade, becoming high-level computing devices in their own right, holding not just our apps, photos and games, but also becoming an entry point for work.
With many of us now embracing hybrid working, having a smartphone geared for work is a crucial tool, but they also need to be kept safe from cyber-threats - so here's some tips to keep your mobile devices safe and secure.
Keeping safe online
Sadly, some parts of the Internet aren't really a safe place to visit, and this can be true when mobile browsing as well as being on a PC.
Dodgy websites can look to infect your device with malware or other malicious software, installing trackers or keyloggers, with phishing websites looking to scam their victims out of their hard-earned cash,
Fortunately, Bitdefender Total Security offers an anti-phishing system that scans webpages and warns you if you land on a fraudulent site. It also comes with the Bitdefender Web Protection tool, which filters all mobile traffic, not just your intentional browsing, to provide real-time protection against all online dangers.
Full scanning, all the time
Let's face it - most of us spend a lot of time on our phones or other mobile devices, using them for a wide range of activities and functions.
This includes whatever apps and services you may have installed on your device - but how much do you really know about your apps? Bitdefender's On-Demand & On-Install Scan function scans your Android phone or tablet to ensure all your apps are legitimate and safe, checking each app once you install it, and alerting you if there are any issues.
Bitdefender Total Security also protects your phone by using AI models to spot any unusual app activity, as well as intercepting threats before they hit, and flagging potential scam chats or messages, making sure you never fall victim to even the most devious threats.
Watch out for scams
Security scams are sadly a common part of online everyday life, with hackers and fraudsters looking to con victims in any way they can, With many of us checking emails or browsing the web on our mobile devices, it can be deceptively easy to accidentally click on the wrong link or web page, and end up on a scam site.
Fortunately, Bitdefender Total Security comes with built-in Scam Alert protection, blocking threats and websites it detects as harmful, making sure your handset remains safe.
And to make sure your internet usage remains protected from prying eyes, Bitdefender VPN encrypts all traffic on your device, offering up to 200 MB per day of encrypted traffic for Android and iOS devices.
Yours and yours only
If the worst does happen, and your mobile device is lost or stolen, then you can still rest assured that your data is safe from criminals.
Bitdefender Total Security's Anti-Theft tool allows you to remotely locate, lock, wipe or send a message to your device in case of loss or theft. It will even allow your phone to snap a mugshot of anyone who tries to tamper with it, sending it to your Bitdefender Central account.
The platform's App Lock tool is also able to protect your most treasured apps, securing them with a PIN code for that extra level of safety, meaning no one can change or alter your settings or private info. Finally, its Smart Unlock tool means you can set your phone to allow direct access to your protected apps only when using a trusted Wi-Fi network, keeping all your precious information safe.
For news on all the latest threats, you can also get real-time updates about malware outbreaks and scams on the Bitdefender Blog.
Are you a pro? Subscribe to our newsletter
Sign up to the TechRadar Pro newsletter to get all the top news, opinion, features and guidance your business needs to succeed!